Dollar Tree fall décor is the perfect way to add some holiday cheer to your home without breaking the bank.
Hello there and welcome to Debbiedoo's Home and crafty blog. I am a super-duper Dollar Tree-aholic for all seasons. The minute the seasonal decor hits the shelves, I am there. They know me on a first-name basis now.
Here is where you will find my Dollar Tree fall gallery of craft and home decor ideas. Most are from the Dollar Tree; however, I have added some other budget-friendly ideas in here as well. Enjoy. I hope to see you back again.
Top Inexpensive Way to Decorate Your Home for Fall
Want to decorate your home for fall but on a bit of a budget? Below are the top ways you can give your home a little pizzaz without breaking the bank.
Make a fall wreath
Visit a pumpkin patch for a few pumpkins
Visit nature instead of the store—pinecones from your backyard are great for all types of fall crafts.
Put out a cozy blanket on your couch
Purchase faux decorations instead of real ones that can be reused year after year.
Use baskets as your main decoration, placing them around your house and filling them will all things fall (such as those pinecones you collected)
Common Supply Necessities for Fall Crafting Ideas
Here is a list of some of the common supplies you will need to create fall décor.
Glue gun (with extra sticks)
Tape
Sharpie
Wire cutters
Xacto knife
Scissors
Craft glue
Mod podge
Newspaper and other protective materials for your work space
As you can see the list isn't that long and you likely have some of these items on hand already. Gather them up and let's get started.
Dollar Tree Supplies for DIY Fall Décor
At the Dollar Tree, you never know just what you will find for your crafting projects. When you are creating crafts for the fall season, you will want to grab the following items.
Fake leaves (on the branches or off, they are useful either way)
Faux pumpkins
Wreath forms (or wooden circles, whatever you can find)
Faux Fruit
Baskets
Faux Flowers
Candles
Ribbon (preferably burlap or other fall colors)
Small jars or candle holders
Grabbing a variety of these items will ensure you are able to make most crafts on this list. Remember that it's better to grab extra than not enough.
How to Make a Cheap Fall Wreath
During the fall season, a nice fall wreath will look great over your front door, fireplace, or anywhere else in your home you have space. Here's how you make one for cheap.
Supplies Needed:
Wreath form (grapevine works best)
Faux leaves
Faux fall fruits
Faux fall colored flowers
Wire cutters
Hot glue
Mini faux pumpkins
Burlap ribbon
Instructions:
Step 1: Trim Your Leaves and Flowers
Faux leaves and flowers tend to come with a lot of stem. While you want to leave some for efficient wrapping and gluing, you may want to trim off leaves or other excess. You should also separate any flower bunches into single flowers.
Step 2: Add to the Wreath
Using hot glue and your weaving skills, add the flowers and faux leaves into the wreath. Weave them in and out of the grape vine leaving small bits showing but also providing ample coverage.
Step 3: Glue Mini Pumpkins
Once you have a semi colorful wreath, glue one or two mini pumpkins to the corner of the wreath. You could also add a burlap bow.
Step 4: Add a Hanger
Flip your wreath over to the back. Some wreaths come with a hanging hook, but if yours doesn't, use the burlap ribbon to make one. Glue in place with hot glue and let dry before hanging.
Dollar Tree Fall Décor
1. Shelf Liner Wreath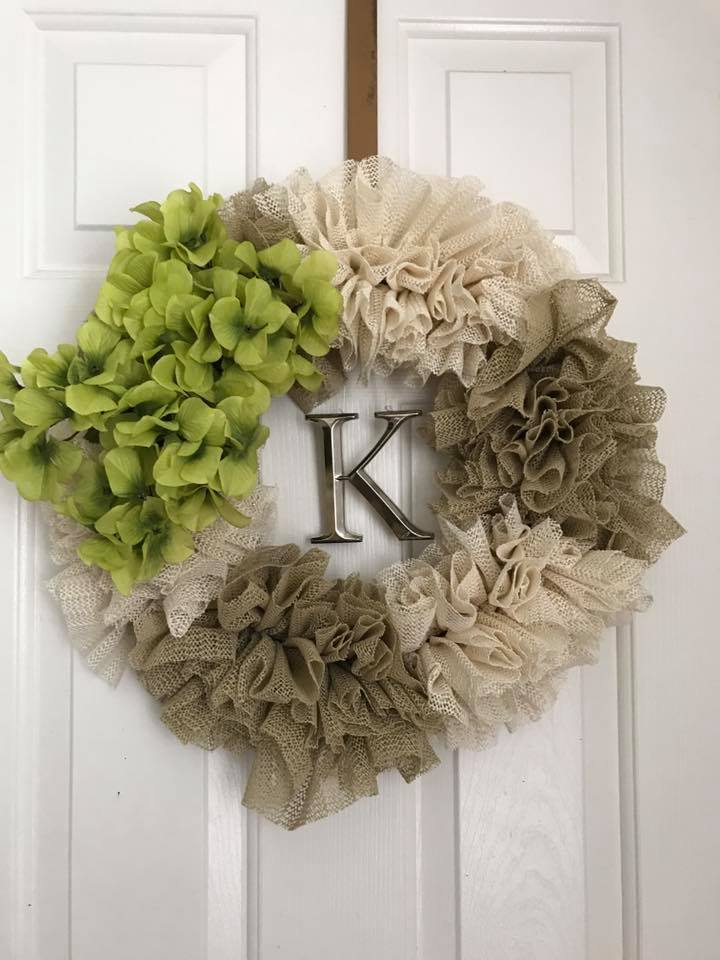 Shelf liner, while helpful to keep items from sliding on shelves, is also perfect for making a fall wreath. Grab a wide print version and a metal wreath base at Dollar Tree and you are in business. Find the full set of instructions on DebbieDoos.
2. Crescent Moon Wreath
Seeing as fall is the witchy season, this crescent moon wreath from DebbieDoos is a great combination of Halloween and fall décor that you can hang on your front door. You'll need to be comfortable cutting and bending a wire wreath into a moon shape, but otherwise this wreath is a breeze to make.
3. DIY Stovetop Potpourri
If you can't find a cute glass jar at Dollar Tree, any mason jar will do for this DIY stovetop potpourri from Homedit. Then just grab some fruit, cloves, rosemary, cinnamon sticks and a dehydrator and this is a decoration you can keep on your stove for the remainder of the fall season.
4. Pickup Truck Centerpiece
Besides just purchasing baskets at the Dollar Tree, you should also grab some plastic bins for making items like this pickup truck centerpiece by DebbieDoos. Once you have painted and decorated it, then you can fill it with fun fall items and place it on your dining table.
5. Pumpkin and Witches Hat Wreaths
There is no limit to what you can achieve with a wreath when it comes to fall décor. Check out this fall craft from DebbieDoos which will teach you how to make wreaths in all shapes and sizes (including Halloween shapes) for any door in your home.
6. Fall Garland
Fall garland is a versatile decoration that can be placed on a shelf, mantle, or even around your porch. It's also easy to make following these directions on Homedit, so grab some string, wire and collect some botanicals to get started.
7. Salt and Pepper Pumpkins
There's no reason to leave your salt and pepper shaker out of your decorating for the season. Using mason jars, or any jars grabbed from Dollar Tree, follow these directions on DebbieDoos to make spooky salt and pepper shakers to occupy your table this fall.
8. Porch Decorating
Share fall cheer with the entire neighborhoods when you decorate your porch with fall items following the guidance of DebbieDoos. You'll need to make a wreath or two, antique some jars, then grab more items to put in baskets and your porch will be festive in no time.
9. Fall-Inspired Wall Hooks
Embrace the fall spirit when you install these fall-inspired wall hooks from Homedit in your front entryway, kitchen, or bathroom. While you might not find all the items you need for this craft at the Dollar Tree, it is still very inexpensive to make.
10. Falling Leaves Door Décor
Your door isn't just reserved for a wreath. Branch out a bit and make this falling leaves décor from GirlLovesGlam. You just need some felt, burlap ribbon, hot glue, starch, and a flat iron.
11. Rustic Signs
Rustic signs are great fall decorations while also being easy to customize. Follow these directions on DebbieDoos to get you started.
12. Fall Scarf Wreath
There are always inexpensive scarves at the Dollar Tree, grab a couple and make this fall scarf wreath from DebbieDoos. You wrap the scarf around a wreath form, then add a few faux sprigs of leaves or flowers, then hang on your door or a wall for a warm fall decoration.
13. Acorn Eggs
Acorns are a popular fall decoration, but they can be hard to find in your backyard. Check out this craft idea on Homedit where you can make your own with plastic eggs, spray paint, twine, and a little glue.
14. Pumpkin Splatter Screen Wreath
Can't find wreath bases? Make this adorable pumpkin splatter screen wreath from DebbieDoos starting with two platter screens. While orange would be cute, feel free to use any color splatter screen for this Dollar Tree fall décor project.
15. Fall Tree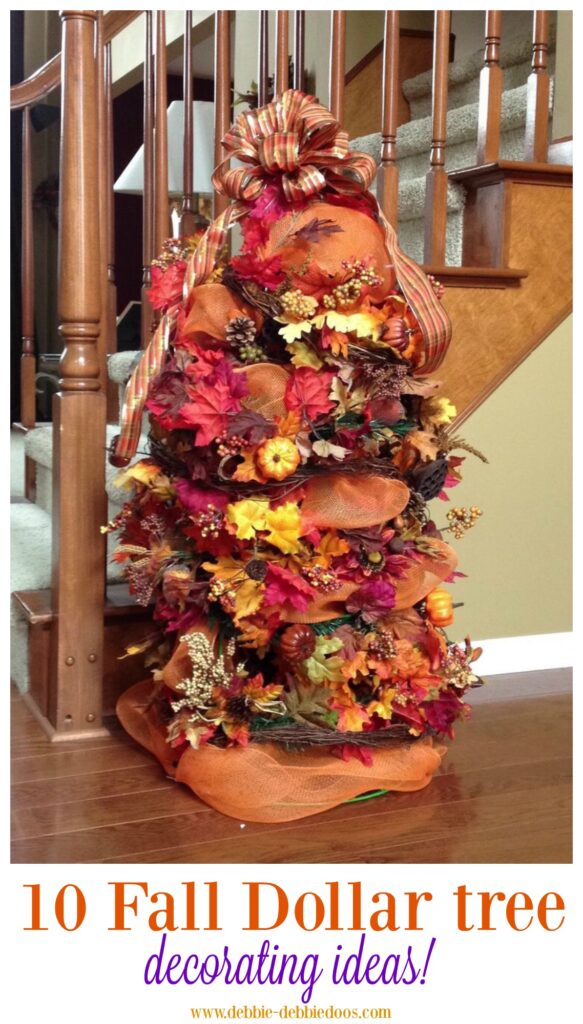 Trees aren't just for Christmas. Switch is up this year and make a fall tree following these decorating suggestions from DebbieDoos.
16. Pumpkin Candles
While you can't typically find bags of wax at Dollar Tree, you can find some candles to melt down to make these carved out pumpkin candles from Homedit.
17. DIY Rustic Serving Tray
Planning a fall party or an upscale Halloween party? Make this rustic serving tray from DebbieDoos to impress your guests with your fall decor as you serve them drinks.
18. Halloween Tray
For those who prefer something a little less fall and a little more Halloween, check out this Halloween tray from DebbieDoos which will bring the perfect creepy vibe to your home just in time for October.
19. Metallic Pumpkin Centerpiece
There is no centerpiece easier to make than this metallic pumpkin centerpiece from Homedit. You just need faux pumpkins, a pedestal, some faux leaves, and metallic paint.
20. Farmhouse Pumpkin Centerpiece
Pumpkins can be used for everything, from strategic placement decoration, to making this cute centerpiece from DebbieDoos. Grab a white one from Dollar Tree if they have it, or you can always spray paint an orange pumpkin white.
21. Dollar Tree Poppy Vase
Grab a few vases while you are at Dollar Tree as they can easily be painted or customized with wrapping paper. Find the method for doing so from DebbieDoos, but feel free to switch the design from poppies to something more fall friendly.
22. Pumpkin Planter Box
Create this pumpkin planter box from Homedit which has space for two small pots from your front porch to really help you get into the fall mood.
23. Mason Jar Kitchen Art
Mason Jar Kitchen art is a repurposing dollar tree fall décor project from DebbieDoos. While you may have a different item in mind to repurpose, follow her instructions for painting and stenciling for the best fall themed result.
24. Fall Stenciling
If you have other items around your home you want to repurpose, consider stenciling fall themed pictures and words on them as in this example by DebbieDoos.
25. Mason Jar Twine Centerpiece
In this fall décor craft by Homedit, you'll make a beautiful centerpiece out of just twine, mason jars, glue, and faux or real flowers.
26. Twine Flowers
Twine flowers aren't exactly a craft all on your own, but it is helpful to know how to make them so you can add them to other projects. Grab some twine and head over to DebbieDoos to learn how.
27. Rustic Wood Pumpkins
No faux pumpkins? No problem, make these rustic wood pumpkins from DebbieDoos using small triangle blocks instead.
28. Pumpkin Tin Can Craft
Tin cans are just as useful as mason jars when it comes to fall crafts. Check out this pumpkin tin can craft project from DebbieDoos and see for yourself.
29. Fall Burlap Art
Sometimes finding art that fits your home and the seasons can be tough. For this coming season, try making your own burlap art following the directions of DebbieDoos to get the perfect fit.
30. New Sew Pillow
Throw pillows can add fall flair to your couch in an instant. For those who can't sew, check out this Dollar Tree fall décor idea from DebbieDoos for a new sew throw pillow.
31. Burlap Mini Rag Wreath
Burlap fans will love this wreath from DebbieDoos. But even if you aren't a huge fan this wreath is so cute you may just want to make one for your front door.
32. Foiled Throw Pillows
Foiled throw pillows are one of our favorites because of the beautiful colors you can bring together. Find the directions for this fall craft on Homedit.
33. Glass Vase Pumpkin
Need a place for those fall flower arrangements? Make this glass vase pumpkin from DebbieDoos for a cute vase that will match your fall décor.
34. Polka Dot Fall Banner
Banners are great for decorating indoors or outdoors and can be used for any season. Check out this fall banner from DebbieDoos which can be made with just three items.
35. Burlap Bows
Just like twine flowers, knowing how to make burlap bows is essential for many Dollar Tree fall crafts. Find the directions on DebbieDoos.
36. Candle Jar Crafts
Hopefully you find a good candle jar at Dollar Tree so you can make one of these crafts from Homedit. If you can find three jars, we recommend making all three.
37. Foiled Vase
Besides just using wrapping paper to decorate a Dollar Tree vase to make it fall themed, you can also use foil as they did in DebbieDoos. Grab some orange dye for a Halloween themed vase, or go for gold or brown for a vase you can leave out all of fall.
38. Halloween Pillows
You don't have to know how to sew to make a Halloween pillow, you just need to know how to paint. While DebbieDoos used a kit you can make this project with any fabric paint and canvas pillow case you want.
39. Halloween Monogrammed Pumpkin
When your kids want to get involved with Halloween decorating, pull out this idea from DebbieDoos for monogrammed pumpkins. Grab some jewels, ribbon, and beads from Dollar Tree and let each of your kids decorate their own faux pumpkin.
40. Pumpkin Mantel Display
It's amazing what you can do with 4 faux pumpkins and a few old keys. Combine them with a little white paint to make this amazing project featured on Homedit for your fireplace.
FAQ
When Should You Start Decorating for Fall?
You should start decorating for fall once the evenings in your area begin to cool down, generally around the end of August and beginning of September. 
Can You Mix Halloween and Fall Décor?
Because Halloween happens during the fall season, it is perfectly fine to mix the decor of the two, and it may even make your home look even more festive. 
What is the Easiest Way to Decorate for Fall?
The easiest way to decorate for fall is collecting items like leaves, pinecones, pumpkins, and other fall items and placing them in baskets, or on shelves around your home. 
Dollar Tree Fall Décor: Conclusion
Fall is one of the best seasons of the year, and with some Dollar Tree fall décor, your home will look amazing. Whether you decide to make a fall wreath or some candles, you can't go wrong with any idea on this list.