Hi there friends! It's all about faux for me this year. Today I am sharing faux fall porch decorating. I refuse to kill anymore plants.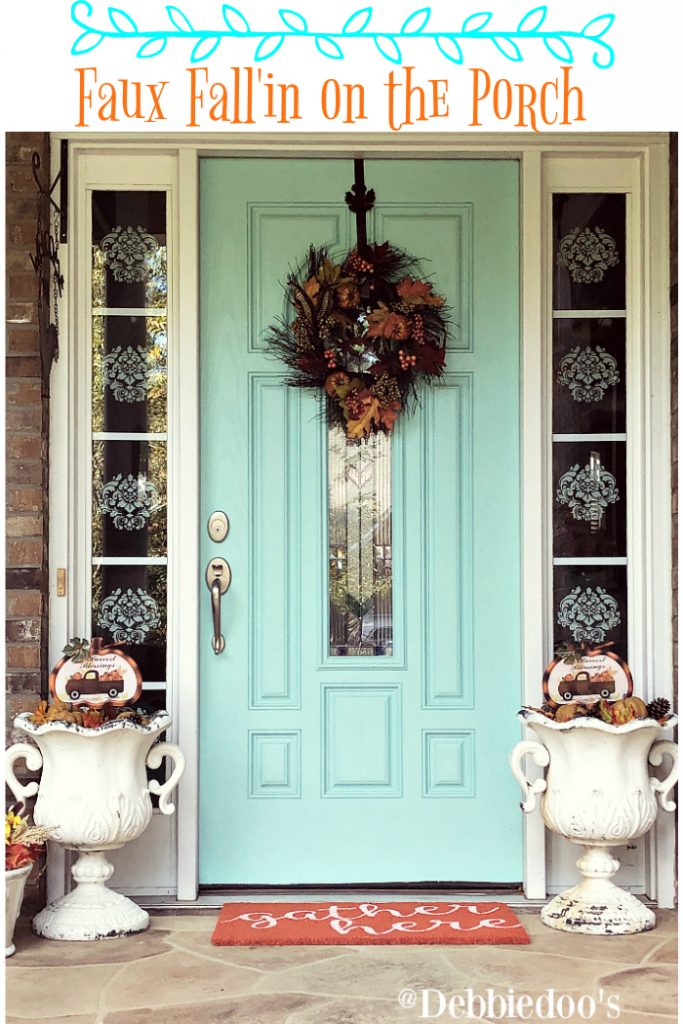 Considering we won't be at our main dwelling all that much, there is absolutely no sense in me investing in mums, or pansies.
We plan on enjoying the empty nest condo as much as we can. If you are new here and want to see our cozy little empty nest second dwelling, you can find that HERE. Still a some work in progress, but overall we are settled for now there. WE don't want to take on anymore projects for a LONG while.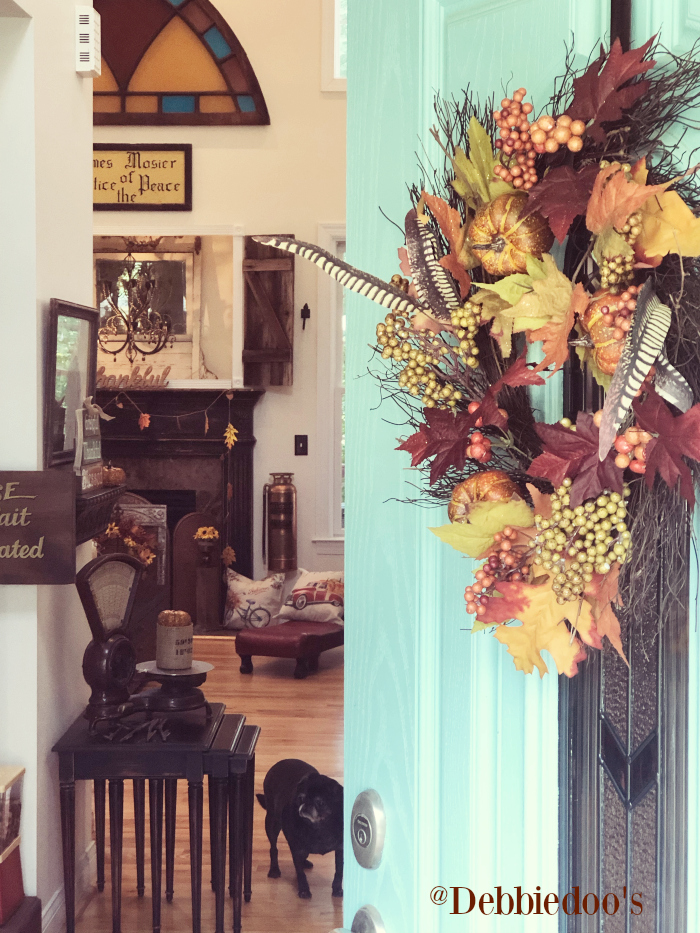 Lucy completely agrees with me most all times! Of course, she is old, senile and deaf now, but that doesn't matter. She still knows better.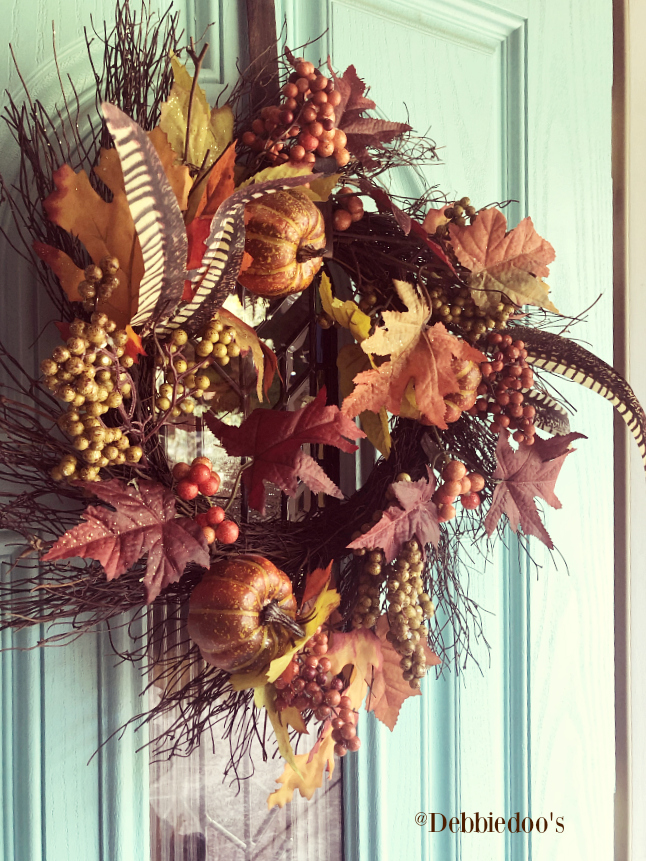 You can't kill faux, and you can still make things look festive, and NOT tacky when using faux fall foliage.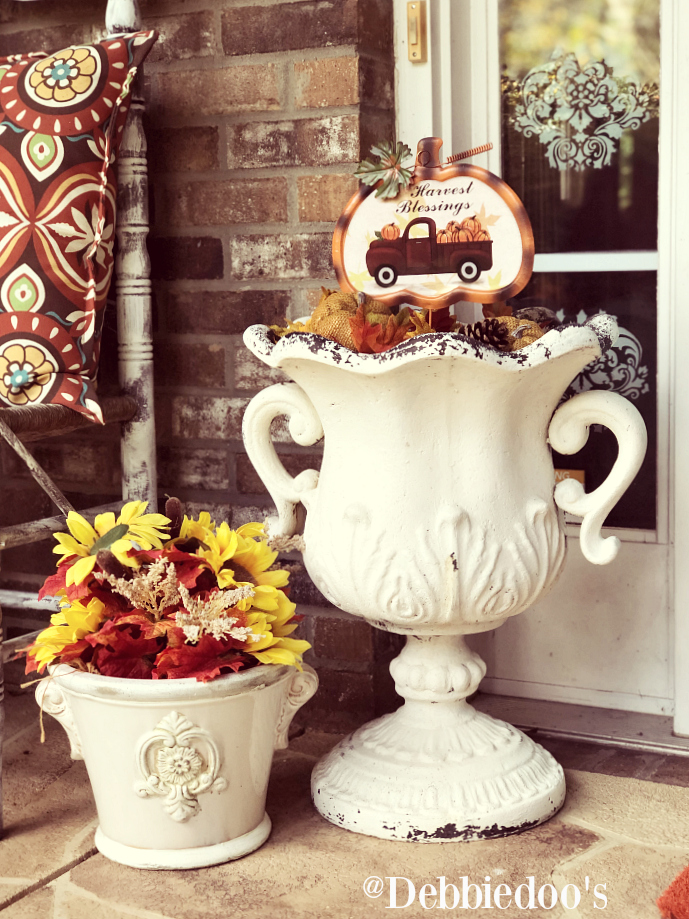 Plus you spend less and can tinker around with faux year after year. I wouldn't recommend over doing it, but a little goes a long way and can make a pretty warm welcoming statement.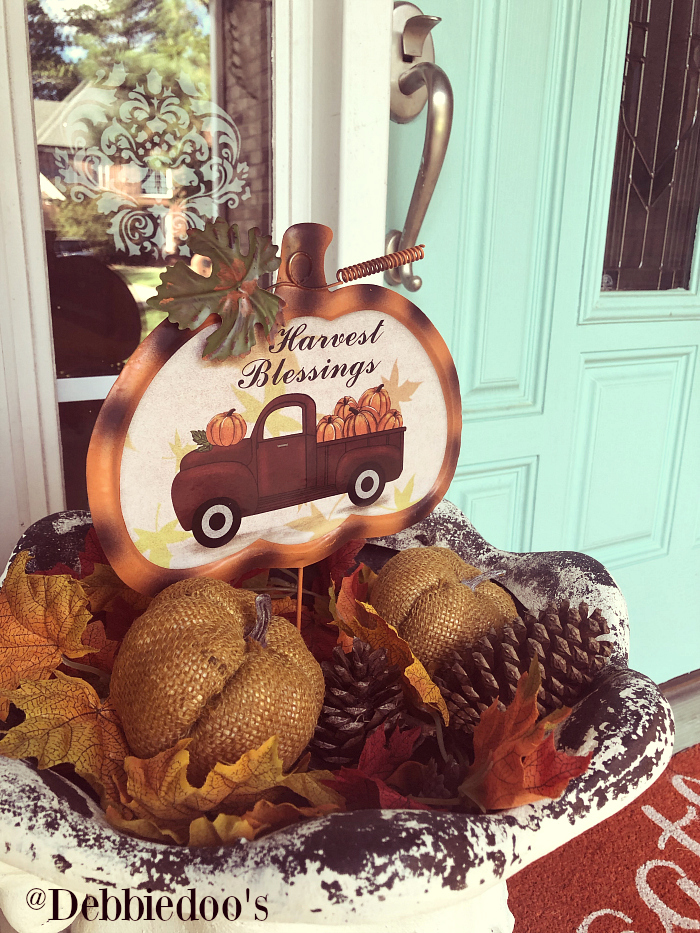 Dollar tree of course is your friend. You can pick up a few odds and ends, add some rustic nature like pine cones and along with a little faux and there you have your flower urns filled, and no need to tend.
My weathered and old Urns have been with us for 13 years now. Once originally black and painted chalk paint white, they have taken and old weathered look of their own.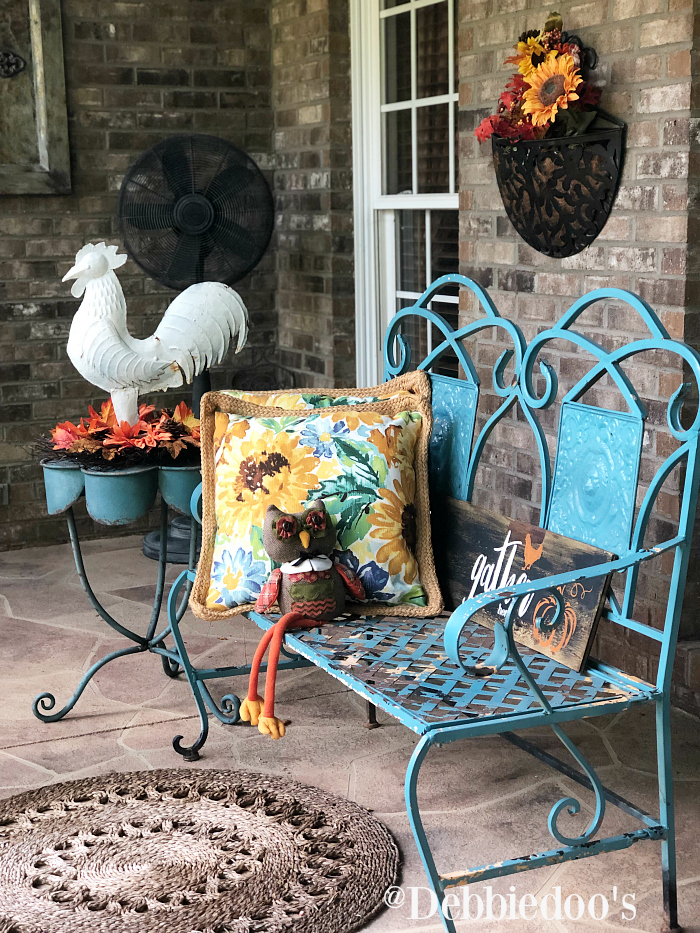 Adding a few colorful pillows, rustic sign, and of course my weathered and beaten up rooster that has been spray painted at least 5 times.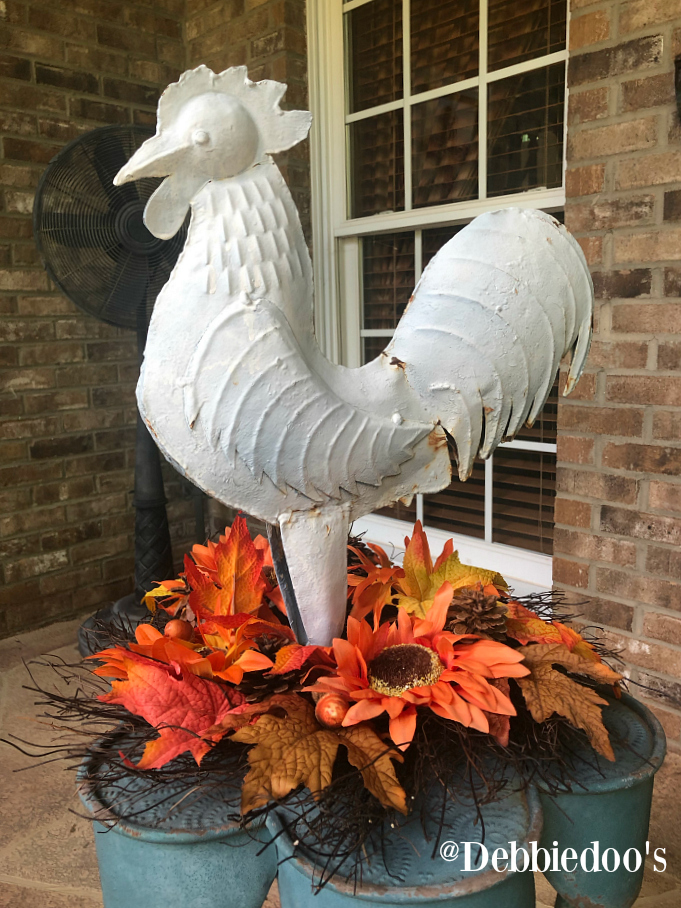 The older he gets, the more I love!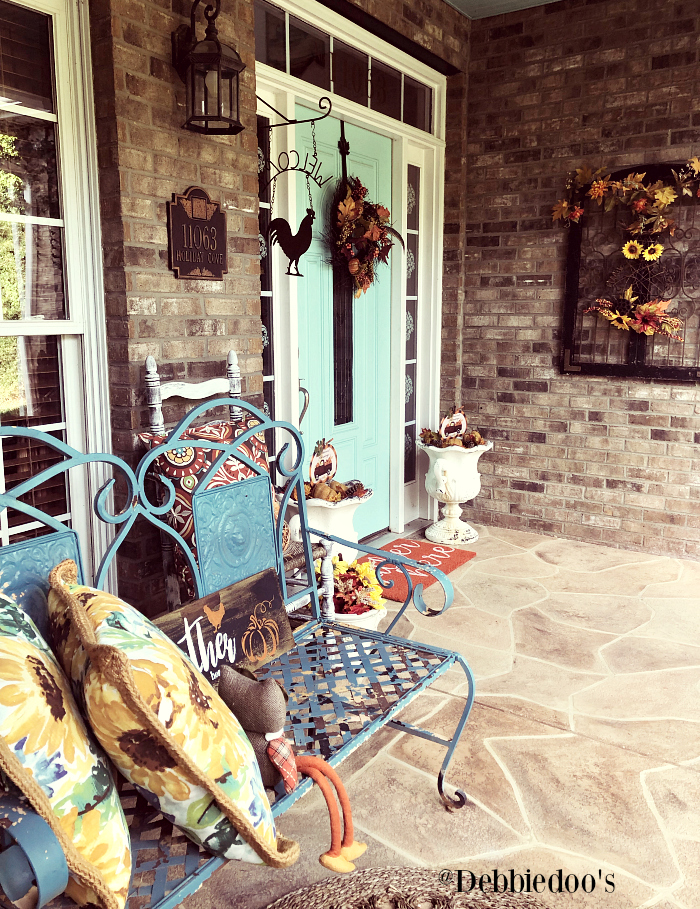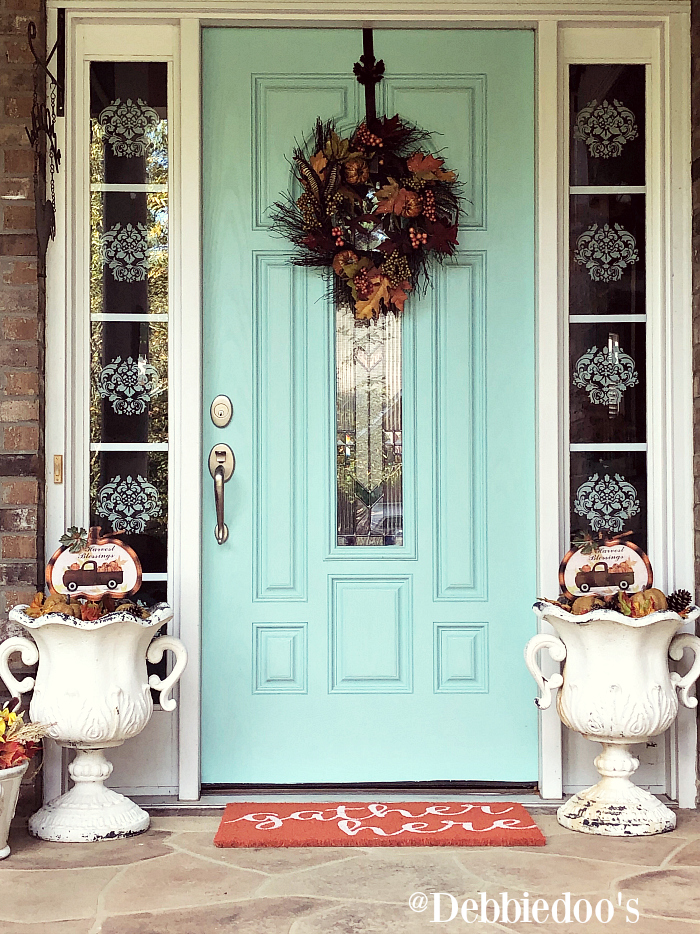 Y'all are welcome to gather here anytime! Just bring some craft supplies and we can get busy together. Oh and maybe a bottle of wine so we can really get silly and creative together.
More fun faux fall coming up soon! Thanks for stopping by today. If you want to see some of the projects shown here I will leave you those links down below.
Painted no prime door project HERE
Stenciled side light door panels
Garden bench spray painted HERE
Find our Dollar Tree Fall Gallery HERE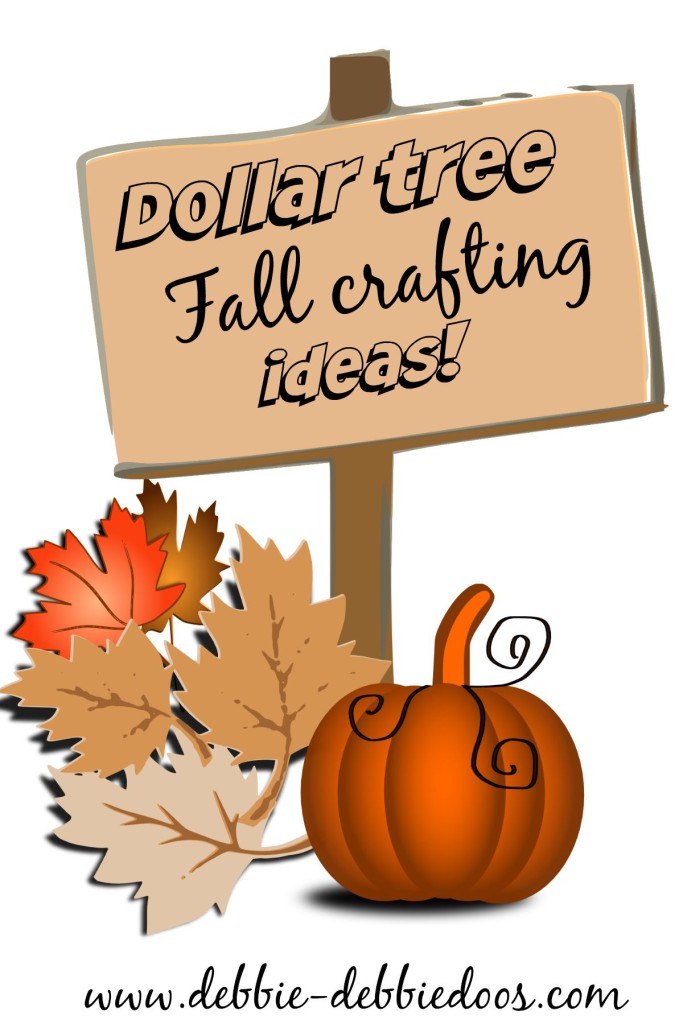 If you don't find me here, you can be sure to find me these days over at Home Pressure Cooking. Cooking in the Instant Pot, Ninja Foodi and Air fryers! YUMMY!