Mason jar kitchen art
Good morning friends! This project was another midnight special. I forgot to mention to y'all that I now officially have my own craft room. What used to be my boys hang out room/TV room is now Momma's room. Considering one son is off the college and the other son is barely home, the room was not being utilized anymore. Plus, I like that Jack our younger son hangs out more with us downstairs when he is home. Hence, Momma took over space. I will share what I have done to it very soon. It's nothing fab, but it's cozy and quiet.
Today, I am sharing mason jar kitchen art. Have you ever bought something you didn't really like, however, there was something you did like about it? I found this mason jar art at Home Goods a few months ago. It was pretty reasonable, I believe $12.99ish. I liked it, but I didn't like it. I have had it in our kitchen behind the stove, and every time I would look at it, I thought, that just is not right. It was way too fake looking. It was supposed to resemble chalkboard art, however, it was all shiny and new looking. Last night, the light bulb went off.  Why not make it your own?!
Mason jars are still very much a trend with decorating. I don't think they will ever go out. You can read about the history of a mason jar here.
The before as I mentioned just wasn't me. But initially what I was drawn to was the mason jar board and how it was trimmed with burlap. I saw it as having potential for something else down the line looking more rustic and fitting with our decor.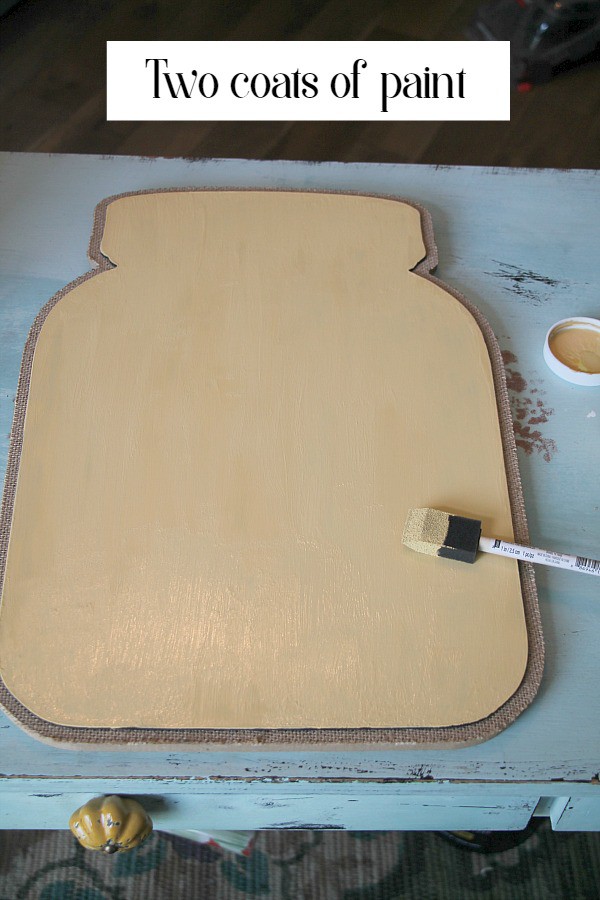 Easy fix. I used the same paint that I used when painting my thrift store stool here.
I applied two coats and let it completely dry. Within the hour it was ready to go.
My hand-painted pumpkins are probably the worst you have ever seen. I admit I can't paint, but I did my best to get the gist. You can tell at least they are pumpkins. I so wish I had a pumpkin stencil.  Oh well, maybe in the future I will.
I seasoned my board with chalk. Then I placed my gather here stencil in the center.
I used a chocolate brown craft paint for the gather part and orange craft paint for the rooster.  I skipped the here part.  Only because I have gathered here all over the place. Do I really want everyone gathering here? Sure why not.  Point being, you can skip the rooster or the here part and I wanted to show the example of skipping to stencil some parts.
So much better and so much more fitting in our kitchen.
The moral of the story…make it your own:)
Now time to go hang it!
Thanks for popping in today.  If you are new here, welcome.
Find Stencils HERE to create your own custom artwork.
Thank you for your visit today!
Do you like Dollar tree crafting? I have plenty of fall ideas for you.
I share all things, thrifty home decor, crafts, and a recipe or two on occasion.
If you would like to commit to becoming a subscriber, I would love for you to join me.