I hit up the Dollar tree today and it was like striking it rich in Vegas for me! Today's craft, I am sharing rustic wood pumpkins.
I told ya in my Dollar tree Fall post they start early and you best get over there before their stock runs low and they are onto Christmas. In fact, I wrote this post a few weeks ago and forgot to publish. They may even be onto Christmas decor already.
Lots of new fun Fall decor out this year.
I loved these little burlap wrapped sunflowers.
This was last years mantel and I was really into all things sunflowers.
It was cute but I like to change it from year to year. That is why the Dollar tree is my friend.
If you missed my Owl mantel this year you can take a gander
Two years ago I also made these cute little burlap fall mason jars.
This sorta gave me the idea for today Rustic pumpkins.
I just so happened to have these wood pieces that my FIL brought for us to use on the BBQ. They are actually apple wood and smell nice too. But it goes to show, just thinking outside the box, you can always make something out of nothing, or I should say not your typical crafting supplies. I am sure you can find wooden blocks somewhere.
I would much rather craft with them then use them for cooking. But shhhh..don't tell my husband that. He probably won't even notice.
The dollar tree now even sells mini rolls of burlap! And some of their signs this year have a burlap background on them. They are certainly keeping up with the times. Or perhaps they are reading more blogs too and getting ideas for their decor stock. I always like to assume that we give magazines and stores all their ideas:)
These are the supplies I used.
craft paint/stencils/sticks/burlap/mod podge
sponge brush, and small artist brush for stenciling.
I find a lot of my stencils at Walmart in their craft department. Same for the craft paint. They have a great craft section now. Saves me a trip sometimes to Michaels where I get lost in for hours. Walmart, I want in, and OUT!
First I painted my little wood blocks, let those dry.
Cut my burlap into a square that would fit nicely on the block. I painted on some mod podge with a sponge brush onto the block and adhered my burlap and then painted over the burlap.
Let that dry completely before the next step of stenciling.
I confess, I did not wait for the mod podge to dry. It is still drying, however, I did not mess up my stenciling job. I have little patience in case you didn't know that about me. I want everything done YESTERDAY!
I think these are going to make a cute addition on our entry side table. We shall see where they land!
Thanks so much for visiting today.
Affiliate links to purchase items to craft with
Burlap roll
Mod podge
Stencils
sponge brushes
Craft paint
It's all about the pumpkin, owls and more here. Not sure if I am going to do much Halloween decorating this year. Now that Jack is the only one home, and in High School now, I don't think it really matters to him much anymore. Although, I do enjoy it, so we shall see.
You can check out my Halloween ideas
And more Dollar tree Fall decor and craft ideas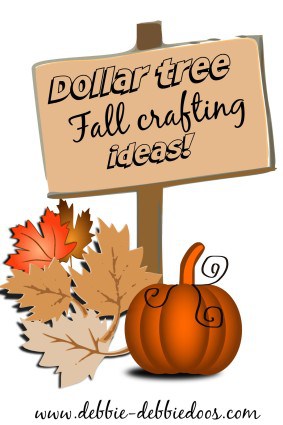 If you are not a regular here, I sure would love to see you back again. I am a fall fanatic!
I have also put a gallery together of all my projects in one easy place.
Just click on the category and enjoy!