Making flowers from twine can take less than 10 minutes and they can be creative and fun on the same time.
I was bored the other evening while Mike was working and of course the kids were not home.  Lord help me when I am a complete empty nester.  I hate to even think about it.  What will I do with my time?  Y'all might be seeing two three posts a day from me:)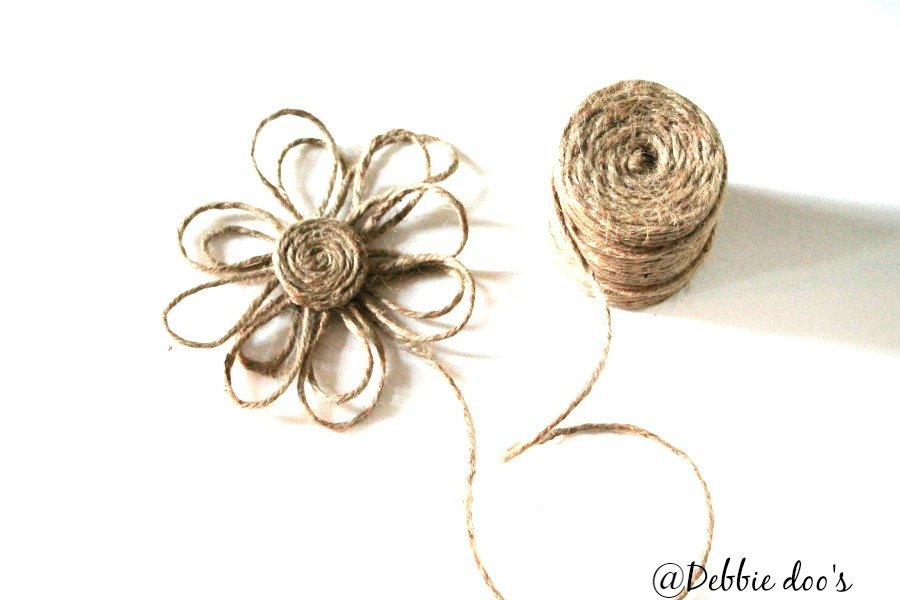 For this craft all you need is a roll of twine, a hot glue gun and either cardboard, or a poster board.  Basically anything a little more durable for the center of the flower.
For this project I worked right off the roll of the twine for the flower petals.  Basically, I never did any cutting or trimming until the end.  The center of the flower was the first cutting off of the twine.  Then from there the flower petals were all looped and glued without any cutting until the end.
I am including a short visual video of the tutorial.  I believe even a 1st grader can do this project.
Cut circle center and begin to hot glue looping around to form a flower petal.
One by one, by one, by one, loop, hot glue, loop hot glue.
That's it! You can go back and double it, and twine the center by simply wrapping and dabbing a little hot glue as you go. It's a lot of fun and I am sure you will be whipping out twine flowers like mad!
I see some fall twine flowers in my future. I love to embellish with twine and use it often in a lot of my home decor and crafts. You can find my twine rustic spring board here
Just to name a few twines:) If you like twine, and the Boho look, check out 20+ ways to get the Boho look in any room
Pin it, save it for later
You may also like my DIY Home Decor using Stencils HERE
Find your twine down below:)
 (Debbiedoo's) is a participant in the Amazon Services LLC Associates Program, an affiliate advertising program designed to provide a means for sites to earn advertising fees by advertising and linking to (Debbiedoo's) (amazon.com).