Hi friends! It's official. We are empty nesters. I am not feeling great today to be honest with you. I have a pit in my stomach that I can't explain:( I got my craft on as soon as possible). Today I am sharing my Pumpkin Splatter screen wreath I made.
I finally found my splatter screens at the third Dollar tree I went to. I was determined to make this and find those screens. Clearly this is a craft gone wild and Dollar tree can't keep them on the shelves.
The beauty about these splatter screen pumpkin wreaths is that you can really make them your own. Because I was feeling down and super creative at the same time, I took the splatter literal. I used Mod podge, chalky paint and regular white craft paint. So many of my supplies are dried up. I considered Gesso, but my jar was hard as a rock. I wanted texture, color, and something to match more style.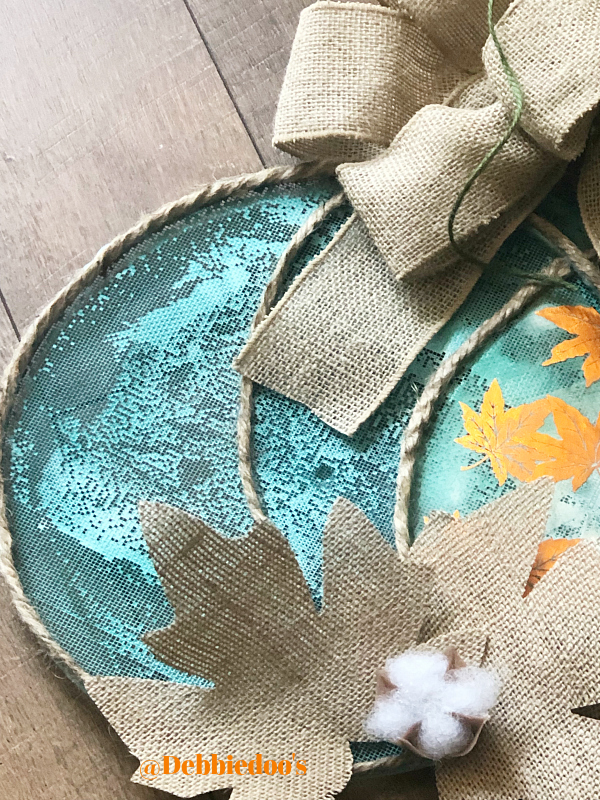 My pumpkin took on a look of its own. Painting the Mod Podge on the screen really helped the chalk paint and white craft paint adhere in random places. It sort of looks like a water color. At least in my eyes it does.
In the center I cut out a very thin, almost like mesh ribbon and mod podged the leaves. They are still drying as we speak. NOTE: You can use napkins as well and Mod Podge those on the screen. That would be really cool as well. I just couldn't wait to share this craft with you:) I LOVE IT!
Supplies: Mod Podge (I only had the formula for paper: It worked). Chalky paint by Folk art COLOR: Grotto found at Walmart. White matte acrylic craft paint. Sponge brushes, twine, ribbon, burlap ribbon, burlap leaves (found at Dollar Tree. As mentioned I painted the screen first with Mod Podge, let dry for only a few minutes, and then painted all over it with chalky paint, and then went over the chalky paint with the white craft paint. I let all this dry overnight. Please do this on a paper bag with a plastic garbage bag under the surface.
Dollar Tree Splatter Screen Wreath
You can find other beautiful Dollar tree Pumpkin splatter wreaths HERE, along with the step by step tutorial. No sense of me reinventing the wheel. It's pretty basic and I am not the original genius behind this craft. You simply make it your way with embellishments. ENJOY!
Mine will be going on our pantry door. As soon as I get my kitchen fall fluffed I will share with you how it looks.
Here is a sneak peek in the meantime.
Thanks for stopping by today. You can check out my other Dollar tree Fall crafts such as DIY felt wreaths, Fall Trees and More!
And you can find her You Tube original video HERE: