Hi friends! It's that time of year I start to go Dollar tree nuts! Or should I say nuts for Dollar tree fall seasonal decor.
Dollar tree DIY Pumpkin splatter screen wreath
Today I am sharing some Dollar tree DIY Pumpkin Splatter screen wreaths I came across on Facebook and in some nifty groups I am in.
I also found the original clever creator of them that inspired us to make the Dollar tree DIY Pumpkin splatter screen wreath. You can bet I will be running there tomorrow. I plan on making one for our Pantry door.
First let me show you some of the creations I came across today.
Each splatter screen wreath is a bit different examples of what embellishments you can add, trim, flowers, etc.
Even adding material behind it, and simple word embellishments that I know can be found at Dollar Tree.
I would even consider spray painting my splatter screen a pretty gold color, orange or even black.
Ladies are going nuts for these diy dollar tree pumpkin splatter wreaths as you can tell. If any of you ladies happen to come across this post and would like me to add your name, I would love to. As I mentioned the inspiration came from Facebook groups of people sharing their creations. Not from bloggers or websites.
You all did an amazing job and it is hard to narrow down a favorite. You inspired me and many others to make one too!
I couldn't wait to make my own. FIND Debbiedoo's Pumpkin Splatter screen wreath HERE.
Perhaps you want to make your own pumpkin sign this season? I just made a super cute BOHO pumpkin sign HERE. You have plenty of options to DIY your way through fall this season. So much fun!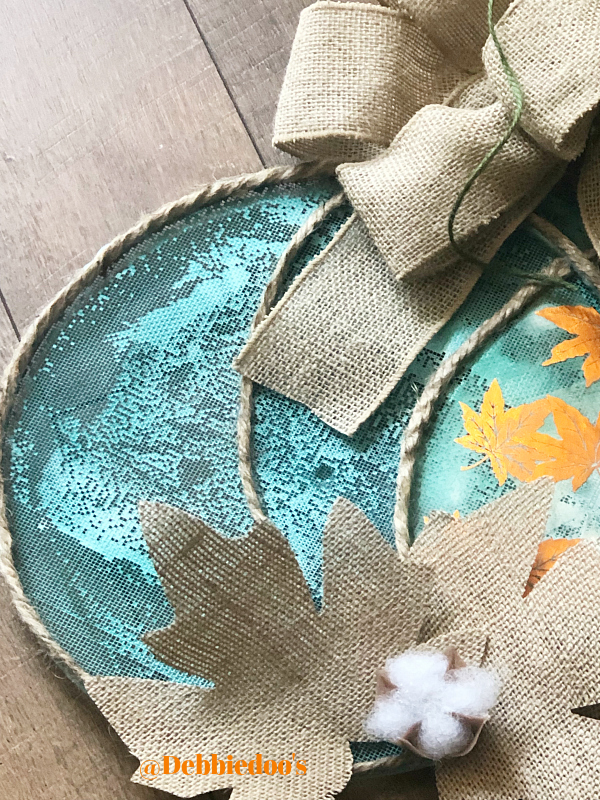 Pin it, make it!
Here is the tutorial for our reference by Keeping it Simple Crafts
Original idea creator HERE on Facebook Robinson Repurposing
Dollar tree DIY Pumpkin splatter screen wreath tutorial
Thanks for stopping by today. You can check out my other Dollar tree Fall crafts such as DIY felt wreaths, Fall Trees and More!
If you are new here, welcome. You can stick around and see my Dollar tree fall decor so far for the season:
Dollar tree Pickup truck tabletop centerpiece HERE
Dollar tree Fall scarf wreath HERE
Dollar tree Salt and Pepper Mason Jar crafts HERE