Fall Christmas Trees are one of the new popular trends for people who can't get enough of their holiday decorations.
By putting up a Christmas tree in the fall instead of waiting until a few weeks before Christmas, you can use the tree as a foundation for a themed autumn focal point. 
Common Fall Christmas Tree Decorations
Cinnamon sticks

Dried wildflowers

Mini pumpkins

Ribbons

Lights

Autumn-themed garlands

Faux fall leaves

Real fallen leaves

Acorns

Cotton blossoms

Wooden ornaments

Dried citrus slices

Buffalo check bows

Hay bales

Faux sunflowers
How to Decorate a Christmas Tree in the Fall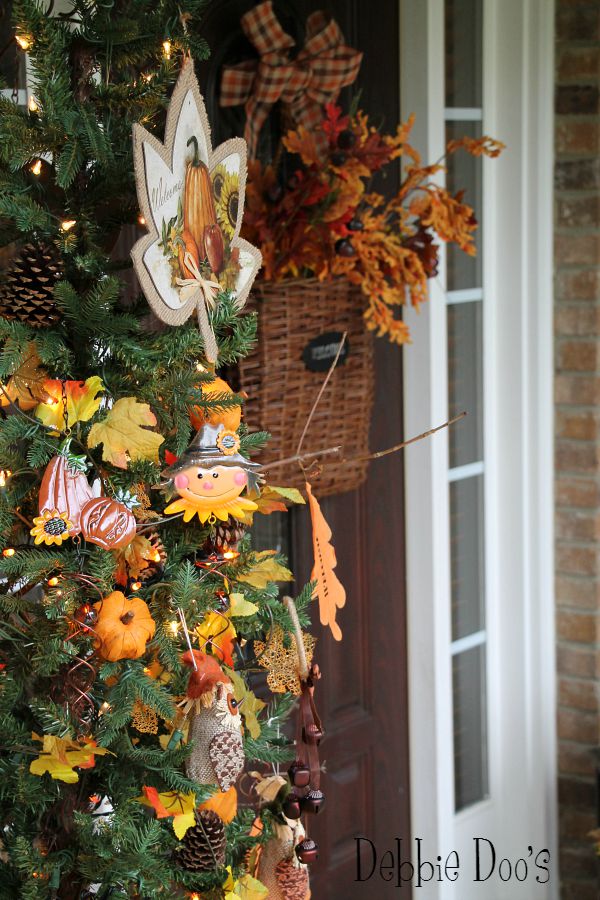 Step 1. Pick a theme
Coming up with a theme for your fall Christmas tree can help you decide which decorations to choose to finish out your design.
For example, a primitive farmhouse fall Christmas tree might incorporate buffalo check bows and hay bales, while a Halloween-themed fall Christmas tree might have bat ornaments and pumpkin garlands. 
Step 2. Layer decorations
To end up with a professional-looking fall Christmas tree, it's important to layer decorations on the tree in the right order. You should start with any kind of lighting if you plan to use it, followed by garlands, and then individual ornaments. 
Step 3. Start with the lights
There are several different types of lights you can use on a fall Christmas light to invoke different emotions and visual effects.
Check out globe lighting, LED string lighting, and bubble lights to see which one you think will look best with your Fall Christmas Tree theme. 
Step 4. Use your best ornaments as focal points
If you have special sentimental or heirloom ornaments you want to use on your fall Christmas tree, be sure to save these for prominent viewing areas on the front of the tree versus the side of the tree that is against a wall or window.
Fall Christmas Tree FAQ
When Can You Put Up a Fall Christmas Tree?
September is the best month to start a fall Christmas tree if you want to leave it up for the whole fall season leading up to Christmas. If you want to put up a fall Christmas tree at the same time as the official beginning of fall, the fall equinox falls on September 22th.
What Can Be Used as a Fall Christmas Tree Topper?
Patterned bow:

Plaid, houndstooth, and buffalo check are popular choices for topping a Fall Christmas tree.

Faux pumpkin:

A faux pumpkin can be a Fall Christmas Tree topper for either a Halloween-themed tree or one that is more generally seasonal. Mini faux pumpkins can be used elsewhere on the tree to bring the pumpkin theme across the entire tree design.

Stuffed turkey ornament:

If you're trying to design a Thanksgiving-themed Fall Christmas Tree, a stuffed turkey can serve as a cute and whimsical option for a Christmas tree topper. 
How Do You Transition From Fall to a Christmas Tree?
Transiting your Christmas tree from fall to the holiday season can be as easy or as complicated as you want to make it. To make the process easier, you can use the same lighting and color scheme across both seasons.
Crimson is a good color to decorate your tree with if you want to leave some of the same decorations on the tree from autumn to winter. A black-and-white checkered design palette can also make the jump from fall to Christmas.
Tips for transitioning your fall Christmas tree to a traditional Christmas tree
Move the tree to its Christmas location.

If you normally display your fall Christmas tree in a different position than your traditional Christmas tree, go ahead and move it into the position where you'll have it when you're placing presents around it for the holidays.

Keep decorations organized as they're taken down.

It can become a chore to keep a Christmas tree in multiple seasons if you don't keep your seasonal decor well-organized. Put any fall Christmas tree ornaments in an organized system of storage so that you can easily access the decor for the following season.

Try to go with decor that can work during both seasons.

General seasonal decor like greenery boughs and dried citrus slices can serve as decorations on either a fall or winter Christmas tree design. 
Fall Christmas Trees Can Extend Your Holiday Decor
A Fall Christmas tree is a fun way to get more use out of your Christmas tree and start your seasonal decor earlier in the year. Whether you like a farmhouse country fall style or you want to go full spooky season with a Halloween tree, a Fall Christmas Tree can be the star of any autumn home decorating scheme.