Mod Podge glass projects can be used to decorate any room in your home. You can make candles, vases, and even nice dishes to put on display in your kitchen. No matter what type of project you were looking for, this list has them all.
What is Mod Podge?
Mod podge is a special type of glue that can be used to seal art projects. Typically applied with a brush, it looks like varnish when it dries. Mod Podge is non-toxic.
Because Mod Podge is made from a complicated formula, you can never substitute regular glue for mod podge.
Best Mod Podge For Glass
There are several different types of mod podges, and while many can be used for glass, they won't all adhere to the smooth surface. Below are the best types of mod podge to use for a glass project.
Dishwasher safe mod podge
Glow in the dark mod podge
Sparkle mod podge
Brushstroke mod podge
Ultra matt chalk
Antique matte
Mod podge hard coat
Mod podge extreme glitter
Super gloss
Mod podge matte
Mod podge outdoor
Mod podge ultra
Mod podge resin
Mod podge dimensional magic
Mod podge stiffy
Although this is a long list, the best mod podge for glass is the first one, dishwasher safe mod podge. Using this type of mod podge guarantees your art will adhere even if you use your glass project with liquid (such as a flower vase).
How to Use Mod Podge on Glass
Using mod podge on glass is easy, but there are a few steps you need to take to ensure your artwork adheres properly.
Supplies Needed:
Glassware
Razor
Mod Podge
Rubbing alcohol
Soft brush
Plastic Wrap
Paper/Ribbons/Decorative materials
Cotton Swab
Step 1: Clean the Glass
Start by washing your glass.
Step 2: Scrape off Stickers
Next, use the razor to remove any adhesives from the glass.
Step 3: Dry
Allow your glass to dry for at least one hour.
Step 4: Apply Rubbing Alcohol
Use a cotton swab to apply rubbing alcohol to the glass to remove any grease or other particles.
Step 5: Apply Mod Podge
Apply mod podge with a brush where you plan to stick your decorations.
Step 6: Apply Decorations
Put Mod Podge on the back of your decorations, then, put your decorations on top of the mod podge before it dries.
Step 7: Smooth Your Decorations
Cover your decorations with plastic wrap and use your finger to smooth out any bubbles or bumps in the decoration.
Step 8: Wait 24 Hours
Allow your mod podge to dry 24 hours before touching your product. At this time you can add a top coat if you want to, otherwise, your project is done.
How to Remove Mod Podge from Glass
Because Mod podge is an adhesive, it is not easy to remove from glass. But, it can be done. Here's how.
Supplies Needed:
Water
Spray Bottle
Dry Towel
Sponge/Scrub Brush
Mineral Spirits
Step 1: Wet the Glass
Fill the spray bottle with water to wet the glass. If you can move the object, filling your sink with water typically works better.
Step 2: Submerge the Glass
Completely coat the glass with water, or submerge it in the sink. Allow the water to sit on the glass for 30 minutes.
Step 3: Remove the Mod Podge
Use a dry towel to remove the mod podge which should be somewhat rehydrated by now.
Step 4: Use Mineral Spirits
If the mod podge won't come off, apply mineral spirits to the towel and try again.
Mod Podge Glass Projects
1. Personalized Wine Glasses
Do you hate it when you and your friends mix up wine glasses at parties? Put a top to that when you use mod podge to personalize your wine glasses.
You can use colorful, patterned paper, or make it even more personal with photos. Find the full instructions for the project on Brit+Co.
2. Dollar Tree Pillar Candles
Use mod podge to upgrade boring dollar tree candles. You can print graphics to make these dollar tree pillar candles, or you can use photos, ribbon, or even glitter.
After you finish decoupaging, add twine or ribbon to the top to create a more festive vibe.
3. Vintage Apothecary Glasses
Apothecary glasses are not only adorable but they can be used to store all kinds of items from bathroom products to spices. Make these vintage versions from Simplicity in the South using nothing but a little mod podge and some antique labels.
4. Recycled Bottle Craft
Besides just sprucing up basic glass, you can also use mod podge to turn something old and recycled into something brand new like this recycled bottle craft.
Simply add some dye to the mod podge and paint it on the glass. Then embellish however you would like, with a fancy snowflake or maybe even a cute toy-like in the example.
5. Wrapped Rope Jars
Mod podge doesn't always have to just be applied to glass to make glass beautiful. Follow these instructions from Purple Hues and Me to first wrap a rope around the glass, and then decoupage the rope. 
The result is a beautiful glass jar perfect for setting out on your mantel or in your bathroom.
6. Clock Plates
Mod podge can easily be used to make fancy dishware, especially when you grab the dishwasher-safe version.
Before the holidays this year, grab some of your favorite fabric and use it to decorate your favorite plates by following the directions on Between Naps On the Porch.
7. Dollar Tree Poppy Vase
One of the best ways to use mod podge is to spruce up an old or inexpensive vase. You can do it using colored paper, ribbon, or even wrapping paper as we did for this Dollar Tree Poppy Vase.
8. Decoupage Drinking Glass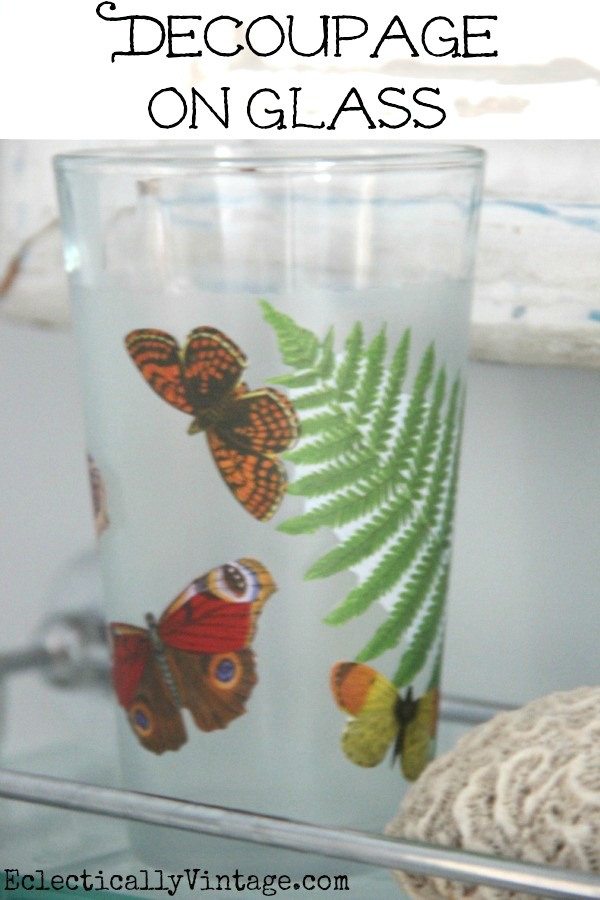 Besides just plates, mod podge can be used to make any type of dish of your dreams, especially if you don't have the right glasses to match your newly decoupaged plates.
Check out this project on Kelly Elko to discover how to make surreal glasses using mod podge.
9. Decorative Votives
Mod podge goes great with tissue paper as long as you can perfect using plastic wrap to smooth out any wrinkles. Once you have the technique down, drive over to Dollar Tree and grab some tissue paper and plain votives to make these decorative votives with mod podge.
10. Outdoor Decorations
If you've gotten your hands on the outdoor mod podge, use it to make giant jars into decorations like on Sweet Something Design. These decorative candle holders can be used for a wedding, a backyard party, or even a holiday BBQ.
11. Valentine's Day Candy Dish
It can be difficult to find themed decorations to fit every holiday. But with mod podge, you no longer need to scour shelves as you can make your own out of any glass decoration.
Check out this Valentine's day dish that was made with just tissue paper and mod podge.
12. Fall Mason Jars
Mod podge is such a strong adhesive, you aren't limited to just working with paper and ribbon. You can also work with fabric, or burlap was done in these cute fall mason jars that you can use to decorate your mantel.
13. Recycled Wine Bottle Christmas Craft
Everyone knows that homemade gifts are some of the best. For the coming holiday season, use your mod podge to upgrade beautiful wine bottles into a Christmas gift. They can have secret messages inside, or be used to hold flowers and other plants.
14. Paris Window Art
Paris is famous for the posters which appear in every window. Although you might not be on a plane overseas right now, you can bring the feel of Paris to your home with this mod podge glass project from Serendipity Chic Design.
15. Terra Cotta Pots
While terra cotta isn't quite glass, using mod podge on it works the same way. Use mod podge to add any variety of materials to your terra cotta pots, from labels on what's in the pot, to pictures, or even a positive saying to help you get through the day.
16. Spring Mason Jar Vases
Mason jars and mod podge go hand in hand. With these two materials on hand, you can probably decorate your entire house. 
Take a look at this project by Dwelling in Happiness which uses floral fabrics to decorate mason jars to make spring vases.
17. Mod Podge Napkin Vases
Do you have some beautiful napkins left over from a party that you don't know what to do with? Use your mod podge to adhere them to vases or mason jars in your home to add a special flair.
18. Tissue Paper Plates
Tissue paper mod podge plates can be used to design the plates of your dreams that may not be available in stores. Grab some glass plates, tissue paper, and these instructions from The Graphics Fairy and you can make yourself a beautiful new set of dishes in an afternoon.
19. 3D Glass Design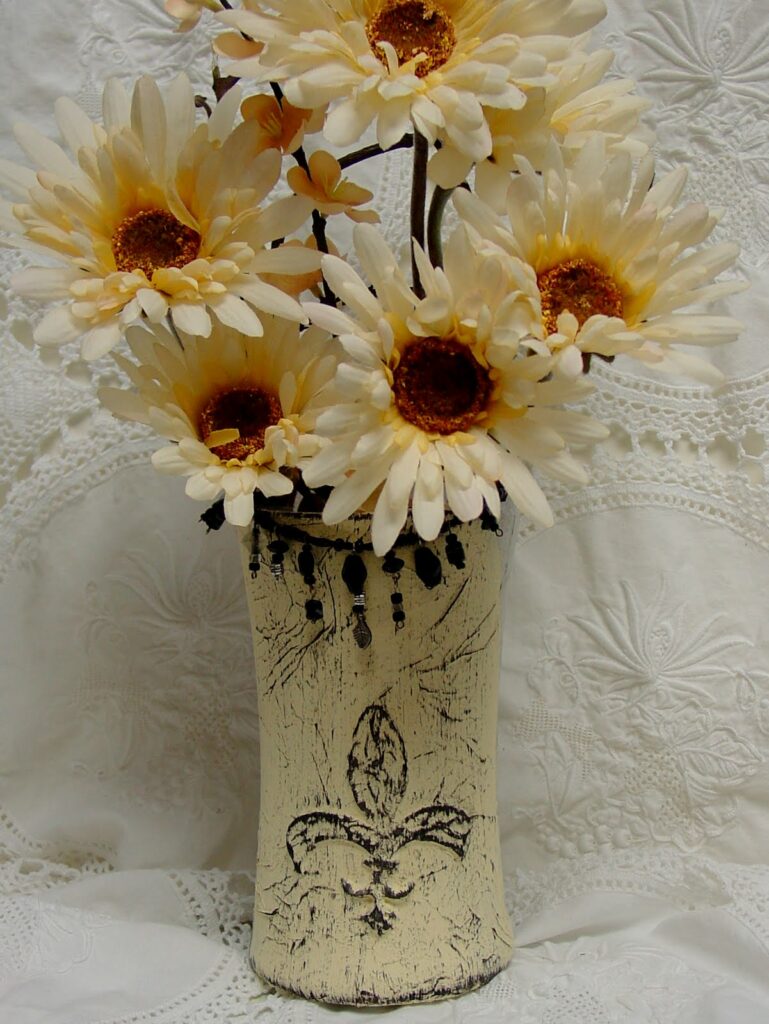 Mod podge doesn't have to just be spread flat, as it can also be used to adhere a 3D design to a vase-like Make the Best of Things did with a hat logo. But don't feel stuck just using hat décor, you could also use beads, gems, or even small toys.
20. Christmas Ornaments
Round glass bulb ornaments are a staple on most Christmas trees. Make your own unique ornaments this year using sparkle mod podge and cute graphics cut from paper. You can even make your own snowy scene if you are up to the challenge.
21. Cloche
Want to make a cake cover more interesting? Use mod podge, twine, and fabric to make a cloche cover that matches your kitchen decoration.
Cut the fabric for a cut-and-paste look, or leave it whole for something a little more simple.
22. Glass Snowman
If you live somewhere where there isn't any snow, you can still make a snowman using mod podge.
All you have to do is grab some small glass candle holders and paint them using sparkle mod podge and white mod podge.
Add some decorations to make a face and you have a cute glass snowman for the holiday season.
23. Colorful Jars
Mod podge doesn't just have to be used as glue for objects. You can also mix in some food dye and use it as paint to change the color of the glass you put it on.
The full project and directions for mixing the colors can be found on Mom Spark.
24. Decorative Spaghetti Jar
Once you master the art of mod podge, you will find yourself looking to decorate anything and everything in your home. When you run out of mason jars, consider making this decorative spaghetti jar to use during the holiday season.
25. Foiled Dollar Tree Vase
Another unique medium you can use with mod podge is foil. Start by painting your foil the desired color then use mod podge to adhere it to a jar. 
The result is a metallic foiled vase that can be used any season of the year.
Mod Podge on Glass Expert Tips
When you first start using mod podge, there's a bit of a learning curb. Here are some pro tips to get you started.
Although mod podge dries after just 24 hours, it's best to wait 28 days before adding water to or washing your project. This will allow the mod podge plenty of time to cure before facing the elements.
Don't panic if you get mod podge on the wrong side of what you are trying to adhere, remember, it dries clear.
Even though the mod podge says dishwasher safe, it is always best to clean mod podge glass by hand. You don't want your amazing work ruined.
While mod podge is non-toxic, it is best to avoid decoupaging the part of the dish that will touch your mouth, just to be on the safe side.
Note that any plate or bowl you mod podge is no longer microwave or oven safe.
FAQ
Does Mod Podge Peel Off Glass?
Once dry, mod podge will not peel off glass unless you soak it in water for 30 minutes or longer. If you are worried about your mod podge glass project peeling, avoid putting it in the dishwasher. 
Does Mod Podge Dry Clear to Glass?
When applied properly, mod podge will dry clear on a glass surface to look like it isn't there at all. 
How Long Does it Take Mod Podge to Cure?
Even though mod podge feels dry after 24 hours, it takes 2 to 3 weeks to fully cure. In some situations, it may even take up to 28 days to cure. 
Can You Use Mod Podge as Glue?
Mod podge can be used as glue for almost any material. Just be aware that it is more permanent than most glue and isn't recommended for use with children. 
Conclusion
Overall, hopefully, you have learned a lot about mod podge glass projects. Whether you decide to use your new skill to make some holiday dishes, or maybe some decorative candle votives to give as gifts, you will love the final result.
Just remember to let your mod podge dry completely before washing, and you will have a mod podge glass project that looks amazing for years to come.