Embrace the spirit of recycling and creativity with glass bottle crafts, like this project that transforms an empty bottle into a stunning seasonal decoration. Follow this simple guide to create an eye-catching masterpiece, perfect for enhancing your home's winter ambiance or as a thoughtful, handmade gift.
Your glass bottle craft can serve multiple purposes around your home or as a gift. Here are some ideas:
Winter centerpiece: Arrange the bottle with other winter-themed items on your dining table for a beautiful seasonal centerpiece.
Mantel decoration: Display the bottle on your mantel with other winter decorations, such as candles or pinecones.
Window display: Place the bottle in your window to catch the sunlight and create a sparkly winter display.
Candle holder: Use the bottle as a unique candle holder for long taper candles.
Gift idea: Present the finished craft as a thoughtful, handmade gift for friends and family.
This article outlines the following steps: gathering your materials, preparing and painting the bottle, adding depth with wax, and applying Mod Podge and glitter.
1. Gather your materials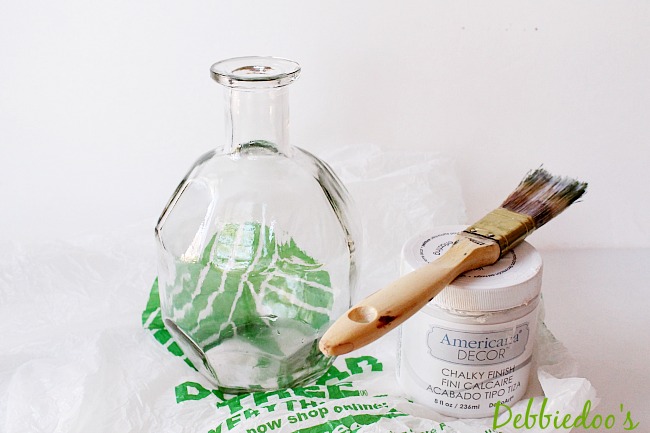 Empty liquor bottle or any bottle of choice
Craft paint (chalky paint recommended)
Mod Podge
Glitter (e.g., Diamond Dust)
Optional: Darker wax (e.g., DecoAmericana)
2. Prepare the bottle
Begin by cleaning the empty bottle and removing any labels. Ensure the bottle is thoroughly dry before proceeding to the next step.
3. Paint the bottle
Apply a coat of chalky paint to the entire surface of the bottle. Allow the paint to dry completely before moving on to the next step. Chalky paint is recommended because it creates a smooth, matte finish that is perfect for this project.
4. Add depth with wax (optional)
For added dimension and depth, slightly paint on a darker wax, such as DecoAmericana, which is available online at Home Depot. This step is optional but can enhance the overall look of your winter bottle craft.
5. Apply Mod Podge and glitter
Once the paint and wax (if used) are completely dry, apply a thin layer of Mod Podge on the painted bottle. Then, sprinkle your choice of glitter, such as Diamond Dust, onto the bottle while the Mod Podge is still wet. Allow the bottle to dry completely before handling or displaying.
This glass bottle craft offers numerous benefits, including reducing waste, exercising creativity, and providing a budget-friendly decoration option. Check out more cool glass bottle crafts.