We don't get much snow here in the South. Surprisingly, though we do get a few inches every year. Some think just because we live in South Carolina you can't get snow here. That is what I thought too, until we moved here. It's actually snowed every year since. I guess that Buffalo weather just seems to follow me. I suppose it is better than the hurricanes we dealt with while living in South Florida for nine years. Of course, since we moved there hasn't been one since.
Today, I am sharing how to build a snowman without any snow.
He is so stinkin' cute I can't even stand it myself!
Starting with the basics. Three round glass bowls from the dollar tree.
In fact, these are the very same bowls I used for my husbands 50th birthday party.
Two medium, one small.
All links below take you to the exact items to purchase through amazon. I am an affiliate and will make a few pennies from the sales:) Thank you.
Chalky paint in white
.
black buttons
Mod podge glitter
Diamond dust
by flora craft
burlap
Sponge brush
, and small paint brushes.
And a dollar tree snowman ornament hat. If they still have them. I found that last year.
Sorry for the bad pictures. I started this project when the sun was going down. First, I painted the vases with my white chalky paint. One coat, let completely dry, then a second coat for full coverage.
Let it dry overnight, even though it dries quickly.
The next day, I went over my painted vases one by one with my sparkle mod podge. Before that dried I ligthly sprinkled on my diamond dust to get that sparkly snow effect.
I let that dry for a few hours. Then I took my buttons, all small ones and used them for the eyes and mouth. The nose, I just cut some burlap I had on hand. It wasn't orange but you get the gist.
I hot glued three buttons on the middle bowl and went over that with some more mod podge and diamond dust.
I simply stacked these on top of one another. I added the top hat ornament and added a button and stick on top of that. All hot glued. I found the sticks in the back yard for the arms.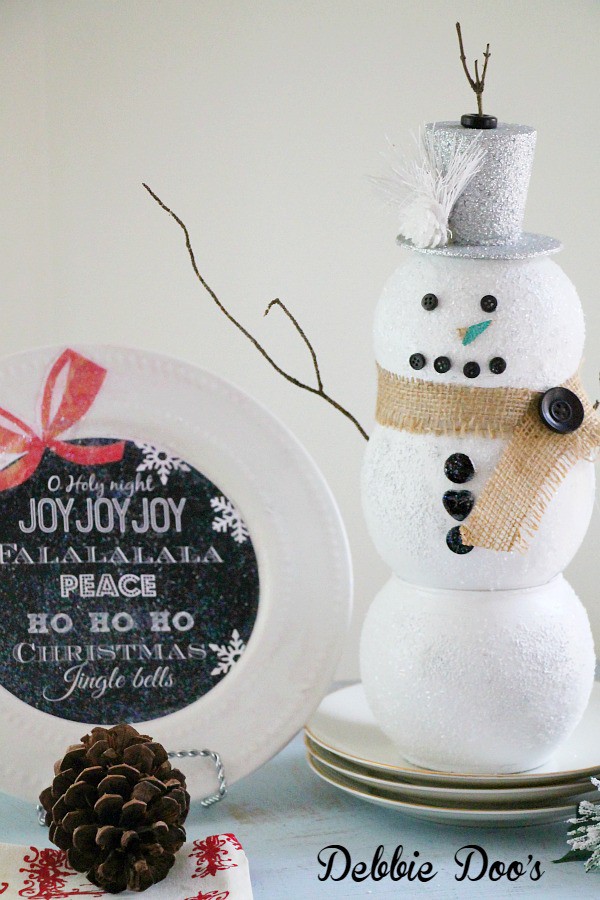 I put him on top of my pie cabinet paired along with my sparkly mod podge dollar plate I did a few years ago.
How fun was this?!!
I really enjoyed this craft.
I am on a roll so far this season. Just in case you missed anything, here is a recap:
Rustic elegant Christmas mantel
Christmas cheer in the kitchen
More Dollar tree LOVE
Last year my theme was all snowmen. If you want to see last years Holiday decor you can check that out too.
If you are not a regular, I sure would love to see you back again.
XO
And don't forget the DOLLAR budget Christmas party going on NOW