Simple guide on How to make wreaths
Hello there friends. Today I will be sharing some past wreaths I have made, and a simple guide on other various wreath making techniques. Making your own wreaths is so very rewarding, and fun to do.
You don't need to be a professional, you don't need to work at a florist, and you certainly do not need to spend a lot of money making your own. Wreaths in retail can be very pricey.
Whether it be a burlap wreath, mesh wreath, silk flowers, and now even the popular splatter screen wreaths, mini wire wreaths and more!
For every season, for every reason you can have a fresh look on your front door, kitchen cabinets, back of chairs, you name it, add a wreath for the season. I will leave either the links below the photos or at the end some of the best You Tube tutorials I found on how to make your own wreaths.
How to make a Burlap Valentine Wreath HERE
There once was a time I had a twig wreath and for every season I would give it a fresh coat of spray paint and simply embellish it according to the season.
I think after five years, my 12.00 investment finally gave out. It was done with spray paint. Fun idea though and it took on a different look for the season. You can spray paint any twig or Grapevine wreath to your own liking and give it a different look each season. I am thinking a nice winter white embellished with pine cones would be lovely for the winter season.
Then there was the time that coffee filter wreaths were all the rage. In fact, this coffee filter wreath was the very first wreath I have made on my blog back in 2010 I believe. The last I used it was for our Country Christmas in the Kitchen HERE.
You can pick up a few packs of coffee filters right from the Dollar Tree. You could even tea stain them for a little rustic feel. Place 5 dark color tea bags into a large pot. Bring to boil and then place on low-medium heat. 2. Place 20 coffee filters into the pot and use a spoon to make sure they are fully submerged. Soak them for about 15-20 minutes each until you get your desired effect.
Embellishments are the finishing touches. Whether you want to make your own Burlap Bows, or simply use picks of flowers, make it your own.
My burlap bunny wreath was one of my favorites. The chevron burlap ribbon was so fun and colorful. It really made a ice whimsical touch upon entry. Burlap Bunny Wreath HERE.
Your imagination can go wild. Pick up a few packs of clothes pins from the Dollar tree and make your own clothes pin wreath!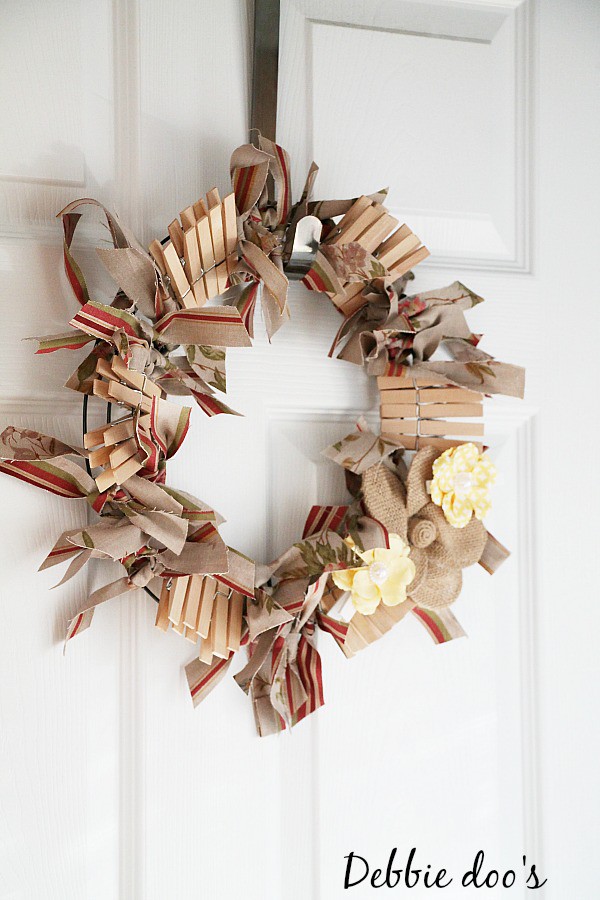 How to make a clothes pin wreath
One of my favorite wreaths, was my cup cake liner wreath. I cheated to save time and wrapped half of it in burlap and ribbon. Make it your own and have fun. I left some great tutorials down below. ENJOY!
Pick up a few supplies you need on hand down below. Every crafter should have basic supplies to start!
Thanks for stopping by today. Hope to see you back real soon.
 (Debbiedoo's) is a participant in the Amazon Services LLC Associates Program, an affiliate advertising program designed to provide a means for sites to earn advertising fees by advertising and linking to (Debbiedoo's) (amazon.com).
What do you need to make wreaths: