Easy, easy, easy! That's what this project is/was.  Easy.  Today, I am sharing how to make a clothes pin rag wreath.
I made a burlap rag wreath a few years ago, and still have it.  As a matter a fact I just moved it to the laundry room.
I been sprucing up the place and of course that means relocating things.
As far as the laundry room goes…well that is my least favorite room in the house. I'm betting it your least favorite as well. Such a daunting, never ending task.
Of course it would be, you step inside and it means, work, more work, fold, and back at it again the next day.  Laundry is a never ending task we all must do.  May as well make the place pleasant if you have to be there.
I will show you around there soon.  It's in the process of also being cleaned and organized.  That room seems to be the catch all! Close the door and ignore the mess room.  Considering it is off the kitchen, I thought a cute wreath on the closed door would be a nice cheery addition.
The supplies were simple.
A mini wire wreath form, I found at Michaels craft store.  An old kitchen window valance, and a few packs of clothes pins from the dollar tree.
Some of the pics are a little fuzzy because I started this craft later on in the evening.  I like to craft at night it seems, but that is not great for photo taking to show you. You get the gist.  I had this old kitchen valance and thought it would be perfect to use as the rag part of the wreath.
First I clipped my clothes pins in sections
and then I filled in the spaces with the cut fabric.
As you can see you just randomly put the material in between the openings of the wire wreath and match it from end to end, then make a knot.
I cut the pieces about 10- 12 inches a piece.  I wound up trimming the ends so you wouldn't see the hemmed parts of the valance.
Embellished with a burlap and fabric flower I also found at Michaels.  The fabric yellow flowers are actually glued onto clothes pins and the burlap flower is just a clip on.  So this project required no sewing, and no hot glue gun. I always wind up burning a finger or two when I use that thing!
 Just some clipping and tying knots of fabric.
 Pretty darn cute if I do say so myself!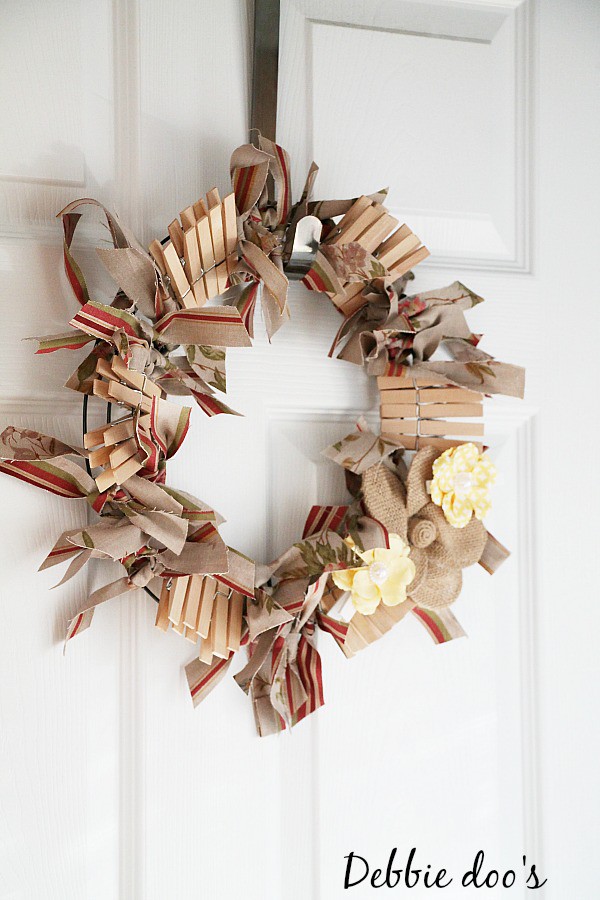 Glad you stopped over today. If you are not a regular here, I sure would love to see you back again.
I am on a wreath roll..check out my
and my Dollar tree Spring wreaths
You may check out my Dollar tree  gallery of ideas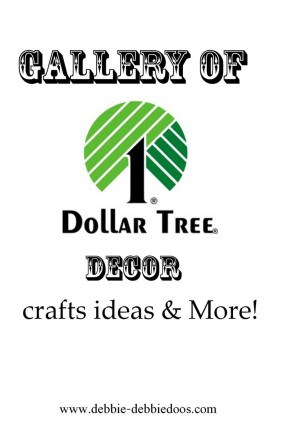 or you may like
Burlap, Stenciling, ideas just to name a few more.