Well, it's a final count down. I didn't think I was going to get it all in. We have had some pretty dreary weather here in the South. Not  good enough to take photos outside. Even these pictures I am sharing today are not the best, but I wanted to get it all in. I would have not felt right getting our Christmas porch on the blog this year. Even though, once again, it's all simple Christmas decorating I did this year.
If you missed our mantel, our Christmas tree, or the Christmas kitchen you can check those out later.
You will be seeing some random leaves scattered about. Every time I swept and blew off the porch more would come back flying in. I basically gave up. You know typically my premise is not everything has to be so perfect. Well, I have perfected imperfection.
Fresh greenery in a basket placed in the candle lantern.
I wrapped candy cane ribbon around the pillars this year.  Just a matter of time before the tape comes off. It gets full sun most of the day.
I did the windows too.
Rustic water pitcher filled with Christmas greens.
It's very colorful indeed. I still am loving my painted rockers. You can read all about my painted rockers with chalkworthy paint here.
I love my little 99 cent thrift store chair.
And I am still loving the stenciled windows too.
This sign here I made myself at a local work shop. It was quite fun, however, quite expensive.  I share with you ladies how to make signs for a fraction of the cost. It was a fun night out with the girls though. They enjoyed stenciling. I of course was the teachers helper. She did invite me to come back and teach a class or two. Perhaps I will in the future.
Home is where the heart
is no-sew drop cloth pillow.
Snowman pillow purchased from Lowe's last year.
Notice our blue porch ceiling? I'm the only one in our neighborhood with it here in the South. There is a story behind it, and you can read about the haint blue porch ceiling here. That's a wrap! Now to get to wrappin! How is every one else doing on their Christmas shopping and prepping?  I refused to stress this year, and so far, so good. Let's hope I didn't forget anyone.
Thank you so much for visiting with me today.
Gather here stencil
If you are new here, welcome! I am also very excited to share my new stencil line with you.
[envira-gallery id="32693″]
Thank you for your visit today!
To view my stencil gallery projects you may check out my Debcreates.com page.
I share all things, thrifty home decor, crafts and a recipe or two on occasion.
Sign up today and receive a few freebies. 12 months of seasonal printable art.
I have also created my own custom apron. "I work by the flour" logo on linen deep front pocket. My husband was the witty one with that slogan:)
Sold on Amazon Debbiedoo's custom apron
.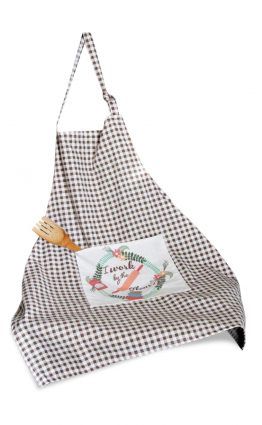 If you would like to commit to becoming a subscriber, I would love for you to join me.