Let there be light
Ahhh, this was a totally unplanned project. Sometimes those are the best, and then there are times, you should have really skipped the whole idea. This project was a good one though and even my husband didn't mind it. I was a bit sneaky and did it while he was out of town.
Today, I am sharing stenciling the sidelights, as a sidekick while the husband is away:)
I didn't intend to be sneaky. It all started when I removed the blinds off the sidelights on each side of our entry door. They were dusty and I wanted to give them a good cleaning. After I removed them I noticed all the natural light coming in and I started thinking, "do we really need these blinds"?
Truthfully, NO, we do not. You can't see on the inside of our home from the street. And even when you step on the porch if you were to peek in all you see partially is the fireplace and entertainment center. It's not like we walk around naked either, so there really isn't much to worry about in terms of privacy.
That's when I decided, the blinds are going bye bye, but I do want some sort of texture and distraction on there.
A stencil of course will work. I had the pretty medallion stencil and all my supplies on hand.
I used chalky paint and combined two colors. White as the base and a pretty light vintage blue color mixed partially with the white.
#DIPDOPDAB, here I go.
As soon as my husband came home the next day, he of course noticed. I said listen if you don't like it, no big deal. Nothing a little vinegar and won't can't remove.
He pleasantly responded, "I actually do like it" YAY!!~
It's nice to have the natural light.  I like it for now for sure.
Only thing left on the front porch is to put my mums in some pretty pots. Wondering if I should even bother. These suckers will be dead in a few days anyhow.
That's all for today folks.
If you would like to visit my fall home gallery, take a minute or 60 HERE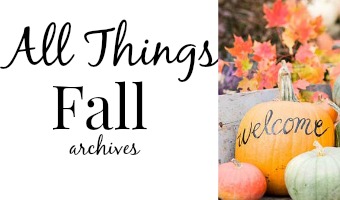 I have been pretty this season. I am starting to think of Christmas and winter decor now:) ACK, why so fast?!
Thank you so much for visiting with me today.
If you are new here, I am also very excited to share my new stencil line with you.
Thank you for your visit today!
I share all things, thrifty home decor, crafts and a recipe or two on occasion.
If you would like to commit to becoming a subscriber, I would love for you to join me.