Yep! You read that correct.  Today, I am sharing my 99 cent thrift store chair makeover.
It's that time again when us gals go thrifting, and do some fun makeovers.  Hope you enjoy this monthly series as much as we do.
At the end I will share their direct links for you to go on over and check it out.
Why they didn't just give this chair to me, I have no clue!  My husband couldn't even believe it just wasn't out at the curb.  It is a pretty nice chair overall.  Just can't sit in it or you will break your back from the fall you will be sure to have.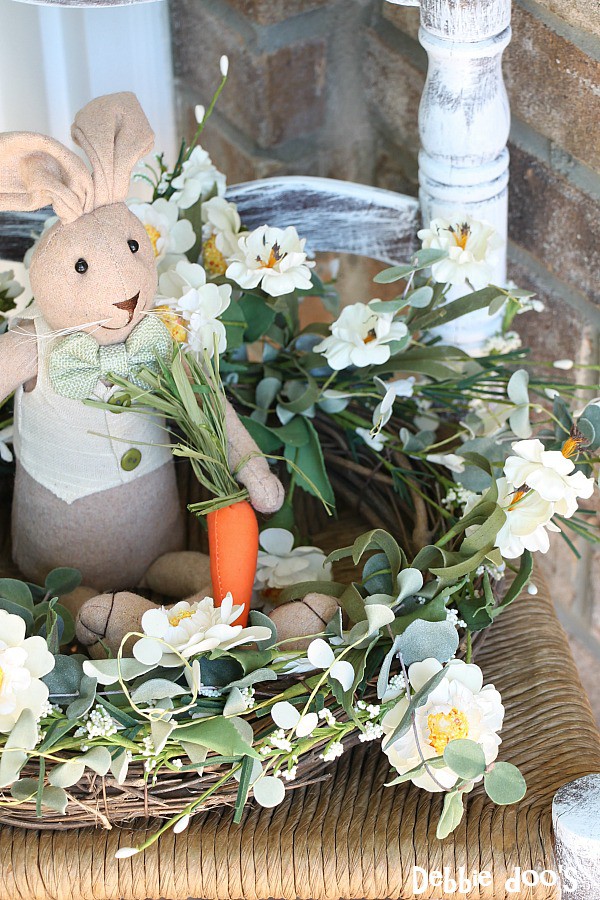 My search began one day after I shared a cute chair and bunny on my facebook page.
It's adorable!  I knew I wanted to find something similar to do on our porch this Spring.  There was no original source.  If anyone knows, please tell me so I can give credit where credit is due.  It looks like it is from an older magazine.
One day while my husband was off, he actually brought me along on a mission of thrifting.  Little did I know, he was looking for some things as well.  He found a bunch of albums for 25 cents each, and I found the chair for 99 cents.  We sort of giggled on the way home.  I told him I was broke, and we couldn't even go out to lunch that day.  We spent a whopping $7.00 and were skipping out of the thrift stores./well, I was skipping, he wasn't!
I am going to share a quick technique I did on these chairs.  I started off with wanting to paint the entire chair solid chalky paint white.  Then, I changed my mind, and decided I would dry brush the white chalky paint on it for a more weathered look.
To dry brush, the technique is easy.  Essentially all you need is your paint, brush, and a dry paper towel, or rag.
Dip your brush in the paint, and then blot it on the rag or paper towel, leaving little paint on the brush.  Then just brush up and down in a swift motion and add as little or less of the paint as you would like to your desired liking.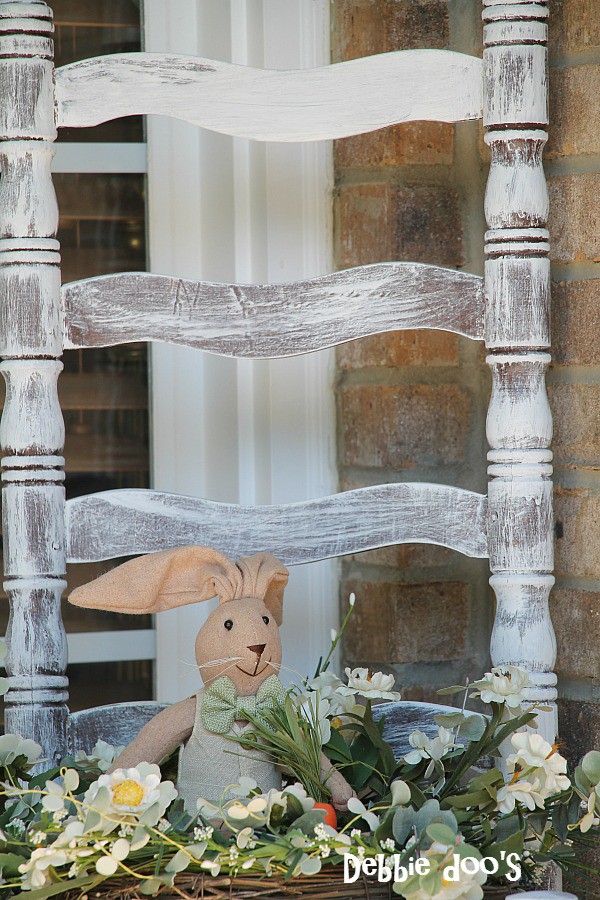 No sanding required!
I have the perfect old, rustic chair to decorate per season with.  Last year, I spray painted a chair, but the color didn't work all year, so that got moved to another location.
This chair, will work all four seasons!
I almost forgot to show you the before.  As you can see I put some 3M painters tape around the seat.  The seat is in mint condition.
An oldie, but goodie.
Thanks for stopping over today.
You can check out my other thrifty makeovers while you are here.
Thrifty makeover GALLERY here.
Here are the Thrifty gals projects down below: