Colorful spring porch with DIY decor
We are in full Spring mode here in the Carolina's. Pollen central is more like it.
Although it looks beautiful, it is sort of rough to be outdoors for too long. First thing in the morning I take an allergy pill and go on my morning walk. Then it seems I am housebound for the rest of the day because it's too yuk to be outdoors.
Today I am sharing our colorful spring porch with DIY decor. I realized after I hosed down the porch that just about everything on our porch is either made or repurposed.
I like it that way. It pretty much says a lot about our personality. Thrifty, colorful people live inside this humble adobe.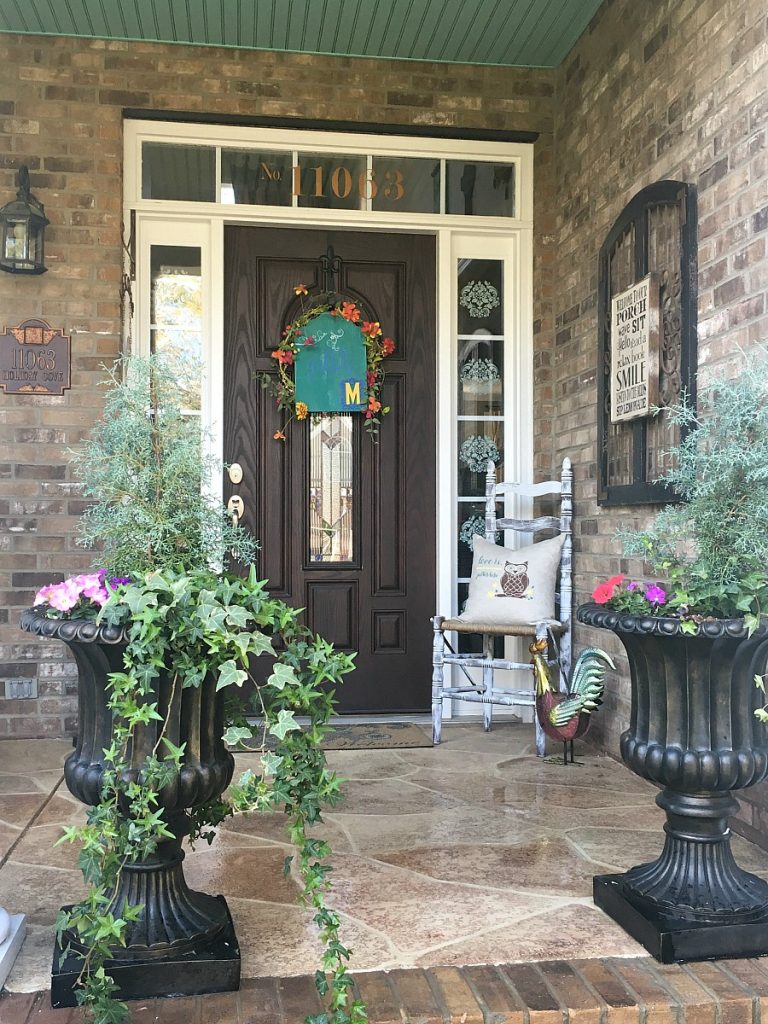 The porch is still wet when I snapped these photos. The lighting was good so I took the opportunity.
Diy Terra cotta pot with Plaster of Paris
I had a lot of requests to roll out with an Owl stencil. Finally, I did. I have to say it may be my favorite.
(AMAZON ASSOCIATE LINKS INCLUDED IN THIS POST)
ORIGINAL STENCIL USED NO LONGER AVAILABLE: Found a perfect substitute HERE
You can create your own custom pillow, signs and more. I even thought this was cute for a wedding table sign. Near the cards:)
Gather here pillow/versatile both front and back
That about wraps up the porch for the season. Hopefully, soon I can get some more flowers planted. I don't know why I say that considering I will put the kill on them in no time at all.
You can also check out a few other of the DIY ideas shown here today.
Painted rockers with chalkworthy paint
Kitchen sign gone to the porch
Thanks for stopping over today.