Welcome to our thrifty series #3.
Today, I am sharing some kitchen art that I recycled and now since has gone to the porch.  I bought this art probably about 4 years ago from our local Humane society.  I want to say it was $5.00.   I think I had it out in our kitchen for about two days and thought it was really too blah for my liking.  I never did get rid of it though.
I tell you, when I invest in a stencil, I use them A LOT!~
This one though I can only use so many times. I have a front porch and the back deck.
I shared with  you  my recycled pallet garden sign last week.
You have a friendly greeting no matter which way you come in. Back or front.
This was the before.  Quite pretty, but like I mentioned a bit blah for my liking in the kitchen.
Porch stencil found on an Etsy shop.  I painted the sign with two coats of Americana decor chalky finish paint. The color is called timeless.  I figured it would compliment most anything I do put out on the front porch.
 My last thrifty series post I shared with you an upcycled chair spray painted.
That is now in the back yard.  I love moving stuff around.
The front porch is now looking a bit different and I will show you the rest very soon.  Still planting my flower pots.
 I wish a lot of you could come and sip some lemonade with me here on our porch.  We could watch the fire flies, do a little chatting and then perhaps I would make us some pizza's in our outdoor pizza oven.
I can assure you a nice visit:)
Head on over and check out the other gals thrifty makeovers
 How to spray paint a brass lamp
Thanks for stopping over today. If you are not a regular here, I sure would love to see you back again.
I share all things Heart, home, diy, crafts and occasional recipes.
If you liked my chalky paint project you can check out my gallery of more ideas while you are here.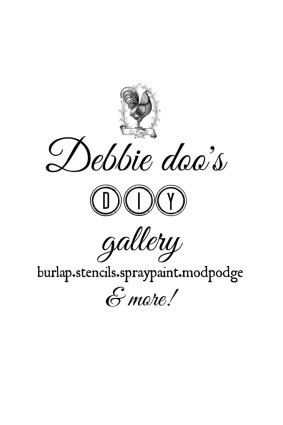 And if you love easy, tasty recipes…I have plenty of those.
I am also a huge Dollar tree fan and do lots of fun crafts per season.
Thank you so much for visiting with me today.
If you are new here, welcome! I am also very excited to share my new stencil line with you.

[envira-gallery id="32693″]
Thank you for your visit today!
To view my stencil gallery projects you may check out my Debcreates.com page.
I share all things, thrifty home decor, crafts and a recipe or two on occasion.
I also have an Etsy shop!

Sign up today and receive a few freebies. 12 months of seasonal printable art.
If you would like to commit to becoming a subscriber, I would love for you to join me.