Hi there friends!
Seeing we all love dollar tree creative craft ideas, today I thought I would share 15+ tabletop ideas we can easily make ourselves.  Of course some included are my own.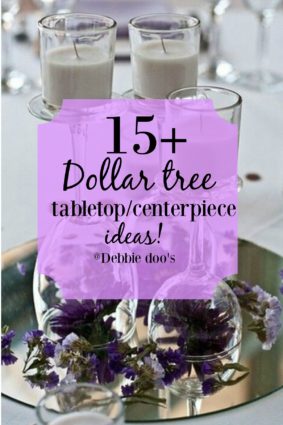 This time of year a lot of party planning, weddings, and gatherings take place.  These are affordable and creative ideas that we can enjoy making not only ourselves but with our friends and family.
It's so nice to be able to decorate our homes and party events on a friendly budget most of us can afford.  If you are anything like me, I get tired of the same ole same ole table top and centerpieces on our kitchen table.  I do change them out often, just in case you haven't noticed.
If you are a new visitor today, I hope to see you back again.  I share lots of thrifty home decor ideas.
And I now I have my one one-of-a-kind stencil line. You won't find another like them anywhere.

Please give the thumbnail list of ideas below a second to load.
Thanks!