Farmhouse DIY Pantry Shelves
Hi there friends! One of our major DIY projects for 2020 is to rip out the dreaded wire shelving in our pantry. It's been a thorn in my side since the day we moved in our home 13 years ago. NOT only in the pantry but in our closets as well. This is a project I will have to ease into with my husband little by little.
Back when we did our DIY Industrial shelf HERE, I thought about asking Mike to just move right on over into the pantry. Life got in the way and I had long forgotten about it.
The shelf wasn't a hard project at all. In fact, it was quite simple and rewarding. I believe later on that year is when we changed out the pantry door. Now that was a fun project for me. You can read all about our Tobacco wood Pantry door project HERE.
Once we added the door I had to have some custom made shelves for our windows. We had originally added plain white shelving HERE, which was nice, inexpensive and easy to install. It just wasn't in keeping with our overall rustic farmhouse kitchen look. Especially after we did our mini kitchen upgrades HERE. We like to say we have the NON-White farmhouse look HERE.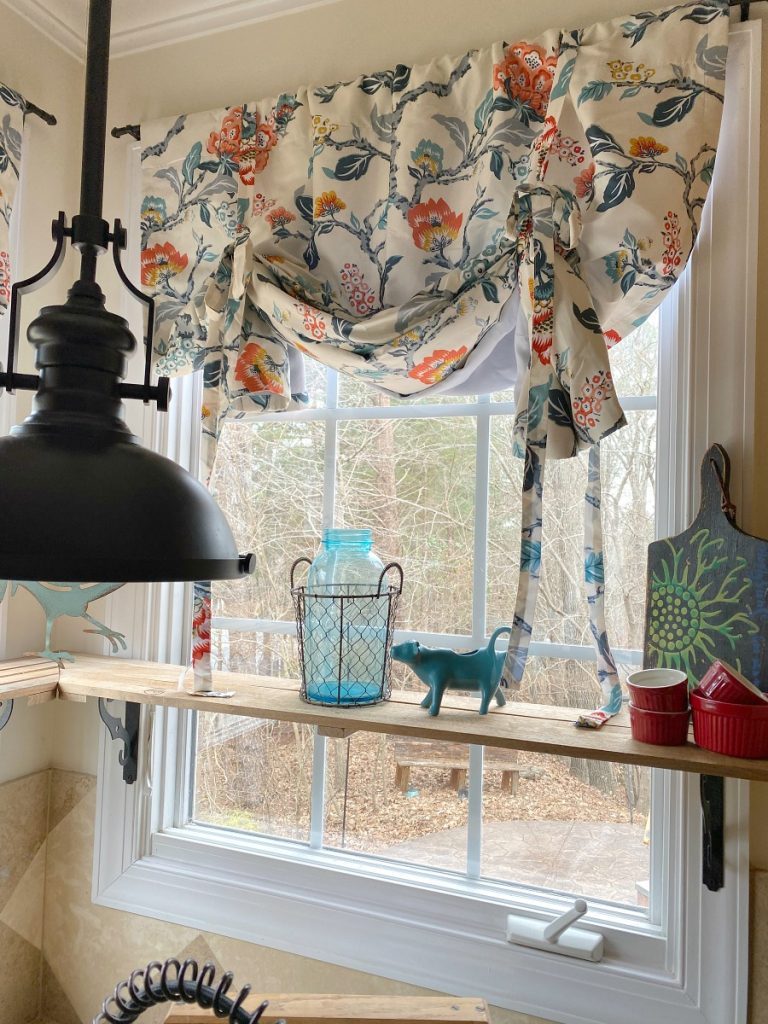 We have since through the years upgraded. We found reclaimed wood, measured, cut, and added decorative wrought iron brackets to the windows. It really makes a nice difference and I have a place to decorate given wall space is limited in our kitchen.
The DIY farmhouse shelves shouldn't take Mike too much time. The biggest labor will be removing our existing wire shelves, patching, painting, measuring and adding the brackets secure in the wall. I'm thinking I may be able to even squeeze in another shelf or two and do a corner to corner wrap around on the side walls to gain some extra. As of now, I have my small appliances, like Air Fryer and Instant Pots on the floor of the pantry. Mike has all the necessary tools, and it will be up to me to get the organization baskets, can shelves. Stay tuned. Below are some of the supplies I plan on purchasing for the project. I can even get the shelving on Amazon. If Mike is thinking a more cohesive look like the wood we used for our diy bakers rack, that will be fine too. Although, I am not sure the weight they will be able to take unless he does a center bracket? He will have some options. I actually found a few examples on Pinterest, of course of the look I am going for. Ashley from Little Glass jar, used similar lumber we used for our shelves. She even did the interior walls with shiplap. I don't think I can get Mike to go that deep into this project.
Please only pin others work directly from their website. PHOTOS are linked directly to the project. Thanks:)
My friend Jen from Jenron designs did an awesome job on her DIY farmhouse shelving HERE. Jen needs to stay organized in her pantry.
Jen contributes a weekly recipe over at Home Pressure cooking, and she is a fantastic cook. Her specialty however is decorating and DIY. Check her out!
Recently Shannon from Fox Hollow Cottage did a pantry redo that I think it just lovely, simple and anyone can do. It really makes a difference in her cottage home. Her and hubs have loads of DIY makeovers that are budget friendly. Be sure to check her out. DIY farmhouse open pantry HERE
I'll keep y'all posted on how this project comes along. First, I must tell Mike about it HAHAHAHAHA!~ That's how I roll. I get the idea and ease my way into the honey do list. Thanks for stopping by today. Hope to see you back again soon!
Here are some of my picks for the project: or perhaps just a simple farmhouse shelve or two.