Hi there everyone!
This has been a project on my husbands honey doo list for a while. I swear the poor guy must hate a day off from work!
Today, I am sharing adding kitchen window shelving and what a cinch it is!
Anytime my husband hears me exclaim, "Mike I have an idea", he cringes. In the end though, I know he is always happy with most of my ideas. Even if they require his handy work.
We don't have that much counter and wall space in our kitchen.
However, I have a lot of "stuff" I like to display and have out. Better known at chotchkies!
Mike found the wall shelves at Lowes Home improvement.
the kit included the brackets which was nice.
First things first. Mike measured the windows and figured out right away that the shelves would have to meet at an angle from window to window. This is a corner window set up so it was not just a hang and good to go project. Doesn't my husband have nice hands? Best moons ever. Funny what I noticed about him when we first met.
After he made the 45 degree angle cuts he placed the shelves on the counter along the windows to see if they met evenly.
Perfecto!
Mike used his black and decker saw to make the cuts. It did a fantastic job even though a bit tricky on the 45 degree angle.
Oh the fun I will have per season and all year round dressing up these shelves.
In fact, since I drafted this post, the shelves are now since styled for Christmas.
I will be sharing soon our Christmas decorating. I have only just begun.
You can rummage through the past so far of what I have shared.
You can put herbs, plants, mason jars, dishes, etc, etc. Whatever your heart desires per season on these shelves. Oh the fun, I will have!
Thanks for stopping over today.
If you are not a regular here, I sure would love to see you back again.
XO
Pin it, do it later.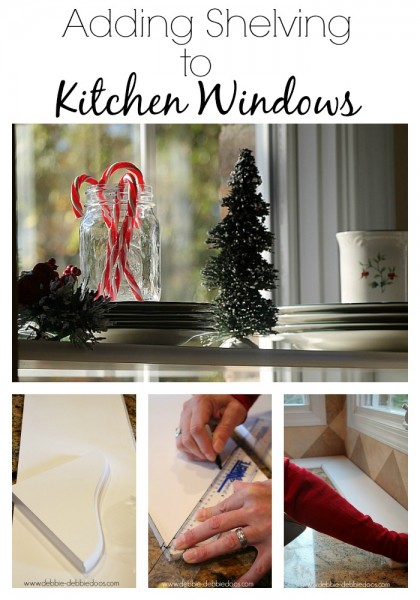 P.S. Stay tuned for a fantastic week ahead. Our All things Creative team has our monthly round up of Christmas ideas with a surprise, and then the next day, I have another MEGA surprise for you, that I know you are going to LOVE!!~