Farmhouse kitchen not white
Hi there friends. Today I am sharing just a few freshen uppers I recently changed up in our kitchen. I don't know what to call the style anymore. Farmhouse, country, rustic, french country, etc. All I know is it is NOT white like we typically see and it never will be white.
We had a white kitchen back when we lived in South Florida. I never cared for it. White cabinets, and white everywhere just doesn't appeal to me personally. Although, I have seen some stunning white kitchens, but too many start looking the same to me.
A few years back when we renovated our kitchen on a budget HERE, the hood is something I always wanted as the focal point. I imagined some sort of wreath but never quite found the right one. I didn't want frilly or floral. Of course there is the typical boxwoods, but I didn't want that either. I happened to be on Amazon and this popped up. It was perfect.
Lemons in the kitchen always brighten things up.
I picked up the mini lemon tree at Walmart. I painted the terracotta red and stenciled it, of course HA!
It's a very in between time of decorating. It's still winter, but getting closer to Spring. I added some Dollar tree flower seed packs and mini terracotta pots that I had left over after I made my recent Spring wreath HERE.
I need some new Spring dish towels. I think I will head to HomeGoods and see what cute ones they have. For now, I put my napkins there. Speaking of napkins, I no longer have my napkin valances up.
I decided to be a big kid now and actually buy new valances.
They really are an upgrade and make the kitchen feel more grown up. Don't get me wrong, I love the napkins and will probably change them back again someday. But for now, I see these as a long term stay awhile.
My old re-purposed window still is hung proudly after hmmmm…7 years now. I am not sure but it was a project I really enjoyed and still admire. You can find my re-purposed window idea HERE.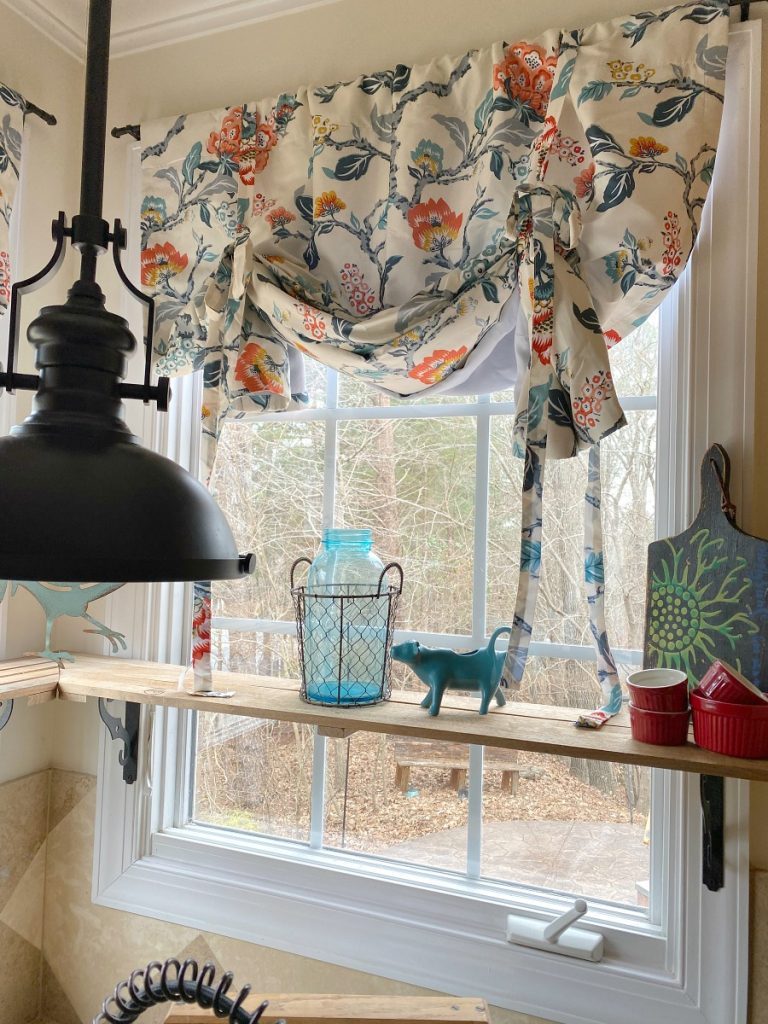 They are double lined and very good quality. I was taking a chance simply buying them online through Amazon. I figured I could always return them quickly if they didn't work out. Even Mike likes them so that is always a win!
So that's that for the kitchen in between season refresher. It was nice to actually clean the windows and dust the shelves while hanging the new curtains. Once I am up there on the counter, I figure I may as well get the job done. This is the kitchenette area, in which the window treatments are a table cloth! Yes you read that right. You can see more tablecloth window treatment ideas HERE. And our DIY faux beam project HERE.
I think it's time soon to take the Winterberry dishes down from our DIY farmhouse industrial shelf. I will probably add my vintage scales back on there and some other odds and ends from our collections over the years.
I can't forget to include our DIY farmhouse barn door.
Farmhouse kitchen not white
Shop the look: