Farmhouse-Boho Fall Kitchen
Good day friends! It's a beautiful Sunday morning here and I am having my coffee and smiling bright today. It's always refreshing to start the day off bright.
Yesterday was a very busy day around here. I did more purging and I am making a lot of progress.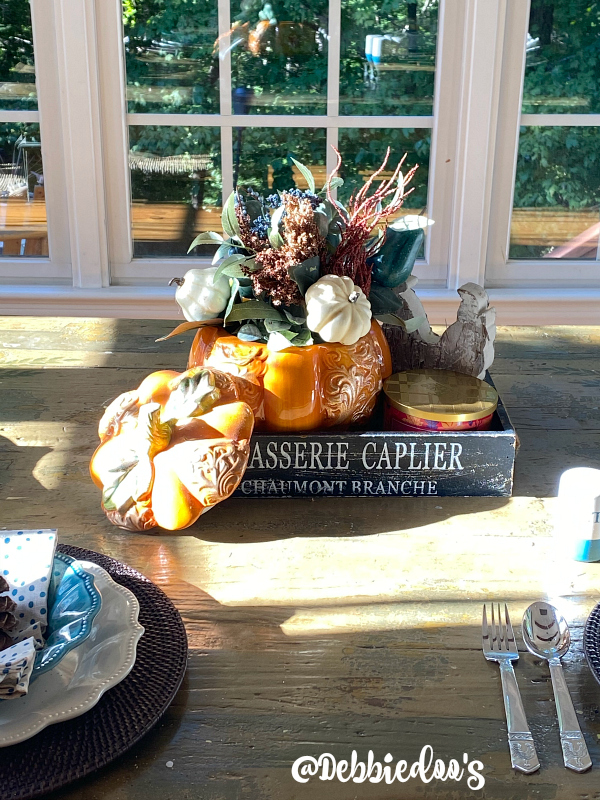 It felt like a very nesting kind of fall day. I made a huge pot of chili, cleaned, set a nice table. I sure miss the kids being around. Although, I am enjoying our empty nest as well. The house at least stays tidy. The centerpiece is a pumpkin cookie jar. My Mother-in-law some years back had sent the kids cookies for Halloween. I love the jar and thought it would make a cute centerpiece filled with fall stems of pumpkins and faux fall stems.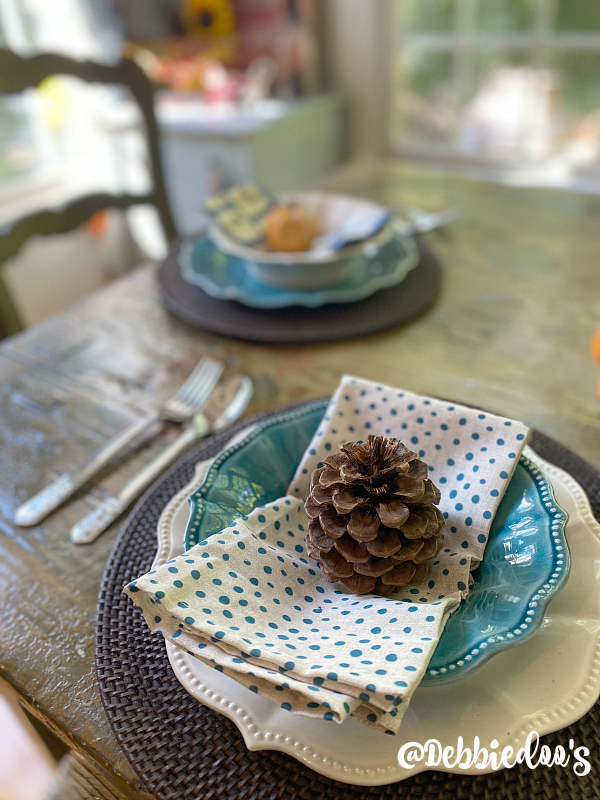 I invited another couple over to enjoy our chili. Back in the day I would have had a large gathering, but we know how that goes these days.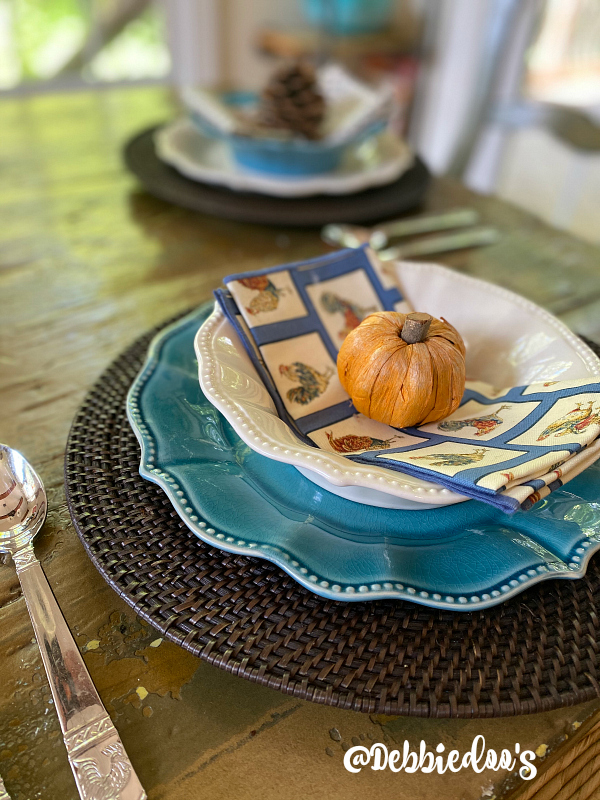 I like to mix and match the dishes, and linens. As long as they coordinate together I like the eclectic look.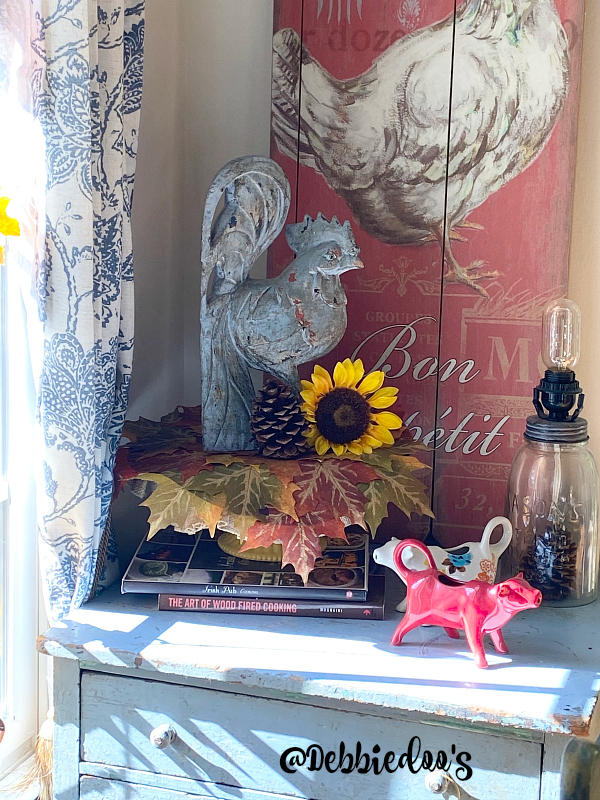 I didn't put out a lot of fall decorations. In fact, I've donated a few bins to Goodwill this year. Now what I have moving forward will be year after year. I truly feel like an older person now HA! I'm simply not up for all the fluff.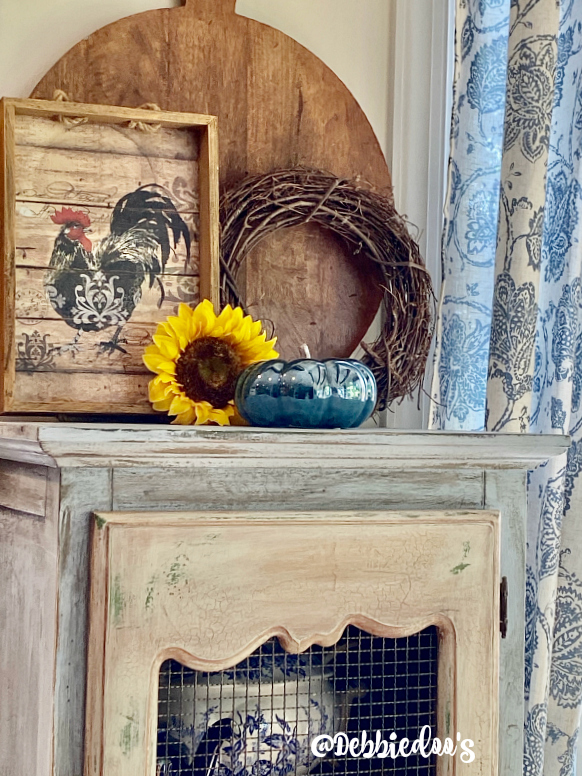 Kudos to those who still go all out for every season. As they say here in the south, "Bless your heart"!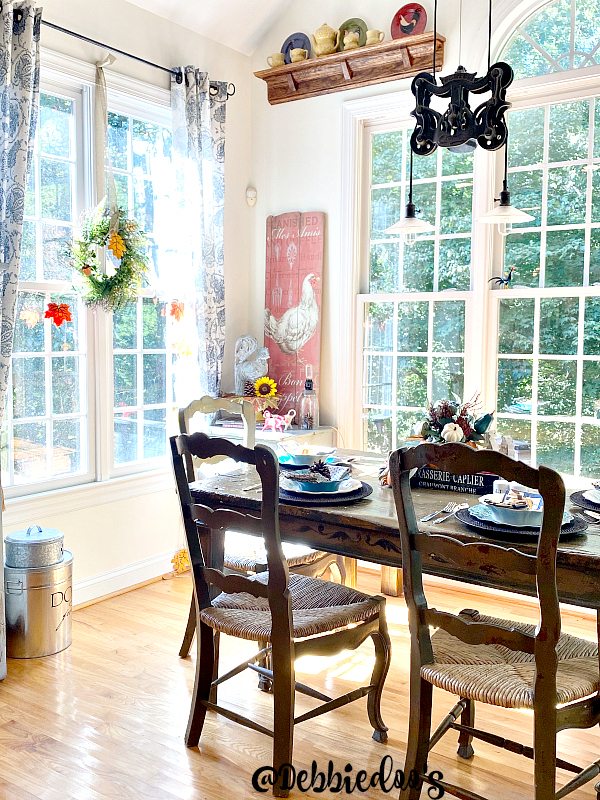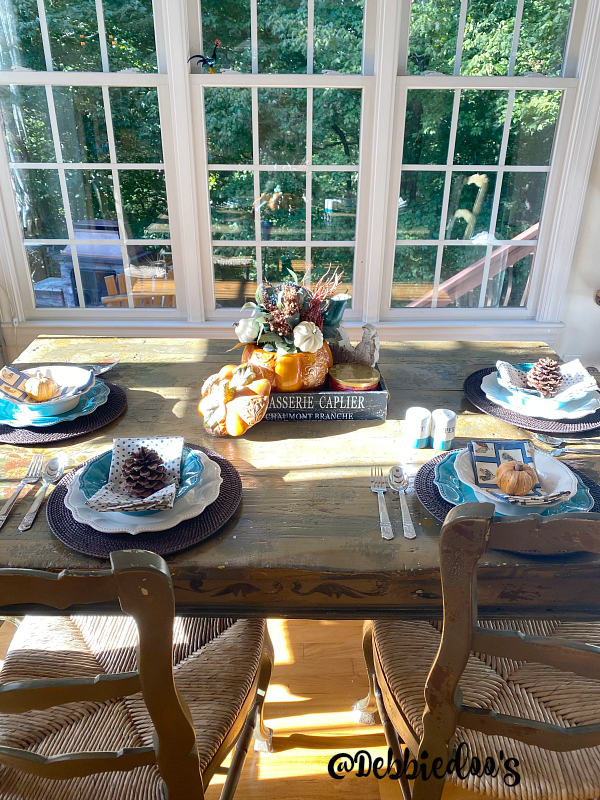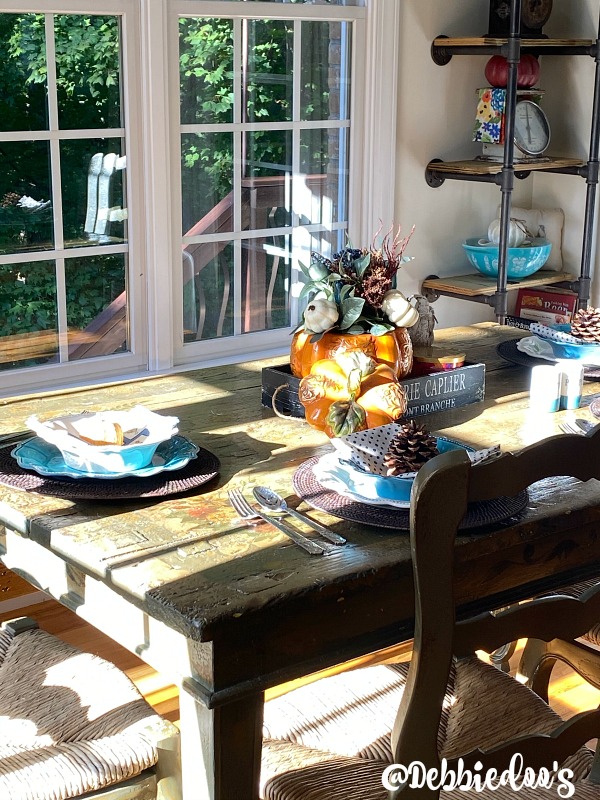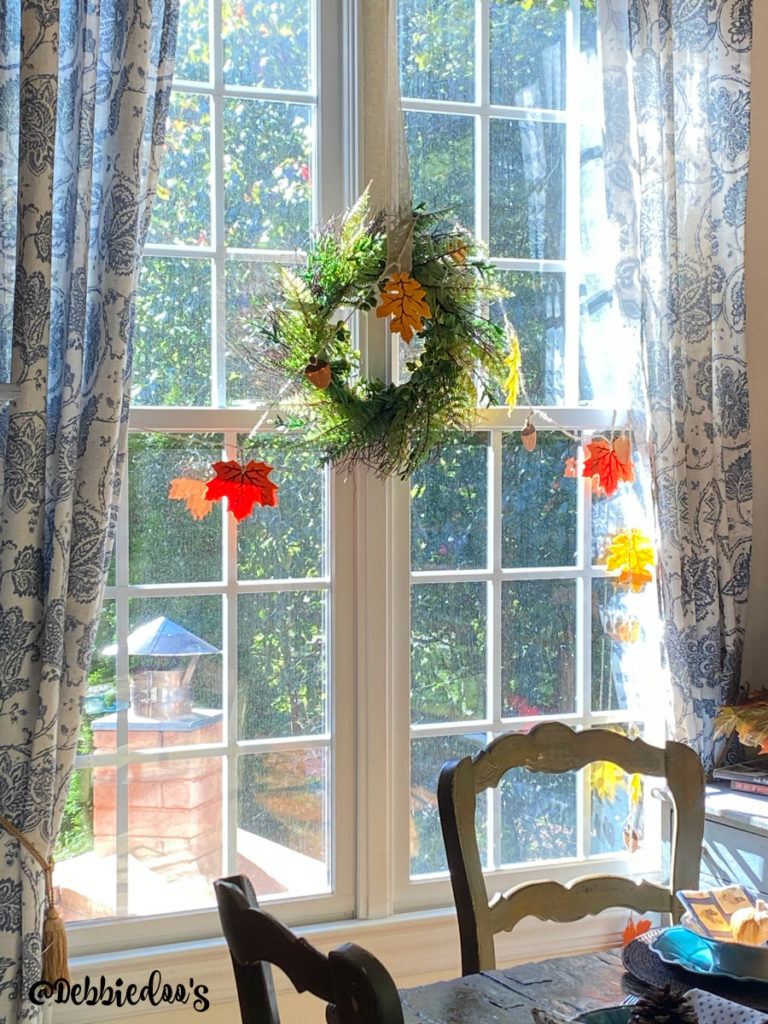 I displayed a cute Chili bar printable for the counter. Of course, I said gather here first:) That was my signature style back in the day if you have been around for a while. You may recall I created a stencil that had that saying. You can check out my stencil gallery of ideas HERE. There is a lot of content to gander and learn some new home decor ideas. I've been pondering lately to bring back that stencil line. Considering I have all the content of ideas to go with it. I really have to think about that though. I don't want to create any more work or commitment.
Gather here Chili bar Printable HERE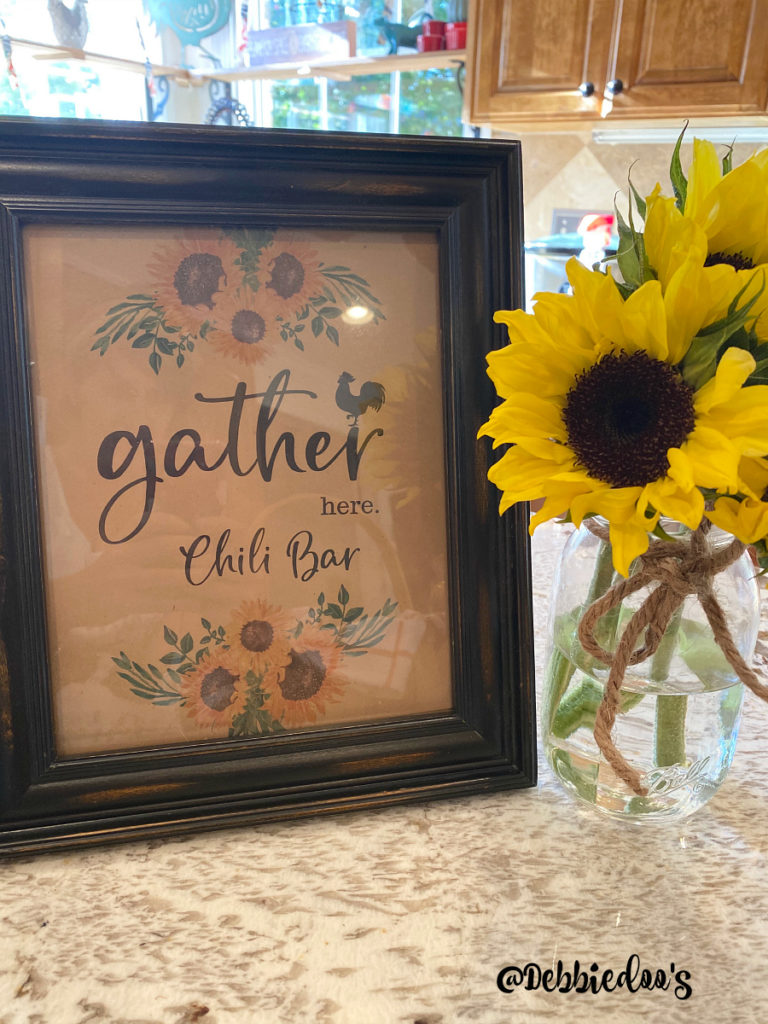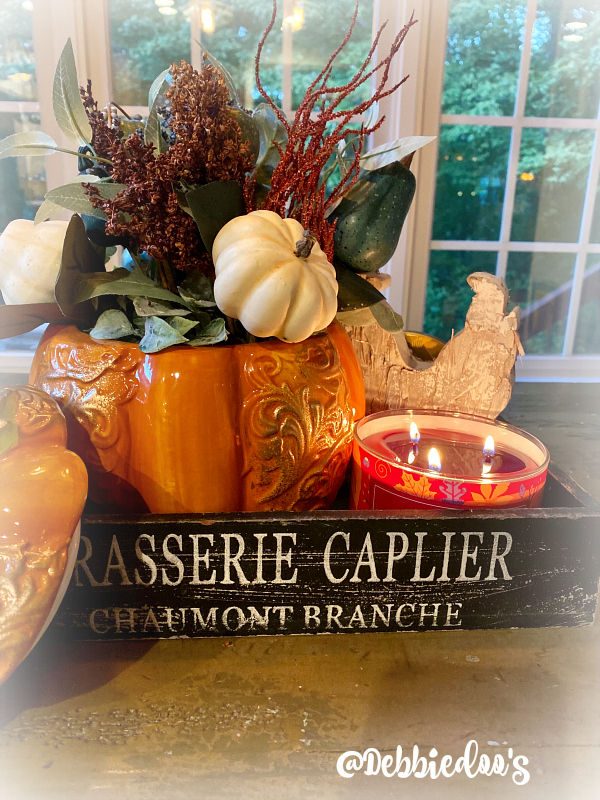 That about wraps up the dining area for fall. Hope you enjoyed.
Note: The kitchen light came from Restoration Hardware.
Dinette set from a local thrift store.
Pie hutch was a gift from my husband many years ago and has had a few paint facelifts throughout the years. Painted pie hutch HERE, and other chalky paint makeovers HERE.
My recent daily doings: Boho Bedroom makeover HERE
DIY Farmhouse Industrial shelf HERE
>>>>>>CHECK out my recent opening onETSY Farmhemian BOHO store
Pin it, save it enjoy.
Farmhouse-Boho Fall Kitchen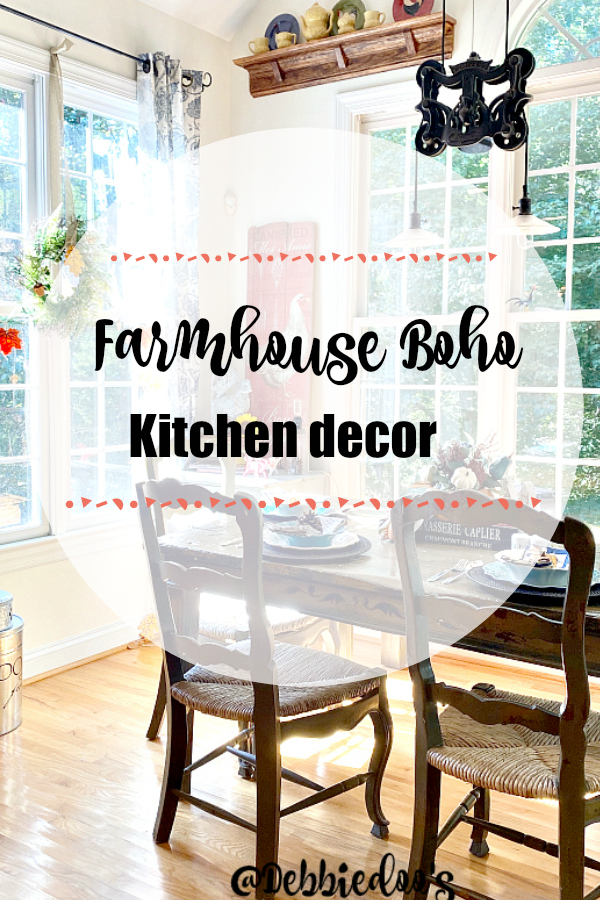 Debbie Manno (Debbiedoo's) is a participant in the Amazon Services LLC Associates Program, an affiliate advertising program designed to provide a means for sites to earn advertising fees by advertising and linking to (Debbiedoo's) (amazon.com).
Have a great day. Hope to see you back again real soon.