Dollar Tree Salt and Pepper Shaker Craft Ideas
Hi there friends! Today I am sharing some simple Dollar tree crafting ideas using salt and pepper shakers. They are adorable, and fun to make. Most are simply decorative, or used as bud vases, however, you can make them where you can actually use them.
For these Dollar tree salt and pepper shakers, all you need are a few simple craft supplies. Chalky paint, twine, some faux flowers, scrap fabric, a sharpie, and perhaps a stencil or two.
Let's take a look at some of my previous Dollar tree salt and pepper shakers shall we?
These were my very first. Snowman salt and pepper shakers HERE. I did not paint the top of the bottle, hence I could use it safely without worrying about paint getting in our food. Down below are snowman, filler, fabric scraps, and the lid as the top of the snowman head. You can find styrofoam balls to fit on top of the salt and pepper shakers and use a sharpie to create the cute little face. You can find my styrofoam snowman balls HERE
A year later I found round sets and made another cute set. These are great little Dollar tree snowman hostess gift ideas as well.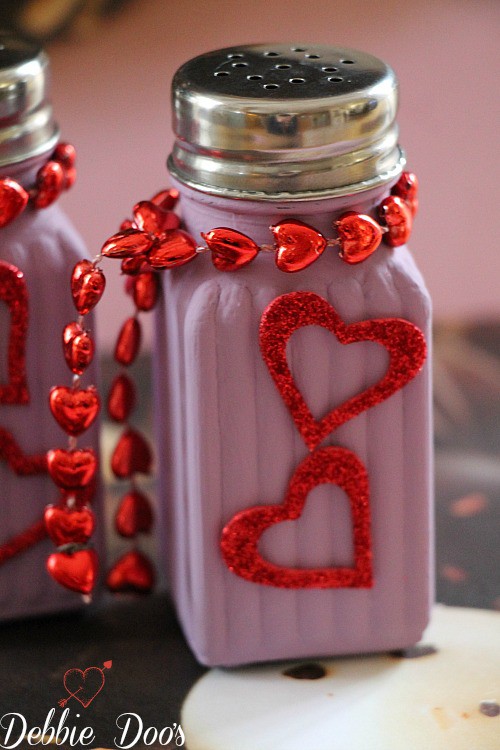 For every season, you can make a cute set for your table or your friends. Valentine Dollar tree salt and pepper shaker craft HERE.
Have the grand kids help and join in the fun. Nowadays, we have to come up with clever and creative ways to keep our minds and souls busy. Crafting can be done at a social distance, and safely. Set up the supplies individually and have some fun together. Trust me, it is great for our mental health.
Dollar tree even carries mini mason jar salt and pepper shakers. I made these cute Dollar tree pumpkin mason jars last year.
These farmhouse style ones are so cute. Paint the jar in one solid color. Let completely dry, and then paint white lines going vertical, and black paint going horizontal in random sections to create that gingham look.
Claudia took the whole Dollar tree crafting and decorating to a new level here with this gorgeous vignette. She went above and beyond with everything from the Dollar tree. Simple votice, basket, moss and some paint to put this all together. Even the little lavender flowers are from Dollar tree.
As you can see, the possibilities and creativity are endless. Go grab a bunch of Dollar tree salt and pepper shakers/mason jars and get crafting! Enjoy.
Dollar Tree Salt and Pepper Shaker Craft Ideas
Looking for more Dollar Tree craft ideas? We have plenty.
100+ Dollar tree craft and home decor ideas
Debbie Manno (Debbiedoo's) is a participant in the Amazon Services LLC Associates Program, an affiliate advertising program designed to provide a means for sites to earn advertising fees by advertising and linking to (Debbiedoo's) (amazon.com)