Hi there! Hope all is well. I told you the other day I was in Valentine crafting mode already.  Apparently a lot of  you want to see it early.  I did a survey on my facebook page and gave y'all a choice of things I could share.  This is what you wanted, and this is what you get!
Today, I am sharing  easy diy Valentine salt and pepper shakers.  Over the Christmas season when I made those cute little Snowmen salt and pepper shakers little did I know they would be such a hit.  I had several people even make their own edition of them.  Considering, I am in the Dollar tree just about every other day I picked up another two pack for a buck and figured I would whip up some  easy Valentine salt and pepper shakers.
I apologize in advance but I sort of stopped mid way snapping photos of the project.
Believe me, verbally telling you most of it should not be difficult to follow.
First, I painted the salt and pepper shakers with  two coats of chalky paint.  I told you a while back you can now find that paint at Michael's, Home depot and a reader just told me Hobby lobby carries it now. Cool, you can use your coupon and get it even cheaper!  They have a lot of pretty colors to choose from.  I went with this pretty purple you see called remembrance.  It's such a pretty shade of lavender.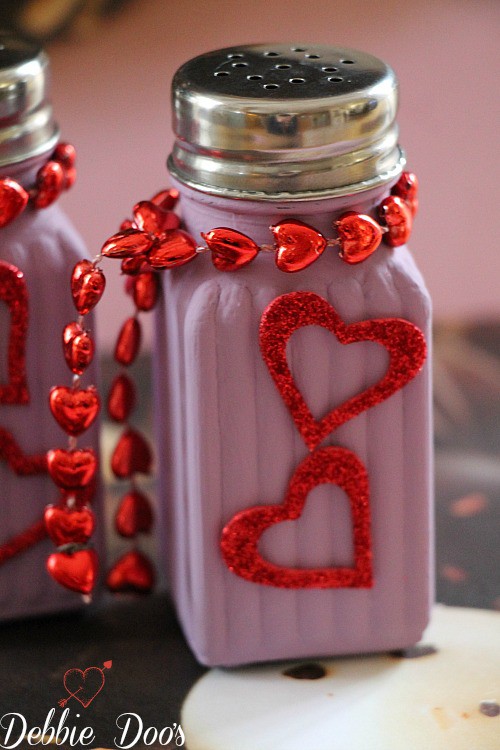 After I gave them two coats of chalky paint, I let them completely dry  and added these pretty sparkly dollar tree stickers. They come in a big pack with a variety of hearts and different sizes. Dollar tree is already getting in their Valentine's decor so I would act fast to grab some up.
The cute little heart beads are actually necklaces sold at the dollar tree in a pack.  Quite a few come in a pack so you will see these in the future scattered about.
I snipped them to wrap around the neck of the salt and pepper shakers.
I would say these are my Bohemian salt and pepper shakers.  They look pretty mod!
That's it!
I think per season I will make salt and pepper shakers.  In fact, I know I will.
Thanks for popping in today.
You can find lots more Valentine crafting ideas on a friendly budget.
and of course more Dollar tree LOVE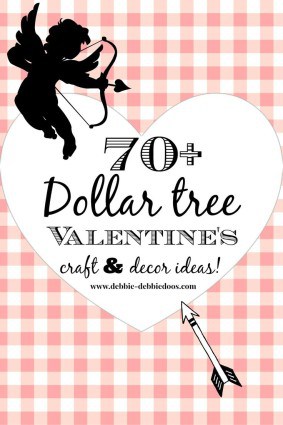 More to come soon. Hope you like and make your own easy diy Valentine salt and pepper shakers.
  If you are not a regular here, I sure would love to see you back again.
XO
Thank you so much for visiting with me today.
If you are new here, welcome! I am also very excited to share my new stencil line with you.

[envira-gallery id="32693″]
Thank you for your visit today!
To view my stencil gallery projects you may check out my Debcreates.com page.
I share all things, thrifty home decor, crafts and a recipe or two on occasion.
Sign up today and receive a few freebies. 12 months of seasonal printable art.
I have also created my own custom apron. "I work by the flour" logo on linen deep front pocket. My husband was the witty one with that slogan:)
Sold on Amazon Debbiedoo's custom apron
.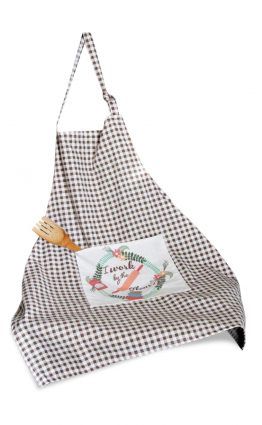 If you would like to commit to becoming a subscriber, I would love for you to join me.