According to "TeleFlora", The sunflower is the 3rd wedding anniversary flower and the state flower of Kansas.. Sunflowers turn to follow the sun and their open faces symbolize the sun itself, conveying warmth and happiness, adoration and longevity! So, if the person you are buying them for is a cheerful, happy go lucky, "ray" of sunshine, the sunflower is a perfect gift and a thoughtful one as well!
Today, I am sharing all things Sunflowers.
I absolutely adore sunflowers.  In fact, I like them all year round, not just for the fall season.
I thought I would share with you all the ways I have incorporated Sunflowers in our decor and home, per season.
Pretty much this is just a pretty post of pictures to brighten your day.
All the links are below the pictures to take you to the actual post or project.
 Fall decorating in the kitchen
These sunflowers were not even open yet.  This vase here is one of my
Painted and stenciled vases
Free Sunflower printable here
I have a thing for owls too.  I just think they are adorable.
The pitcher my Mom gave me one year for our Anniversary.  It goes with the platter above in our Summer kitchen.
Burlap no sew valances I once had:)
I can't say I miss them much. I had them up for about 4 years.  And they were free!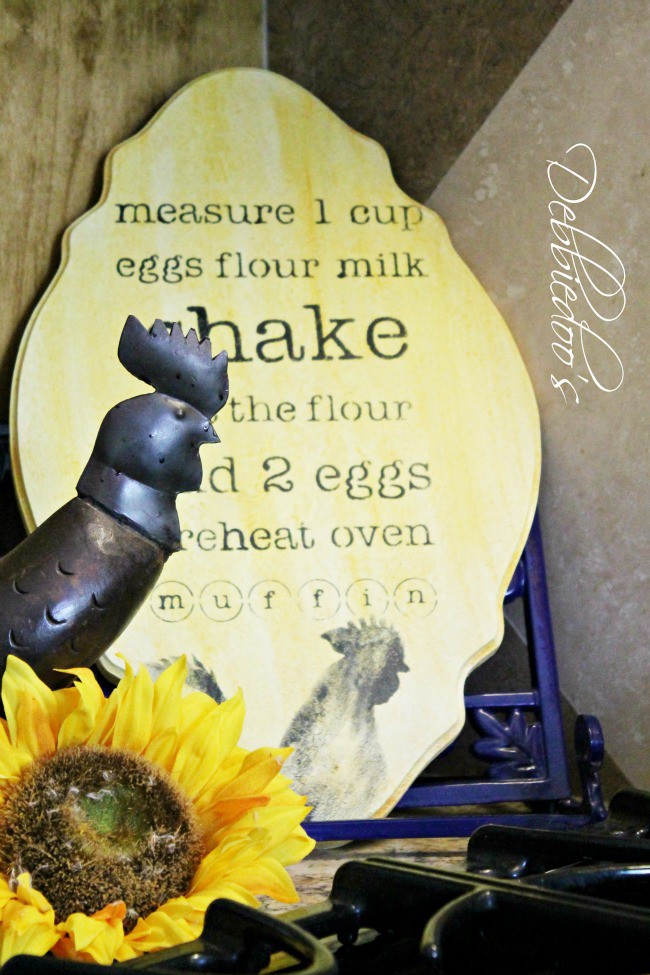 another burlap rag wreath for the kitchen with a sunflower.
Sunflower under cloche, I love how this looks.  I must go dig out my cloche and do this again.
Sunflowers and roosters Spring kitchen
Did you know my roosters talk to me? Yes, they do:)
with an array of wild flowers and sunflowers in diy recycled cans and jars
I don't think I realized just how much I have incorporated sunflowers in my decor.  I told ya I love them!
Even in a gift giving basket for your  hostess.
Oh and I can't forget my Mom's garden.
Fairy gardens and ideas 
What would Halloween be with out Sunflowers and black crows?
I love Halloween. Well, at least I used to when the boys were small.  I will probably still decorate this year but not as much. I say that now until all the bins come out.  I have a ton of Halloween decor mostly all from the Dollar tree, of course.
Hope you enjoyed my All things Sunflower post.  A few more tidbits for you.
While they are stunningly beautiful, they also are rich in history and meaning.
Sunflowers originated in the Americas in 1,000 B.C., and were then cultivated as a valuable food source for centuries.  Sunflower was used in many ways throughout the various American Indian tribes. Seed was ground or pounded into flour for cakes, mush or bread. Some tribes mixed the meal with other vegetables such as beans, squash, and corn. The seed was also cracked and eaten for a snack. There are references of squeezing the oil from the seed and using the oil in making bread.
Always something new to learn.  Thanks for stopping by today.  I hope you have a bright sunshiny day.
If you are new here, I would love to see you back again.
I am taking a few days off to regroup and get our younger son ready to start High school! Big times in our house these days. One off to College and one starting High school.  Just wish they would stay little a tad longer.  Although, I probably didn't think that when they were toddlers:) But it sure has gone by fast. Too fast for this Momma.
Check out my gallery of ideas while you here.  I have many, so grab a cup of coffee and stay a while.
XO
Thank you so much for visiting with me today.
Thank you for your visit today!
I share all things, thrifty home decor, crafts and a recipe or two on occasion.
If you would like to commit to becoming a subscriber, I would love for you to join me.