Rustic and Wild
I really don't know what to call this hodge podge of a mantel! The first thing that popped in my head was rustic and wild.
The other day when I was making my rustic gather here sign with napkins and mod podge, I did mention that I would probably use it for the mantel. I think I can carry the sign right into Spring and Summer. I also mentioned that day that I had no intentions of doing much Valentine's decorations. Well, I changed my mind and literally dragged out the bin and threw a mantel together real quick. For JACK of course:) Now watch him not even notice HA!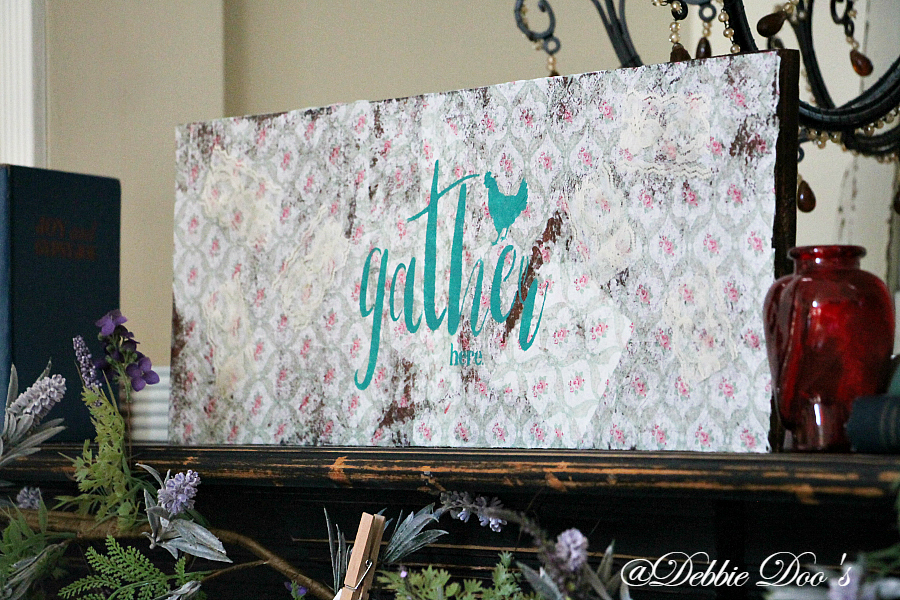 I used a wild flower swag, some Valentine vintage post cards, and a little splash of red here and there.
The pretty pink mesh wreath that I made a few years ago. Looks definitely a little wild and beat up. It was smashed inside my closet. Y'all, I really need to start calling in the hoarders to haul out some of this stuff. I am busting at the seams with crafts, wreaths, and diy pillows.
Yes, that wreath is in really bad shape now that I take a good look at it. I guess it adds to wild theme.
The things we do for LOVE!!~
This just might be the last year of the Valentine mantel in our home. Sad, but I like I said I have always enjoyed doing it more for the family then even for myself.
See Lucy over there lounging on the couch? Ahhh..the pugs life.
You can check out my Valentine gallery while you are here:)
If you are new here, welcome! I am also very excited to share some new stencil lines with you
[envira-gallery id="32693″]
Sign up today and receive a few freebies. 12 months of seasonal printable art.
If you would like to commit to becoming a subscriber, I would love for you to join me.