Make a gift bag into a work of art
I am not claiming this has not been done before. That is how to make a gift bag into a work of art. What I will say though, is I put a different twist on mine. I didn't have a pretty bag already on hand to simply frame. That looks good too. I have seen it done with dollar tree gift bags and it is quite adorable. I created my own art. Now these bags will be gifted, of course with a gift inside. I won't leave them empty. That would be funny though wouldn't it? Here's your bag Merry Christmas! I will however, be sure to tell the recipient of my little master plan and how they are getting a bonus gift. The bonus gift is to simply cut the bag along the seams and then frame the art in an 8 x 10 frame. Perfect!
It all started with these simple brown gift bags. They came in a 5 count at Hobby Lobby for $5.99. Use a 40% off coupon and you are paying next to nothing. These bags are approx. 8×10 or slightly larger.They are extremely thick and probably the best quality bag I have come across in a long time. My creativity was sparked.  Back in the day I actually stenciled on paper and made this kitchen art.
Stencil project diy art work HERE
Not only was this my very first craft stencil job I shared on my blog, it wound up being a highlight in a magazine feature. Country Woman featured our entire kitchen, and this cutie was in it.
That was in 2011.
I knew when I saw these bags exactly what I wanted to do. You see- a few gals are getting aprons from me this holiday season. Naturally, they would. I used my That's how I roll stencil
, and some card stock stickers. I love crafting with stickers. I use stickers for a few diy ornaments in past years. My glass owl ornaments, and diy burlap ornaments.
My cute apron paired with a cupcake silicone mold will make a cute gift.  Then the bonus is the bag in which they can cut and frame in an 8×10. Pretty nifty huh?
I went on to make some more because I was having so much fun. I used scrap paper on this one and made a little tree too. I used mod podge to adhere the paper. The stickers were all found in the scrap book section of Hobby lobby. It's quite an overwhelming section that I love, even though I don't scrap book. So many cute stickers these days.
This bag will be filled with goodies and treats. I used my Home is where the heart is stencil
and some cute patisserie stickers. I did not stencil the flower section, instead I put the cup cake sticker there.
That's all for today folks. This project for me was like scrap booking, but creating framed art instead. It was a lot of fun!
I wish you all a very Merry Christmas, and a happy, healthy New year.
Make a gift bag into a work of art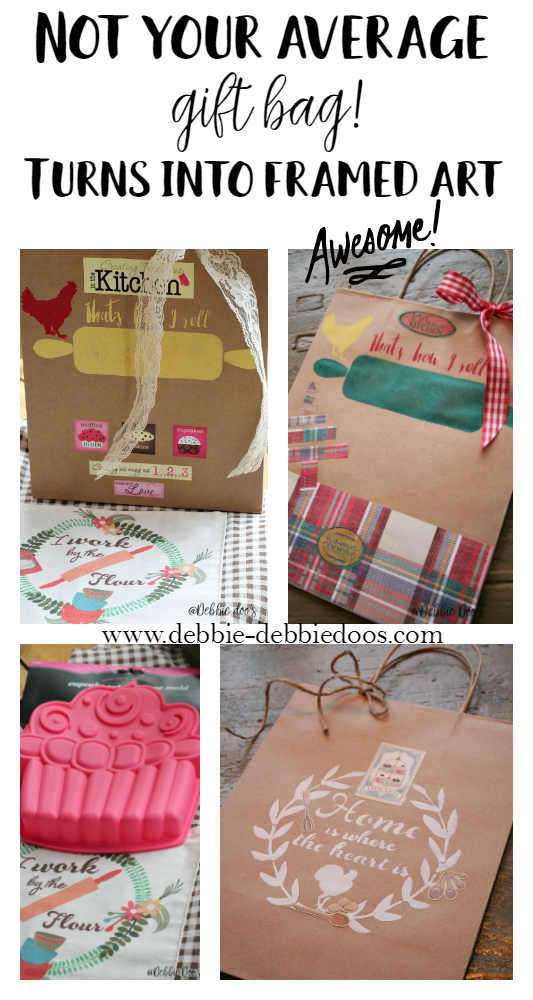 I have a little video of my live tutorial on the bag, but have not edited it all yet. I will be adding that in the next day or so. You will just have to come back if you like:)
Affiliate links for supplies:
Kraft bags
Silicone cake mold
Scrap book stickers
Mod podge
Twine
Craft paints
Thank you so much for visiting with me today.
If you are new here, welcome! I am also very excited to share my new stencil line with you.
To view my stencil gallery projects you may check out my Debcreates.com page.
I share all things, thrifty home decor, crafts and a recipe or two on occasion.
Sign up today and receive a few freebies. 12 months of seasonal printable art.
I have also created my own custom apron. "I work by the flour" logo on linen deep front pocket. My husband was the witty one with that slogan:)
If you would like to commit to becoming a subscriber, I would love for you to join me.