Hi there everyone! Do you ever feel like we just skip the Thanksgiving season and move right along to Christmas? It sure feels that way in blogging. I can assure you though, we truly enjoy Thanksgiving and spend it with our Family every year. My Mom and sister come in from Buffalo every year to spend Thanksgiving with us. We usually take a little road trip for a few days and create some fun memories. In previous years we come home the day before Thanksgiving, go shopping for our Turkey and the next day lounge around, cook , eat and play some family games. This year however, we are spending Thanksgiving in Asheville, NC. Something different.
Today, I am sharing a handmade Christmas ornament idea. While skipping through Michael's I spied these cute little wooden and burlap ornaments for a dollar.
With a little imagination I came up with embellishing them and making them look like you see here.
I went to the scrap booking section and picked up a lettered sticker pack and some cute Christmas buttons.
You would never know these are stickers.
Looks like a sharpie.
I liked that I used buttons because they look a little more 3 dimensional on the ornament.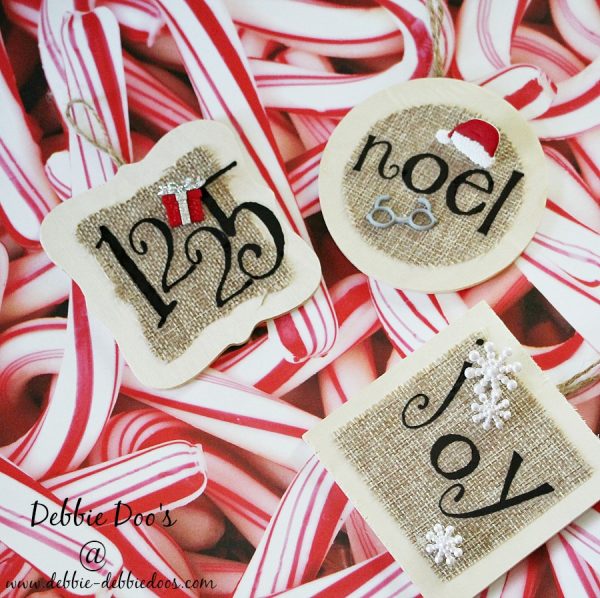 Now I can't wait to hang them on the my Charlie Brown Christmas tree.
I have to admit though, I sure enjoyed my Thanksgiving thankful tree this year. That's a keeper.
I think these would make super cute teacher gift ideas as well. You can attatch an ornament to a mason jar filled with goodies! He/She would love that.
Thanks for stopping by today.
if you Like burlap
or looking for some more nifty thrifty Christmas decorating ideas, check out
my All things DOLLAR tree Christmas party ideas from last year!
Speaking of which: Save the date!
Fox Hollow cottage and are are hosting our
If you are not a regular here, I sure would LOVE to see you back again.
XO
I share budget friendly craft ideas and some tasty recipes on occasion.
Feel free to rummage through my Christmas archives. Grab a cup of coffee, you may be here a while.