How to make drop cloth curtains for the porch or patio
Not sure how thrilled with this project my husband was.  Not because he didn't like it, but because I left a little mess behind.  No worries, I cleaned it up:) Today, I am sharing how to make drop cloth curtains for the porch or patio. I have always loved the look but never wanted to be bothered with hanging rods on the porch and leaving holes in the metal over the porch.  That would be permanent and knowing me, not something that will be there forever.
This project also gave me the opportunity to clean up there.  I will say the haint blue ceiling does seem to ward off bugs as it is known to do.  I did have some webs though that I swept and wiped away. Remember the curtain hack I did in the frog room?  The one that I used the self adhesive towel hooks? Well, as you can see that is what I chose to use for my drop cloth curtains outdoors.
I only needed a few supplies
Drop cloth
Bronze finish self adhesive hooks
Curtain rings
Stencil
Stencil roller
craft paints of choice
This is where I left a little evidence behind.  I did the project while my husband was at work.  I did it on the kitchen floor on top of the area rug.  I completely forgot to put a piece of plastic underneath the drop cloth and some of the paint bled through.  OOPSIES!!~ I didn't even notice, but of course Mr. eyeballs did.  I was able to remove the paint stains, and thankfully they were light enough for me to get out of the rug.
I only stenciled the bottom of the drop cloth just for a little color.  I used my Lumiere craft paints.
I wanted a little privacy and cozy look on the front porch.  I enjoy sitting out there on a nice day and watching the birds and neighbors go by.  They are always gawking at me wondering what I am up to next.  It's the older neighbors that do the gawking.  I don't think they dig my style LOL!
I only had to use ONE drop cloth, and I cut it in the middle to make two panels.  I lightly sprayed some fabric softener on them and tossed them in the dryer to freshen them up.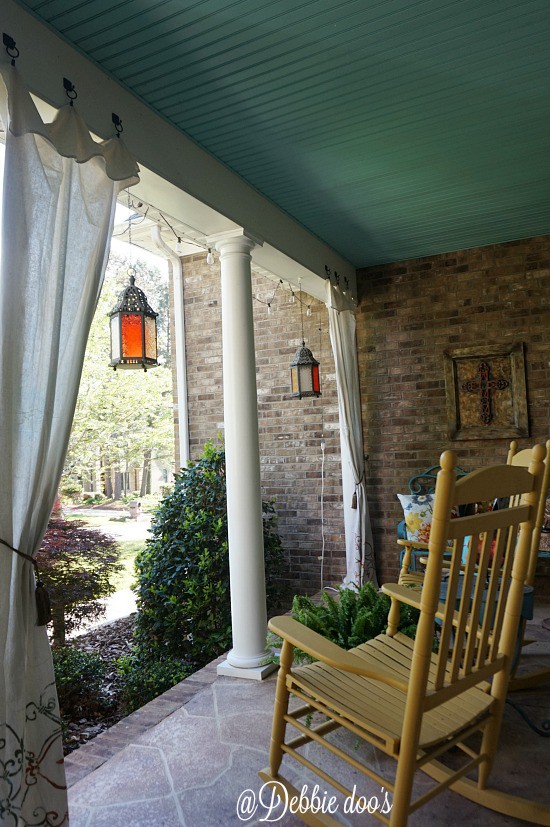 What a simple inexpensive project to create the feeling of an indoor space, outdoors.
Don't mind the mess under the bench..keeping it real here folks, I am still working out there and in the process of cleaning up.  It was so pollen coated out there, I didn't even want to touch that stuff yet.
I only have one plant out here so far.  I told you when I shared my recent no sew pillow that I will be working on the outdoor porch in the next few weeks. Trying not to go rush out for plants so early, as I am a known plant killer around these parts.
How to make drop cloth curtains for the porch or patio
Affiliate links:
Rooster stencil
Fleur de lis wall stencil
Adhesive towel hooks
 (I found my hooks at Walmart)
 Curtain ring clips
Stencil roller
Lumiere paints
Stencils
Drop cloths
Want to see more drop cloth projects?  I have plenty
Have a great day friends.  Thanks for your visit here today.
XO
Getting to know me on the porch! Video on my facebook page.
Join me on my Facebook page for more HERE
Thank you for your visit today!
I share all things, thrifty home decor, crafts and a recipe or two on occasion.
If you would like to commit to becoming a subscriber, I would love for you to join me.