Dollar tree Spring wreath
Hi there friends! Today I am jumping in here real quick to share with you my first Spring wreath of the season. I know I am a tad early for Spring, however, Dollar tree is stocking up the shelves. We all know how that goes. The goods go fast and typically you don't see a lot of restock once they are wiped out.
For this project you only need a few things. You can of course customize your wreath to make it your own.
One large wired wreath form
1 roll of mesh
small terracotta pots
floral wire
two rolls of burlap ribbon
faux flowers
The terracotta pots come in a pack of three.
I bought the bee thinking I would cut it and perhaps use it on the wreath. After all was said and done, I didn't want to mess with it anymore. It was just right for my liking.
The only tricky part was wiring the pot on the wreath form. It wasn't hard, but I had trouble making it tighter. To add the pot to the wreath form, simply cut enough floral wire to put through the hole. Make a knot inside the pot so the wire does not poke through. Then wrap the wire around the wreath form as tight as you can.
The first step was wrapping the wreath form with the burlap like you would an ace bandage. Then dab hot glue on the last piece to be sure it is secure on the wreath. I added the mesh the same way I did my Dollar tree Christmas wreaths HERE. I added a little Styrofoam to the pot, trimmed the floral's and poked them in the pot.
For the floral's, I used two lavender stems and as shown reversed one of them, then used the floral wire to secure them on the wreath. The burlap bow I had already and just hot glued that in the center or off-center I should say.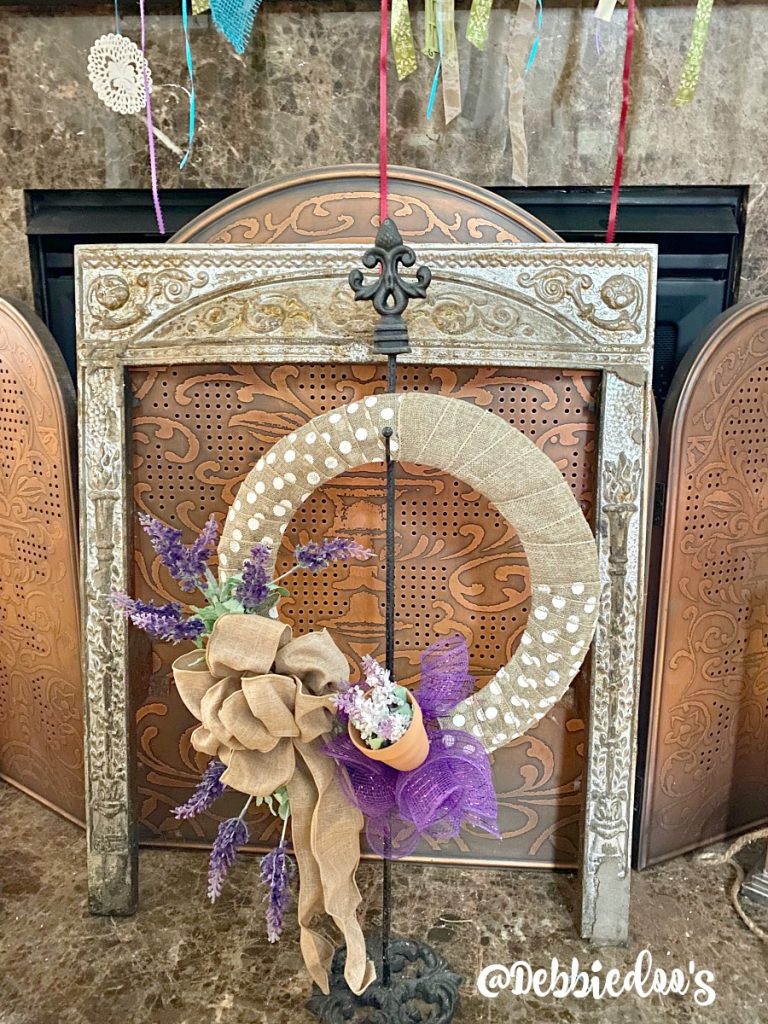 That is all there was to it. I just love it and can't wait to hang it. NOT sure where yet though. I am thinking in the family room near our fireplace. It was fun to make, and inspiring me for the season.
Dollar tree Spring wreath
Pin it, make it enjoy!
Hope my Spring wreath inspired you to make your own.
Hope to see you back soon.