Dollar Tree Placemat Wreath/When Life Hands You Lemons
Hello there friends! Today I had to take a quick trip to the Dollar Tree for a few cards and toothpaste:) I love their Ultra Bright Toothpaste and always stock up on it. Our Dollar Tree has been a complete mess since the beginning of the pandemic so I like to get in and out of there.
While cruising through I saw the cutest, brightest and cheerful placemat with the saying "When Life hands you lemons, make lemonade". I had to pick it up and think of a craft idea to make. My typical go-to's are always wreaths.
You can find some of my favorite Dollar Tree Wreaths I have made HERE. The placemat wreaths have been pretty popular as well using a pizza pan. Find the Pizza Pan Placemats wreath ideas HERE.
Today I used wire frame wreath. For this project all you need is: 1. 14 inch Wire form Wreath, 2. Two packs of bandanas 3. One Placemat. 4. Hot glue gun.
You can also embellish your wreath with whatever you like. I had a faux succulent on hand and used that as an embellishment.
There really isn't a tutorial for this. It took me about ten minutes to make. First thing I did was trace around the placemat using my scissors, (sharp end) to cut the place mat, then I cut it neatly to align with the size of the opening of the wreath.
Then I folded the bandanna long way and folded one end at the base of the wreath, using hot glue to gently tack it in place.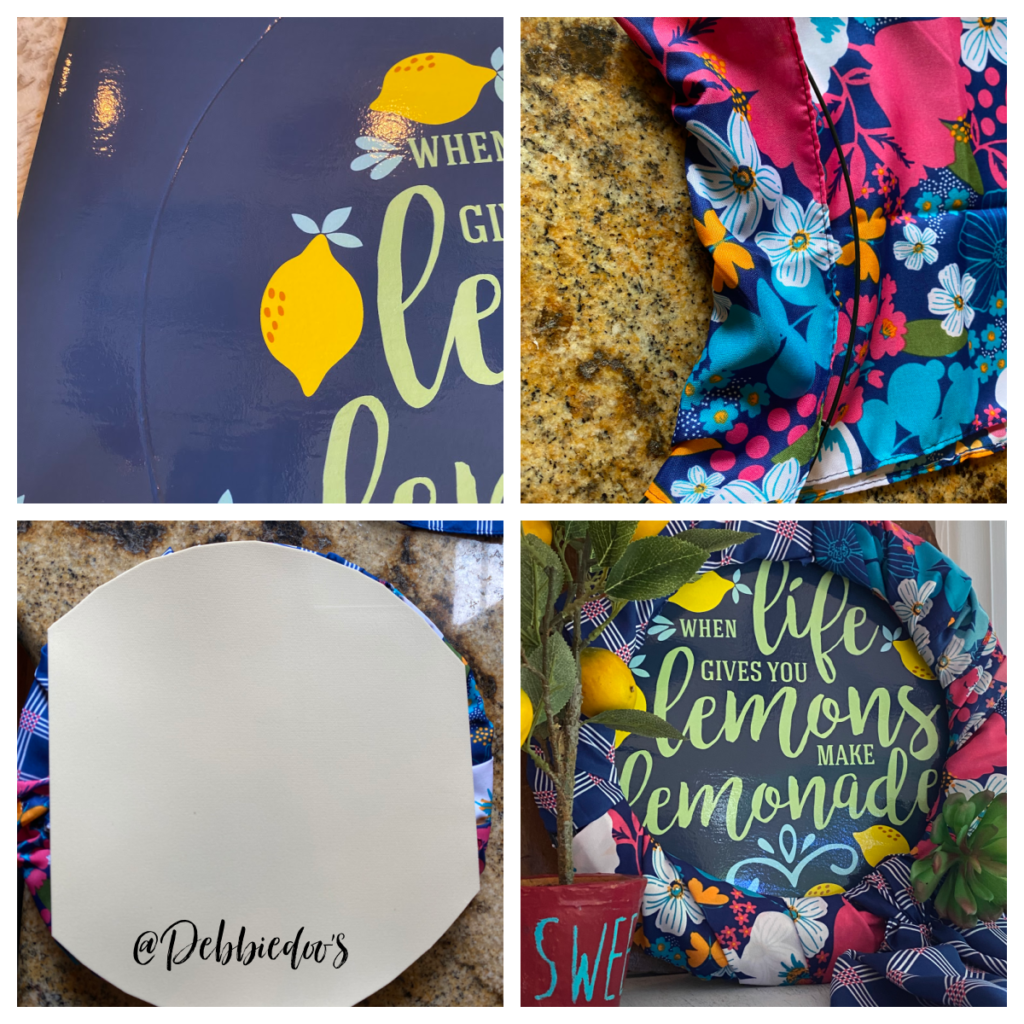 Continue wrapping around the wire wreath form to cover it all. I used three bandanas for the wrapping part. You will want to use your hot glue gun as you go along to keep it neat and tight around your wreath form. Take your cut placemat face down on the back of the wreath and tack it in place against the fabric with the glue gun, pressing gently as you go to secure it. Flip it around and then embellish it any way you like. I used the extra bandana to tie it on the side. You can also use the Dollar Tree scarves. I made a Dollar Tree Fall wreath HERE using the scarves and it turned out so cute. I like a little BOHO look to mine
Thanks for stopping over today. I would also like to say thank you all so much for your kind and thoughtful messages to me regarding my Mom. It meant a lot to me. XO
Pin it, Make it!