Hey there!
Today, I am sharing my diy no sew burlap kitchen valances...
made from coffee bags.
Please note this is a very old post of mine. However, I did have these valances on our windows for at least 3 years. Our kitchen is forever evolving and I will leave you with the most recent changes at the end.
You may remember back a few months ago,
I shared my laundry room reveal and diy burlap valance.
You can scour the internet for burlap coffee bags.
They are cheap and sometimes you can even find them for free at your local grocer
Look at the size of these coffee bags!
They even smelled like coffee, and a few beans spilled out HA!
What in the wide world could I do with these?
LOVED the graphics….
I thought…hmmm…what would Mike think if I made kitchen valances?
WAIT, I don't sew….
WAIT, I don't need to sew. I have my handy dandy glue gun!
So what exactly did I do?
EASY…
I cut the bags in half…straight across the middle..and I was careful not to cut the words and letters.
I then did a small fold across the top, hot glued it, and was able to slide my cafe rod right in.
I can only show you snippets for now, because I have done some other fun projects, that  have not been shown yet.
I of course did our dining area as well.
Basically the same thing, except these are attached with the curtain clips and not slid through the rod.
And these I did not glue and make the faux hem on.  Very el natural.
Oh that little white thing in the corner is our house alarm sensor…People ask me that on occasion.
Can't wait to show you how they all came together.
Mr. Doo's is happy too!
Word to the wise.
When cutting burlap, coffee bags, etc…I highly recommend you cutting outdoors.
A TAD messy!
Enjoy the day!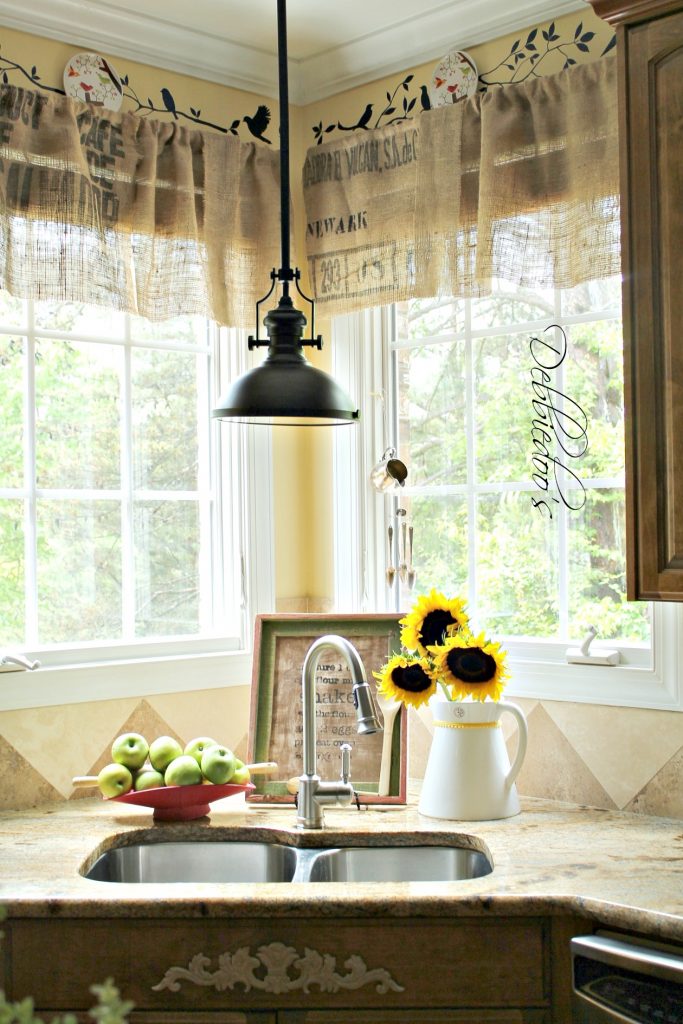 And if you are a burlap lover as I am
you may be interested in
my
I have lots of fun stuff over there as well.
Current kitchen valances from napkins and table cloths. You see I am all about the budget way of life.
Pioneer woman napkin valances here
Thank you so much for visiting with me today.
If you are new here, welcome! I am also very excited to share my new stencil line with you.

[envira-gallery id="32693″]
Thank you for your visit today!
To view my stencil gallery projects you may check out my Debcreates.com page. 
I share all things, thrifty home decor, crafts and a recipe or two on occasion.
I also have an Etsy shop!

Sign up today and receive a few freebies. 12 months of seasonal printable art.
If you would like to commit to becoming a subscriber, I would love for you to join me.