The Pioneer Woman's linens gone wild
I just love The Pioneer woman's line at Walmart. I swear it was made just for me:) The colors and her designs are just marvelous!
It all started last year when I first discovered her plates.
Today, I am sharing some nifty, thrifty ways to use her linen lines.
It started back in November when I bought her napkins to use over the holiday. I wanted happy, vibrant colors, and not so traditional for the season.
I used them several times over the holidays and when it came time to tuck them away is when I had a brain surge of an idea.
Why put them away??
I will start over on this side of the kitchen. I put away all the Christmas decor. Once that was all tucked away, the house was nice and clean…and BARE. I really dislike this time of year when the trees are bare and everything looks so stark. We tend to get more sunlight in the kitchen, however looking out the window is not very exciting to see all the naked trees.
I needed a pick me up. I thought to myself this may be tacky, or it may be cute. I then took a quick cell phone picture and asked my friends on my Debbiedoo's facebook page what they thought. The crowd went wild. I really love my page and ladies over there. They are pretty honest with me. I had nothing to lose considering I did not spend an extra dime on this project. I had enough napkins, I had the curtain ring clips, and the existing rods where valances were already hung over the window.
I immediately loved the light it brought in, the cheery color and prints. This will surely brighten up my long winter days ahead.
I am indeed a little bit of country with a whole lot of rock-n-roll in me!
Now let's take a look at the other side. I had to run out to Walmart immediately after this. I knew the existing tablecloth curtains I had would NOT flow nicely with this new look.
Low and behold here was this beautiful linen vintage stripe tablecloth calling my name. It's perfect. I bought a 60 x 102 inch. Most people will not need that large. Our windows are quite tall.
And why not pick up another cow while I'm at it? I did have a little bit of Christmas money to spend on myself.
Everything was getting refreshed. This gather here sign I made a few weeks ago and I couldn't wait to hang it. The little cow above it is a Goodwill find. I found that years ago for about 50 cents. I painted the frame and then never did anything with it. It found a new home right away. Now I am getting the whole darn farm around here. Roosters and cows certainly fit the country theme.
I bought ONE tablecloth and cut it down the center.
I then used my curtain clips (Found at Walmart in a pack of 7)
I'm ready for ya Winter..bring it on!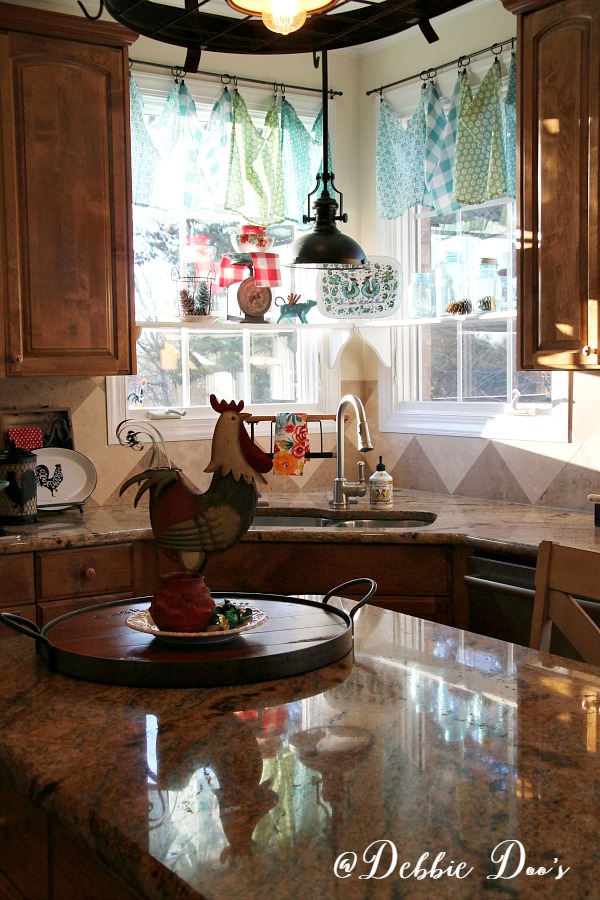 Affiliate links for The Pioneer woman's line of goods and other misc. I found all of mine at Walmart. I know some people won't step foot in there though..so just in case your are one of them.
Small decorative curtain rods
The pioneer woman tablecloth
Curtain clips
Pioneer woman cow creamers
Pioneer woman napkins
So either you love it, or you hate it. It's staying awhile regardless. I was up and down on the ladder too many times to go back up anytime soon.
Look around your local Goodwill for napkins or tablecloths. You never know what you will find.
Some of my readers have been sending me photos of their napkin valances. LOVE them.
Love the mix and match of color of pattern
via: Southern furniture flippers
Thank you so much for visiting with me today.
Check out my Spring/Summer look now:)
If you are new here, welcome! As you can see I change the napkin valances up per season.
Winter look!
Today's current look
Thank you for your visit today!
To view our stencil gallery picks you may check out
 Home decor projects using stencils HERE
I share all things, thrifty home decor, crafts and a recipe or two on occasion.
Sign up today and receive a few freebies. 12 months of seasonal printable art.
If you would like to commit to becoming a subscriber, I would love for you to join me.