Cozy Winter Family Room
Hello there friends! Hope you are feeling nice, warm and cozy in your family room. It sure has been cold here. Mike and I have been enjoying our evenings with a nice warm fuzzy blanket, hot cocoa and watching movies.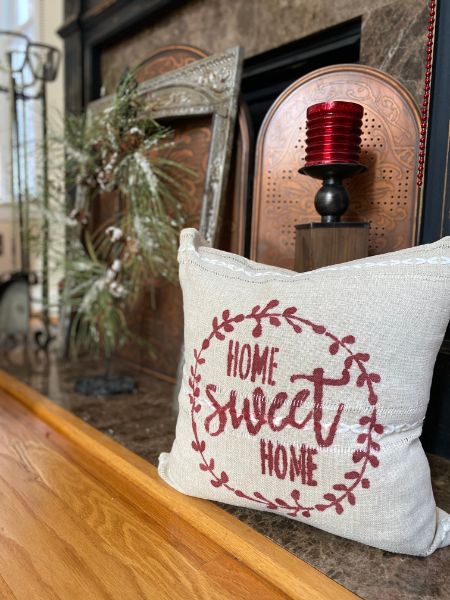 I did some simple touches of winter and spread a few things around to transition for Valentines day. It won't be much, but a little something red and festive. Of course, I stenciled a pillow cover I had. Home Sweet Home stencil, the same I used for my rustic porch sign HERE
A little wintery pinecone snowy garland and berries. So warm and rustic for the season.
I kept a few accessories up that I had for our Christmas mantel. Example, this blessed box can be used all year round with different seasonal accessories.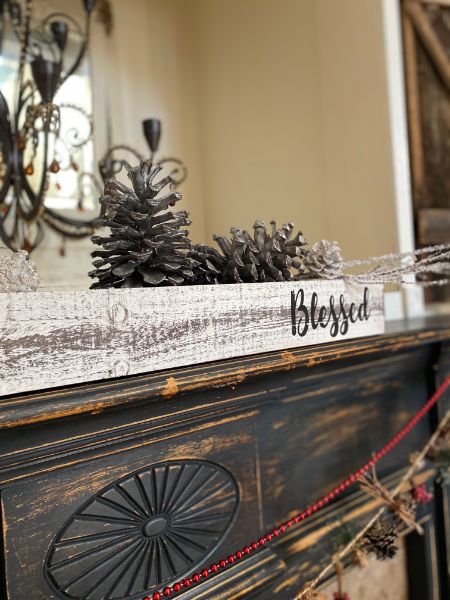 From what I am hearing, many of us are having an overall mild winter. I know some really enjoy the winter months. I have a few good days of winter, and then I am ready to move onto Spring. Believe it or not, even in South Carolina we may get a dusting of snow. That usually happens in February. I love those days. It is so unexpected and the frenzy of the town just makes me laugh. You know every one has to stock up on that bread and milk.
I'm from Buffalo New York peeps. Bread and milk are the least of the worries. Some have a full packed fridge and freezer for a month. Oh and a case or two of beer LOL!
Cozy Winter Family Room
Wherever your home is, find it warm comforting and sweet this winter season.
Enjoy and thanks for popping in today.
y the way. I stenciled this pillow using Rit Dye. I will give you some details next time. However, you can find some of my Stenciled ideas HERE, and even ones I have stenciled using Rit Dye.
You may also enjoy my other No-sew pillow ideas HERE
Find how to paint your fireplace HERE
Debbie Manno (Debbiedoo's) is a participant in the Amazon Services LLC Associates Program, an affiliate advertising program designed to provide a means for sites to earn advertising fees by advertising and linking to (Debbiedoo's) (amazon.com)