Creating a budget-friendly owl wreath is an enjoyable and satisfying project that adds a touch of charm to your winter home decor. By following the simple steps outlined in this guide, you can craft a delightful decoration that will warm your home and your heart without breaking the bank.
Read on to discover how to easily craft an owl wreath, from gathering your supplies, preparing the grapevine wreaths, and adding floral sprigs and berries to applying faux cotton snow, attaching the mini feathery owls, and adding a Christmas or winter ribbon.
1. Gather your supplies
2. Prepare the grapevine wreaths
Begin by painting the grapevine wreaths using white chalky paint. This will give them a wintery look and help them blend seamlessly with the other decorative elements. Allow the paint to dry completely before moving on to the next step.
3. Add the floral sprigs and berries
Arrange the floral sprigs and berries on the wreath, ensuring they are evenly distributed and visually appealing. Next, secure the sprigs and berries in place by inserting them between the grapevine. Alternate between placing one pick down and one pick up for a more dynamic look.
4. Apply the faux cotton snow
Lightly apply hot glue to the areas of the wreath where you want to add snow. Press the faux cotton snow onto the glue, creating a snowy effect on your wreath.
5. Attach the mini feathery owls
Choose a suitable location on the wreath for the owls, ensuring they are visible and well-integrated with the other elements. Secure the owls in place with hot glue, taking care not to damage their delicate feathers.
6. Add the Christmas or winter ribbon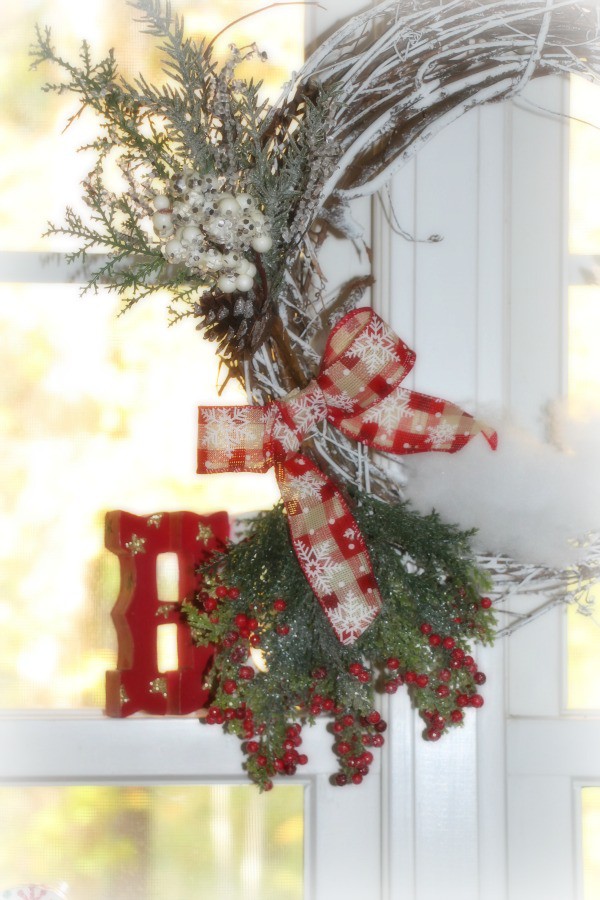 Cut a length of ribbon suitable for hanging the wreath, and tie it into a bow or loop, depending on your preference. Then, attach the ribbon to the wreath using hot glue or by threading it through the grapevine, ensuring it is secure and can support the wreath's weight.
Now that your owl wreath is complete, find the perfect spot to display it. Consider placing it on your front door, above your fireplace, or in a cozy nook in your home. When the season is over, store the wreath carefully in a cool, dry place to preserve it for future winters.
Check out more winter decor ideas.