Welcoming Christmas porch entry
Hey there friends! How are you all doing? I haven't been over here in the past few weeks. My Mom and sister were in for Thanksgiving and as usual it was an awesome visit and another year filled with creating warm memories for our family.
It's a little hard these days getting in the Christmas decorating mood. Still unseasonably warm and we have leaves still dropping off trees. Every time I think that's it, another gust of wind blows in and down they go. They are hard to keep up with, that's for sure.
Today I am sharing what little I did on our Welcoming Christmas porch entry. It still feels like a Christmas welcome but I kept it real simple this year.
My rockers of 12 years finally kicked the bucket. I am not sure if I am even going to replace them. I have a pretty wrought iron garden bench set in place of them now. The bench used to be on the back wall of the porch. You can see last years Christmas porch here.
I just shuffled things about and made it work the best I could.
The porch looks a little bare this year without my pretty yellow rockers.
I did not buy one single thing new this year for holiday decorating. In fact, my plan is to go through all my bins and donate what I don't use anymore. I just can't deal with all this "stuff" anymore. I get it when older people say they want to downsize and simplify. I am now that old person saying the same thing LOL!
A few simple things can still make a warm welcome.
One urn still has live Ivy, and the other, wellllll, it died. I don't know how or why. I had this ivy planted in my urns for years now. I guess in the Spring I will have to redo these.
I made this sign last year at a local workshop. It was a lot of fun! Pricey as heck though. The whole time I was thinking I could make this sign for $20.00. It was a fun girls night out though so I had to roll with it. My frugal self was in my head though the whole time:)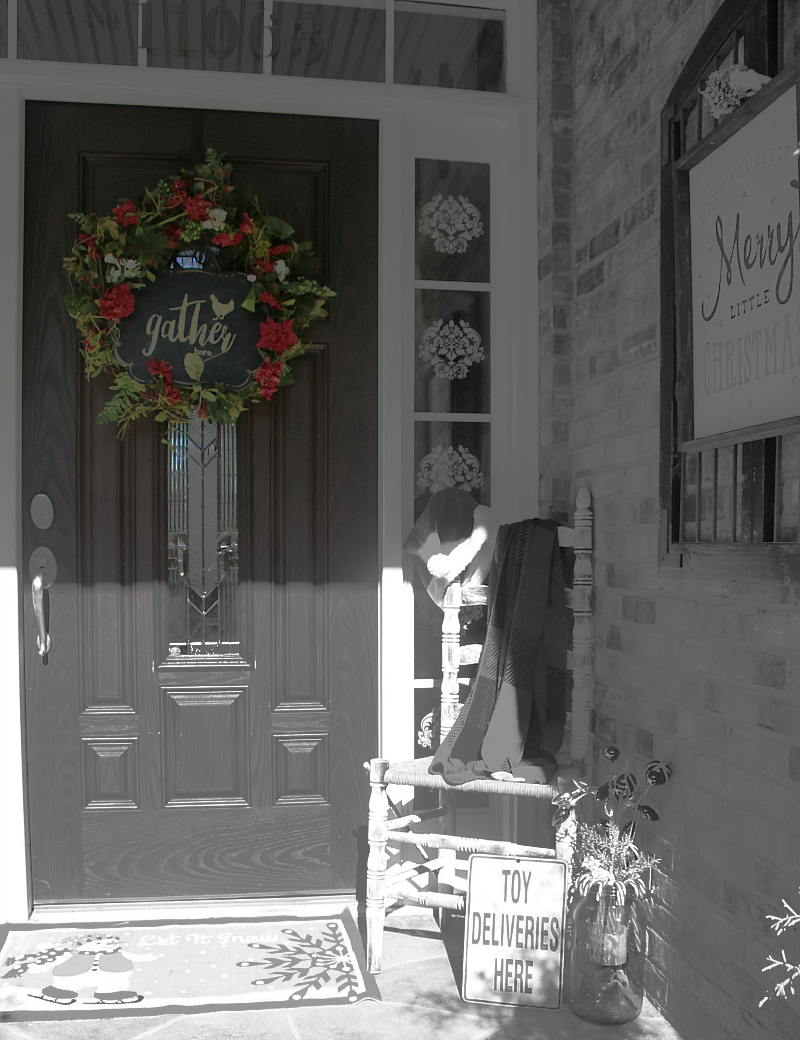 Thanks for popping in today!~ Our Welcoming Christmas porch entry
I will be sharing the family room and kitchen decked out, or I should say festive for the season soon! As you can see my gather here stencil gets a lot of use per season. You can find my stencil line down below on Amazon.
Also, if you want to see more of me, you can find me over at Home Pressure Cooking. I am still loving my Instant Pot! I have created a cool line of accessories and gadgets to go with it.
[envira-gallery id="32693″]