The warmth and tradition of Thanksgiving
Everyone has a story. A story of tradition, a story of family, a story about what the holidays mean to you and your family.
Today I am sharing the warmth and tradition of Thanksgiving with my family.
This post is sponsored by ……however, the story and opinions are all mine:)
The Home Scents collection is a classic everyday candle assortment of fragrance favorites. Find the perfect fragrance for any season and any room in your home.
   Clear glass cylinder jar with silver metallic lid in a contemporary design
   Made in Maryland with ingredients from around the world
   Lead free cotton wick
   Burn Time: 80 hours
Growing up my Mom was a single Mother of two. My sister and myself. She was a waitress and worked most all the holiday's. After all, it was her biggest money making days and being a single Mom she did what she had to do.  With that said the memories of Thanksgiving were never really centered around my Mom and her table.  It wasn't until I had a family of my own, my Mom finally retired and it has been from then on for the past 20 years now Thanksgiving is our holiday spent together. So many fond memories have been made these past 20 years that I can't even narrow down just one more awesome than the other.  From the moment my Mom and sister arrive at our home the week is filled with laughter, food, fun and always a craft or two involved, oh and shopping of course, thrown in with a pedicure.
My Mom has always been crafty and a very good homemaker. One thing I will always recall is our home smelling so pretty. My Mom always had a scent of the season burning. Whether it be a pumpkin cinnamon, a winter green….you can bet there was always a candle going. Even now when I go visit her the first thing when I walk in, it feels like home, just from the scent.  I think even the UPS man wants to move into her home. He has mentioned that he loves coming to door because as soon as she opens it he is going to smell something good. That cracks me up! Only Mom and the UPS guy could have that connection. Shhh..don't tell her I told you, but he is there at least twice a week with a delivery. They are no strangers at this point. Let's just say my Mom really likes her online shopping.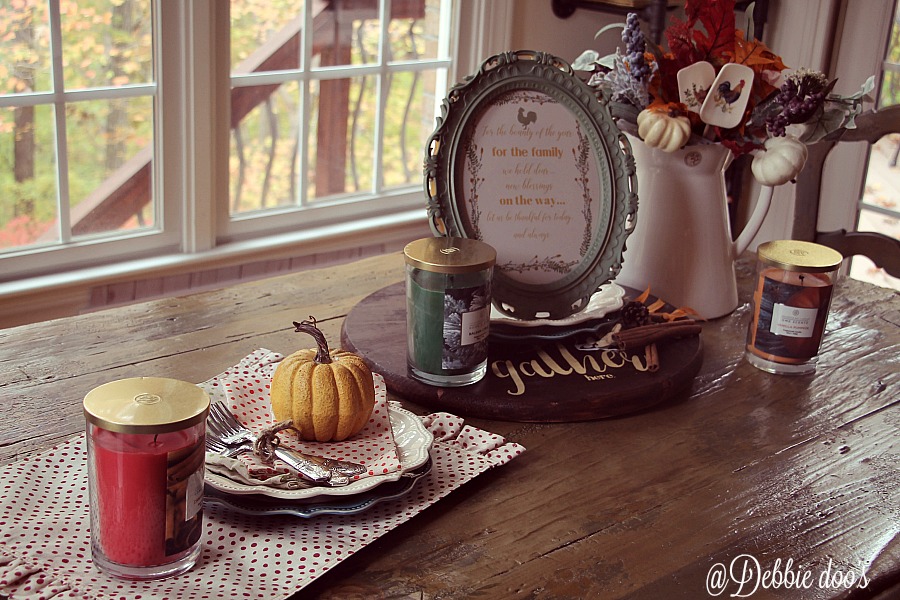 Setting the Thanksgiving table is always a joy. My Mom, sis and I do it together every year. Some years are fancy, some years are simple. It really doesn't matter what they are because they are always together.
This year I wanted rustic and warm. With the candles being the center piece, fresh greens, berries, simple plates and colorful napkins with a warm pattern. Considering I have two sons, and a husband, we can't make things too frilled up around here. Although, would they care? Probably NOT, just give them food! In fact, I am keeping it really simple. The food will be kept on the center island and it will be a help your selfie kind of day. Keeping the food on the center kitchen island will allow me to have a pretty, casual table without having to move around my candles and flowers.
Balsam Citrus Large Jar Candle – $10 Citrus orange and pine needles shimmer with fresh oak and snowy pine cones over hints of festive clove and toasted allspice.
Cinnamon Spice Large Jar Candle – $10
Red-hot cinnamon sticks, crushed clove buds and toasted nutmeg blend with comforting notes brown sugar and earthy wood bark.
 Vanilla Pumpkin Large Jar Candle – $10 Decadent and delicious, this sweet pumpkin pie dessert includes ingredients of caramelized pecans, maple brown sugar, and whipped cream.
 Pumpkin Coconut Large Jar Candle – $10Creamy coconut milk infused with cinnamon, clove, ginger and pumpkin puree warm the home with a delightful twist on a fall classic.

      Snow Day Large Jar Candle – $10

Fresh fallen snow sparkles with aromatic pine, frosted mint and cool vanilla with a hint of citrus to compliment this complex accord.
 Oats & Honey Large Jar Candle – $10
You may also find the free download printable here. 
Hope to see you back again at Debbiedoo's, where home truly wasn't built in a day.
The warmth and tradition of Thanksgiving
Please visit Chesapeake (Homepage) for more amazing scents and great gift ideas.