I made it pretty simple in the kitchen this season.  Just enough to bring in the spirit of the holiday without creating too much muss and clutter.  I have more than enough going on in the family room this year.  I already shared our Christmas mantel , and our Christmas tree adorned in reds, and I have more to share very soon.  Today, it's all about vintage in the kitchen, the sweet smell of gingerbread, and how you can give one of the most special and personalized gifts this season.
Let me start with my new scents for the season.  Gingerbread Maple by Yankee Candle.  This scent reminds me of my friends home made ginger snap cookies.  I am going to have to beg her again for that recipe.  My friend Laurian, is the gal that has shared the Bacon crackers, Cake pops, and as we called them the cure all chips.  She is pretty generous with sharing her recipes but she has not budged on the ginger snaps.  It was her Mom's recipe and obviously a secret.  I think she is keeping the snaps a secret from her sisters, hahahahah..not sure but believe me, I will share them if I ever get my hands on that cookbook:)  This candle just reminds me of comfort and spice, and everything nice.
Yankee Candle®'s Gingerbread Maple comes in both large and small 2-Wick Tumbler Candles.
Don't you just love this personalized candle? Here's the neat thing. You too can create your own for that someone special..and that someone special can even be you.  You deserve it.
CLASSIC JAR, TUMBLER AND VOTIVE FORM: PERSONALIZED CANDLES
Choose from a variety of styles including small or large tumbler, large jar, or personalized votives. Order as few as one candle and receive it in just seven to ten days. Easily upload, crop, or filter an image and view it in real-time. Include a meaningful message to complete the sentiment. 
Perfect for a thank you gift, small tumblers start at $21.00. For a festive hostess gift, large jars and tumblers start at $33.00 MSRP. Personalized Samplers® votive candles add a personal touch to any event with a variety of labels and embellishments starting at $4.50 per candle.
Fragrances:
Balsam & Cedar
Buttercream®
Clean Cotton®
Lilac Blossoms
Macintosh
MidSummer's Night®
Pink Sands™
Sparkling Cinnamon
Sun & Sand®
Vanilla Cupcake
Wedding Day™
Additional seasonal fragrances available.
I love styling our kitchen shelves per season. I am so happy that my husband finally agreed to do this project for me.  We had the perfect corner window and I certainly have enough Chachkies to fill it up.
These large gingerbread cookie cutters I found a few years ago at an antique mall.  I couldn't resist.  They were only 50 cents a piece, so how could I?
Filling my vintage blue ball mason jars are always fun.  This year I simply added mini Christmas trees, candy canes and  faux snow to the bottom of the jars.
In the evening the gingerbread maple tumbler is all of the glow in the window next to my giant cookie cutter.
Vintage scales are always a nice thing to decorate with. They are so versatile and add to the rustic appeal of any decor.
Vintage paper towel holder.  This is the real deal too.  I notice pottery barn sells a knock off version of this.
Most of the little ornaments and trees came from the dollar tree.  Same with the mini Christmas picks.  I hope you are stocking up now on your Christmas items from the dollar tree.  Remember, I told you they go fast.
Remember my dollar tree snowmen salt and pepper shakers?  Yep, I still have them, and love them.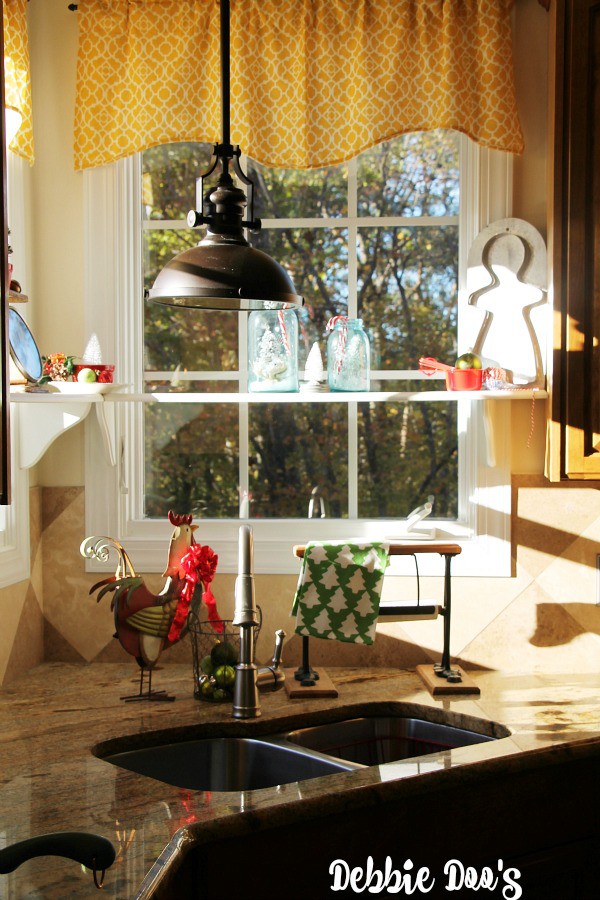 I think that covers most of this side of the kitchen. It's clean and smells heavenly.  Thanks so much for stopping over today.  Thank you Yankee candle for bringing the scents of the season into our home this year.
Pin it:)
This is a sponsored post for Yankee Candle®, however all opinions and photos are my own.
Catch up on more Christmas decorating ideas that I have done:)