Hi there!
This was a happy accident I am sharing with you today.
If you are looking for Budget friendly, diy Holiday decor this season.
You came to the right place!
TODAY….
I spray painted nature…
or I should say, I was spray painting in nature.
You see I decided one day to Spray paint my wreath.
Last year's Christmas wreath was sprayed in a pretty green.
I am so embarrassed to even say again..
but hey, I love to embarrass myself, so I will
say AGAIN. This wreath will NEVER die!
I decided not to use a drop cloth and just spray in the woods on top of the leaves.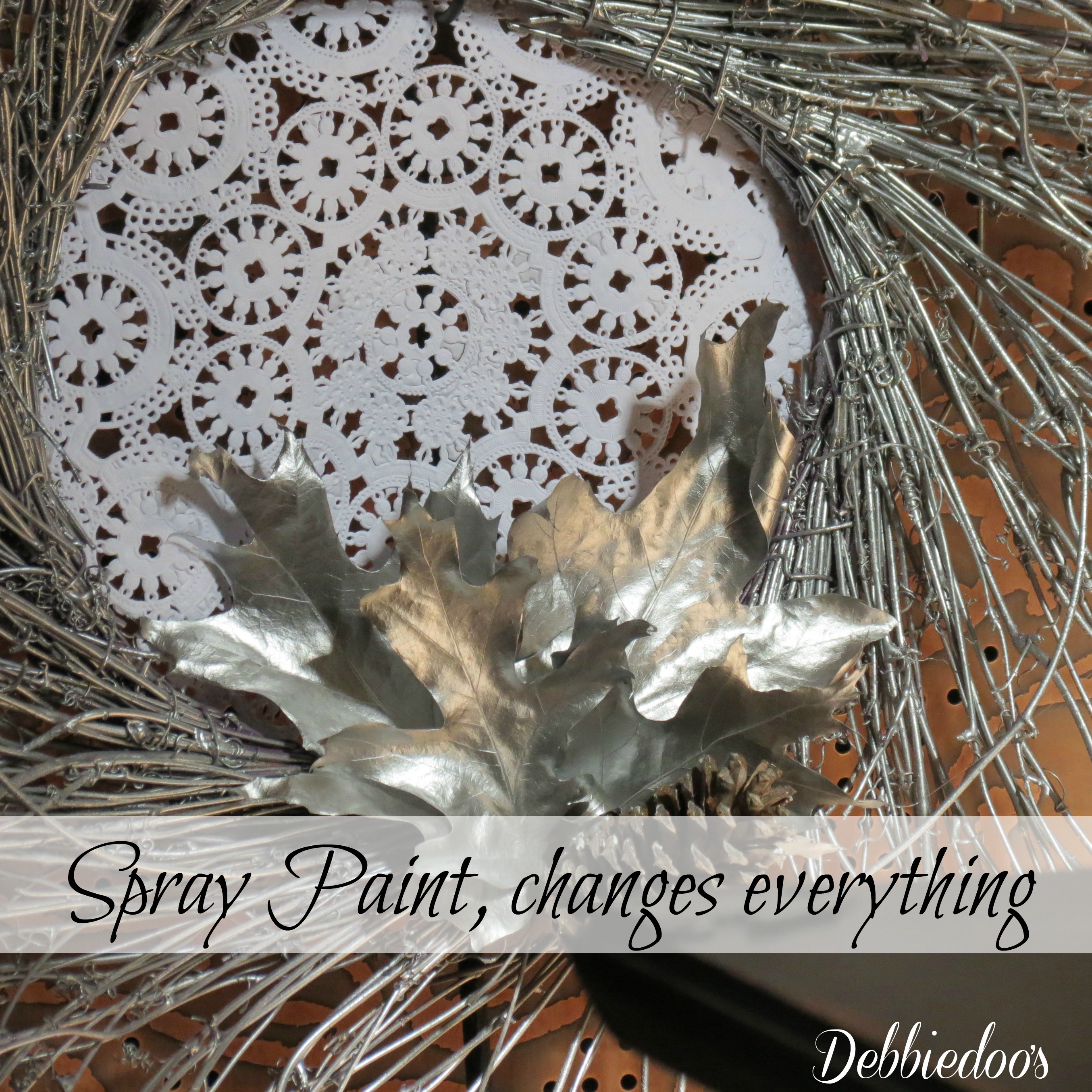 As I was spraying, I noticed how pretty the leaves started to look.
Well, well….
I certainly can use these pretty leaves somewhere.
I certainly have more pine cones too that I know what to do with.
They sure are perfect though for Holiday decorating.
and it cost me nadda!
And there she be in her new color.
Krylon Metallic
I can't wait to show you our mantel this year.
TOTALLY different than any other I have done.
I am really loving it!
that's all for today!
Little did I know when I did this wreath, that there is a wreath right now
at Z-gallerie at $59.99 with gorgeous metallic magnolia leaves.
With magnolia leaf wreaths in vogue, we've added a new twist to the traditional with our Silver Magnolia Wreath. Large flexible magnolia leaves create this beautiful wreath and are simply sprayed metallic Silver to give it a stylish brightness. Add your own ornaments, ribbon, or other special touches if you wish. Measures 28 inches diameter.
I could have kept going with all the leaves I have in our yard.
This would be a perfect twist for my upcoming Holiday knock off party
on December 10th.
If you are new here,you may check out my past
and of course last year's Knock off Holiday party with over
Hope to see you there!
You know I love me some spray paint, and have done so many color changes… and
feel free to check out and perhaps pick a color!
And while your at it, you may want to stop at our
while RIGHT now, going on you will find
or perhaps you just want to look in your own back yard and grab some sticks!
Decorating with nature this holiday season can look fabulous!
and if you stick around long enough
and I am pretty sure you will come up with something for a gift idea, or to create and make for your very own.
Sharing with:
Show and tell