In an age where sustainability and upcycling are gaining momentum, finding creative ways to repurpose everyday items, such as wine bottles, has become an eco-conscious priority. This article explores the various ways to turn your empty wine bottles into stylish, functional, and eco-friendly decorations, providing inspiration and tips to unleash your inner artist.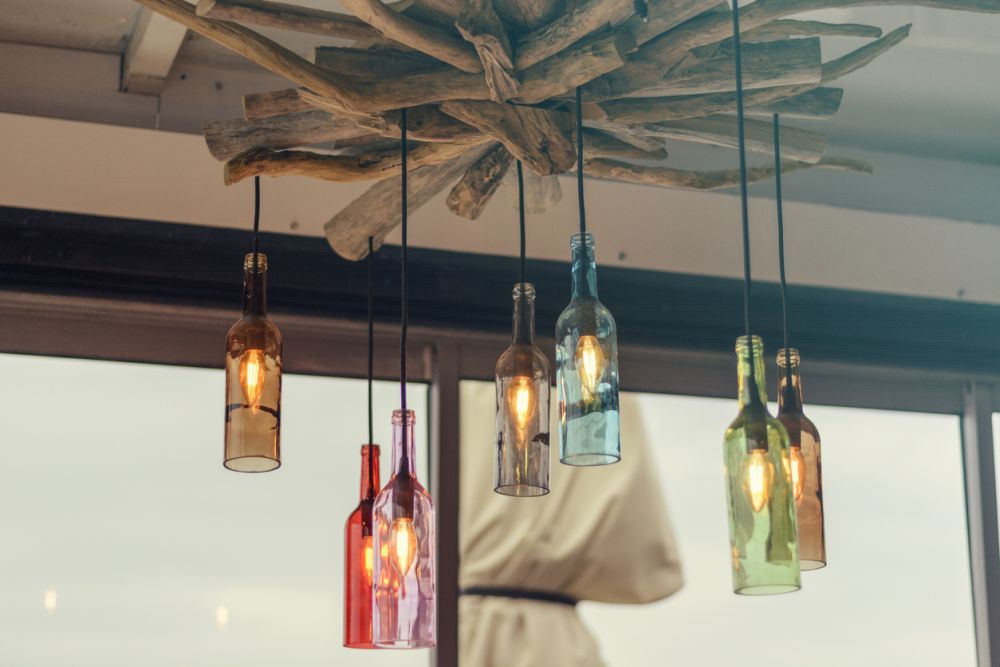 Read on to discover how to prepare wine bottles for decoration, some wine bottle decor ideas, easy decorating techniques and materials, and simple tips for creating cohesive wine bottle decor.
Prepare wine bottles for decoration
Select the right bottles: When choosing wine bottles for your decor project, consider the shape, size, color, and transparency. Unique or unusual shapes can add visual interest, while a cohesive collection of bottles, such as purple vintage bottles, can create a more polished look.
Clean and remove labels: To prepare your wine bottles, soak them in warm, soapy water to loosen labels and adhesive residue. Gently scrape off the labels and use adhesive remover if necessary. Ensure the bottles are clean and dry before decorating.
Cut and sand the bottles (optional): If your project requires cutting or sanding, take safety precautions such as wearing gloves and safety goggles. Use a glass cutter or a wet tile saw for cutting, and sand the edges with sandpaper or a sanding block to smooth any roughness.
Wine bottle decor ideas
Centerpieces and vases: Transform wine bottles into elegant centerpieces or vases by filling them with fresh flowers, dried botanicals, or seasonal decorations. For example, check out this wine bottle decor idea for Christmas. You can also paint the bottles to match your decor or leave them clear for a minimalist look.
Lighting and candle holders: Create stunning lighting displays by filling wine bottles with fairy lights or turning them into chandeliers. For a more traditional touch, use the bottles as candlestick holders.
Storage solutions: Wine bottles can also serve as practical storage solutions. Use them as kitchen utensil holders or as unique jewelry organizers by attaching hooks or knobs to the necks of the bottles.
Outdoor and garden decorations: Bring life to your outdoor space by turning wine bottles into bird feeders, planters, or even garden borders. These projects not only add a touch of charm to your garden but also help reduce waste.
Decorating techniques and materials
Painting and staining: Acrylic and spray paint are excellent choices for adding color to your wine bottles. For a more translucent look, try stained glass techniques or glass paints.
Decoupage and collage: Decoupage, such as Mod Podge, allows you to adhere decorative paper, fabric, or images to your wine bottles using a clear-drying adhesive. This technique can help you achieve a custom, intricate design with ease.
Embellishments: Add a touch of elegance with ribbons, twine, or lace. Attach beads, crystals, or charms to create texture and visual interest.
Tips for creating cohesive wine bottle decor
Pick a color scheme: Choose a color scheme that complements your existing decor, or create a bold contrast with vibrant hues.
Balance textures and patterns: To create a visually appealing display, balance textures and patterns by incorporating a mix of smooth, rough, and patterned elements.
Choose a theme of style: Select a theme or style that resonates with your personal taste, such as rustic, vintage, or contemporary.