Hi there everyone! Let's learn about the History of Vintage purple bottles.
Hope you are having a great week. Today I am sharing some History of Vintage purple bottles. I found these vintage purple bottles last year at a local antique mall.  They were not that expensive.  The prices varied per size.  I think the most I paid for the largest bottle was $6.00.  I fell in love with the amethyst and thought it was very unique.  I have seen greens, reds and blues but this was a first for me.
 I always like to learn something new and thought I would pass that along to you.
 Upon exposure to sunlight, this glass will turn a light pink or lavender to moderately dark amethyst or purple depending on the amount of manganese and amount of ultraviolet (UV) light.   This is called "sun-purpled" or "sun colored amethyst " (SCA) glass.This bottle began its life as colorless glass and has "turned" a much darker than average color of amethyst due to the exposure to (likely artificial) UV light .  The light lavender tint produced by manganese offsets the green tint of the iron impurities in sand creating a largely colorless glass.The Venetians apparently discovered by the 15th century that manganese could be used to decolorize glass.  Manganese became known as "glass makers soap" due to the ability to "cleanse" or neutralize the effects of other impurities in the sand, particularly iron (Hunter 1950).  
Manganese dioxide induced colorless glass was, however, by far most commonly used from the 1880s to about the end of World War 1.  At that time manganese dioxide use was greatly reduced for a variety of reasons, although largely because it did not work as well as other chemical decolorizers ( in the open continuous glass tanks used by the increasingly dominant bottle making machines – both semi-automatic and automatic. 
It is often noted in the literature that the reason for the switch from manganese dioxide to other decolorants was due to the cut-off of German imports to the U. S. during WW1.  Although all imports from Germany (and Europe in general) were greatly constricted during this time, Germany was not a significant source of manganese for the U. S., providing only 2% of the imported manganese supplies in 1910 just prior to the war (Kendrick 1964; Lockhart 2006b). 
It should be noted that occasional manganese dioxide decolorized bottles may date as early as the 1820s or as late as the 1930s, although the large majority of bottles made with manganese decolorized glass were made between about 1890 and 1920. 
Source
 Now isn't that interesting?
I found some other pretty images of purple vintage bottles.
I never knew the history behind colored class.
I obviously love it and have tempted a time or two to dye glass myself.
 You can check out my
Rit dye gallery
to see for yourself just how you too can dye glass.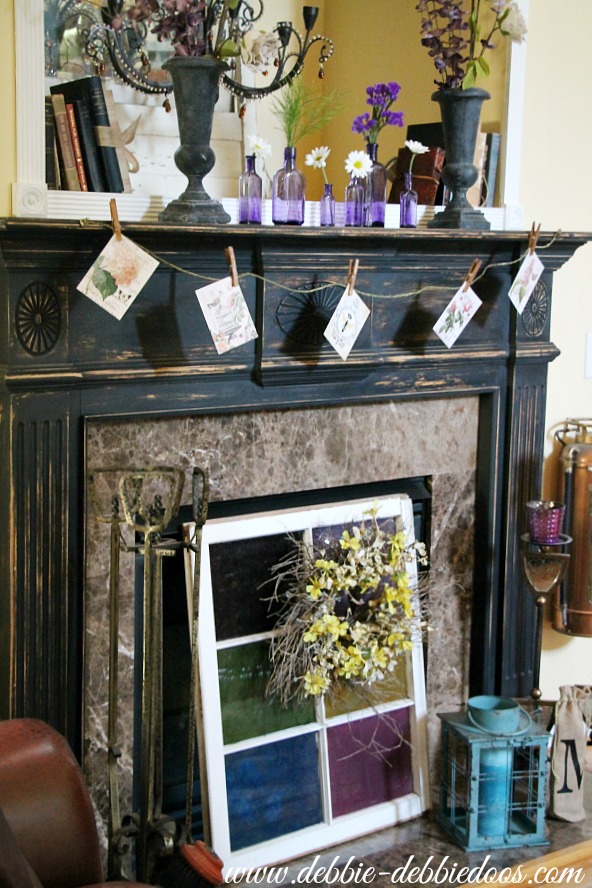 You can see a pattern or a color trend of purple with me lately.
 Purple or violet assists those who seek the meaning of life and spiritual fulfillment – it expands our awareness, connecting us to a higher consciousness. For this reason it is associated with transformation of the soul and the philosophers of the world are often attracted to it.
Just call me a philosopher:)
That's your history lesson for today.
And yes, my coffee table is a mess, and pillows are scattered about.  It's summertime, who cares!
I made some changes to the mantel and made a fun new banner.  Will share soon.
Just something fast and simple before Fall gets here.
 You can hang out for a while and brush up on your history.
Very interesting.
Thanks for stopping over today.
XO