Hi there everyone!
Today I am sharing our refreshed Spring/Summer project of Painting the kitchen Bavarian creme color with Benjamin Moore paint.
This has been on the list for a while and finally we gotter done.
I swear having a few rooms painted is like moving all over again. Our house has been in such disarray and messy as all get out.
Finally getting back in order and purging in the process.
The color we chose for the kitchen is called Bavarian creme by Benjamin Moore.
We used the Aura eggshell finish.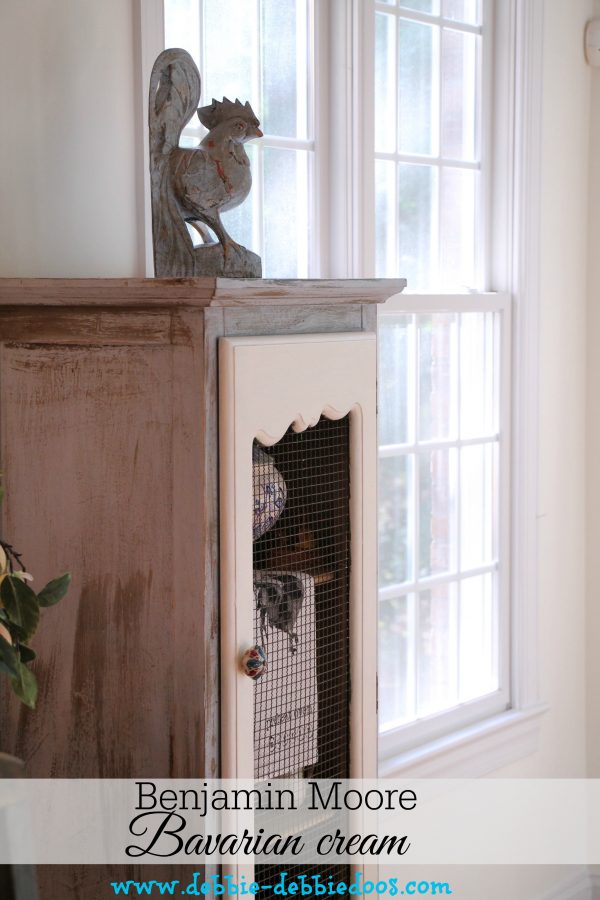 In the kitchen spruce I changed up a few things.
I decided the pie safe makeover I did last year needed the same color as the walls around the trim.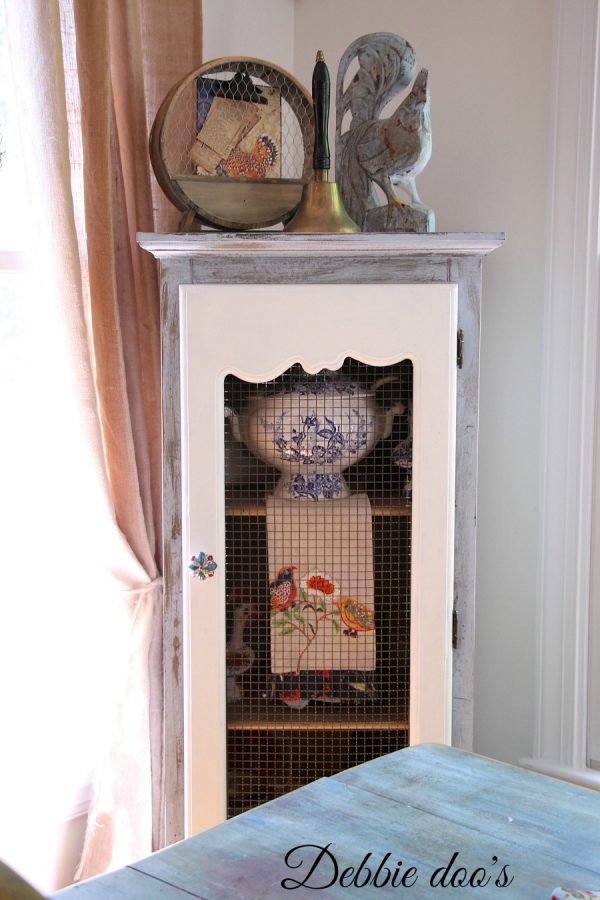 It totally brightened up the piece. I still have to lightly distress it.
In fact, you can actually see the pieces I have inside now.
Well some of them anyway. This little pie safe is pretty packed. The soup tureen takes center stage. My Mom gave that to me a few years back. It's vintage and I love it.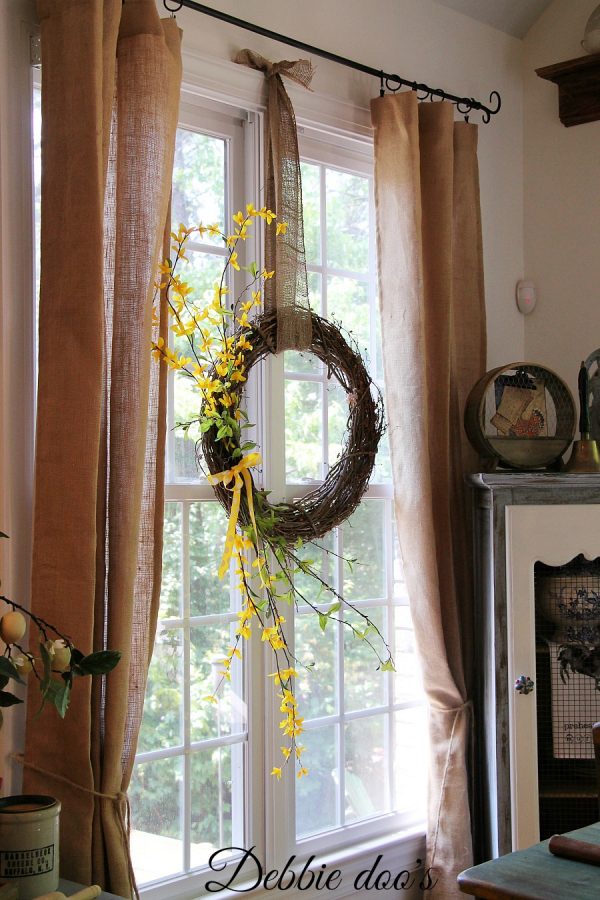 I also made pretty wreath for the window.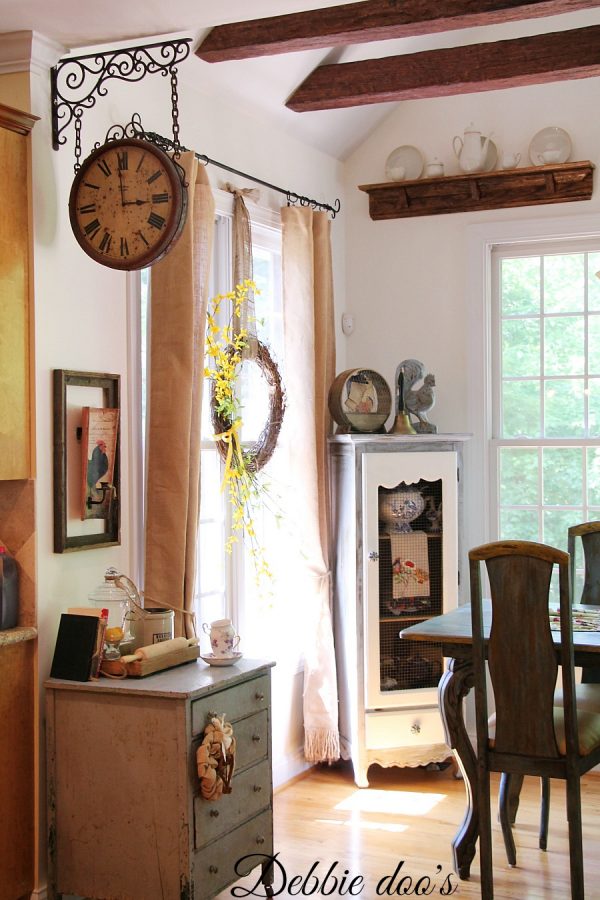 My friend Ann made her daughter a Spring/Summer wreath recently and because I already had all the same supplies on hand, I made one too!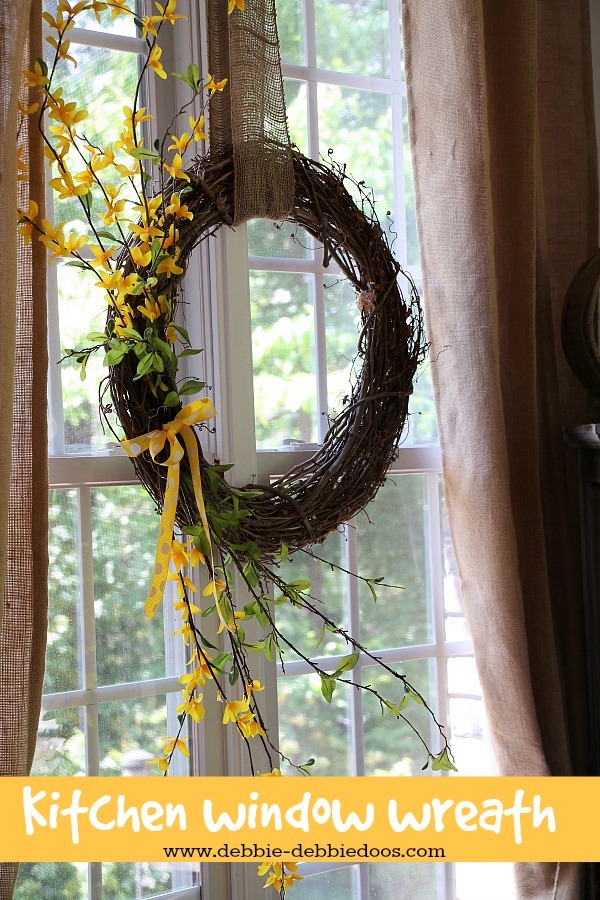 You can see the
tutorial on How to make a Spring/Summer wreath here.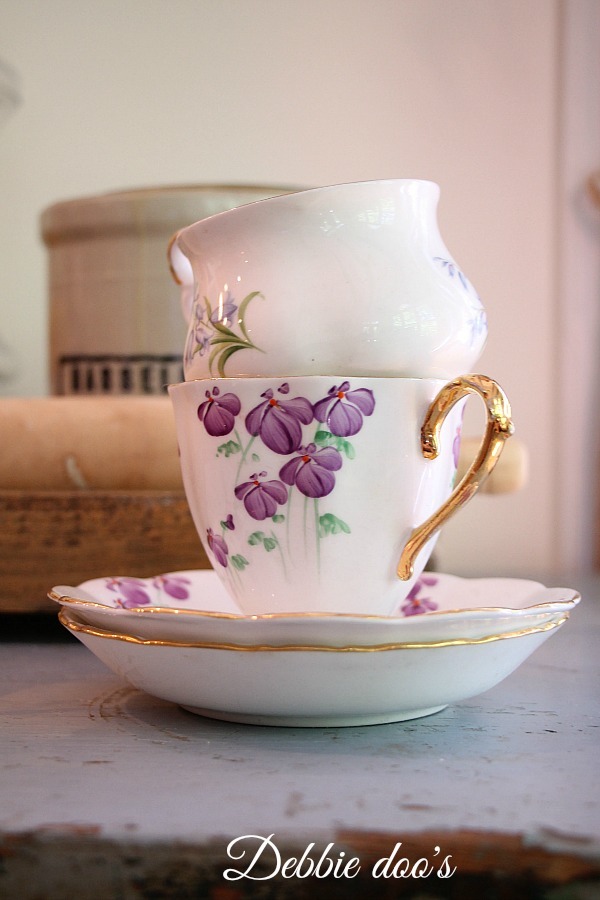 I found things I have not had out in years. Like these pretty little vintage tea cups.
They are bright and cheery just like the kitchen.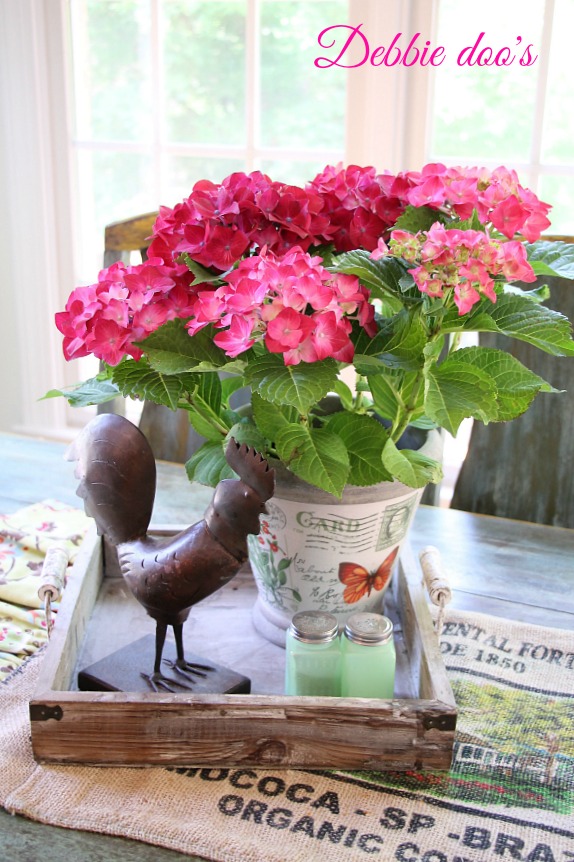 Pretty hydrangea I found at Lowes Home improvement.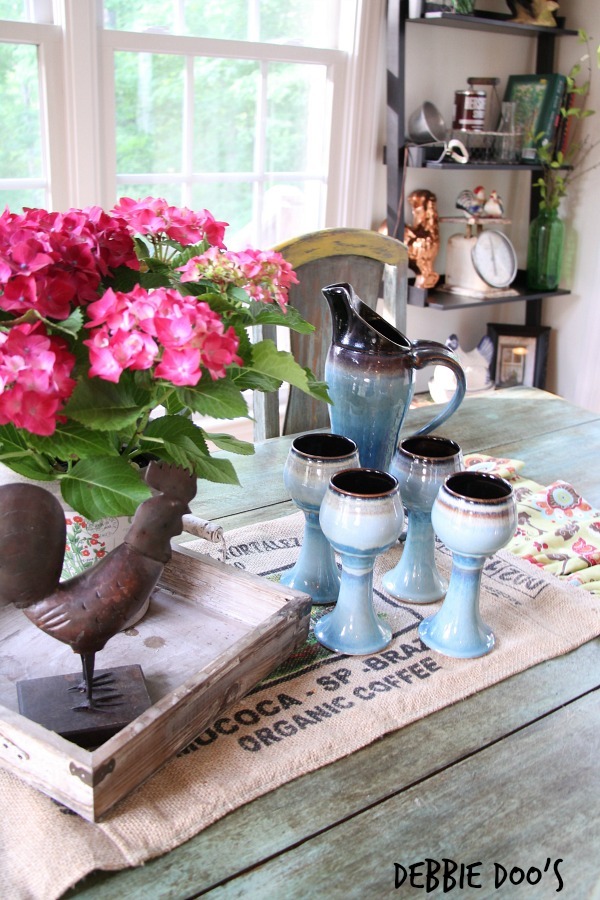 I had the garden pot already. I believe that came from Hobby lobby a few years back.
These pics I am sharing are not my final, final. As you can see I have things out of place until I figure out where I want them. A lot of things I will just tuck away and recirculate on another time.
This pottery set was on this shelf for 4 years. My father in law gave us this set and I adore it.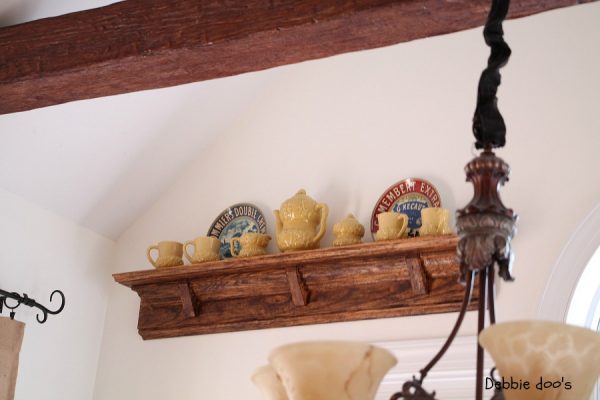 Now I have my husbands Grandmothers tea set that she gave us years ago when we were first married.
See, I really do recirculate and I have so many gifted sentimental things to switch out to.
Notice the shelf is a tad darker now?
If you missed my kitchen refresh from last year you will see it was lighter.
I simply took some dark wax to it. You can now see the wood grain even better.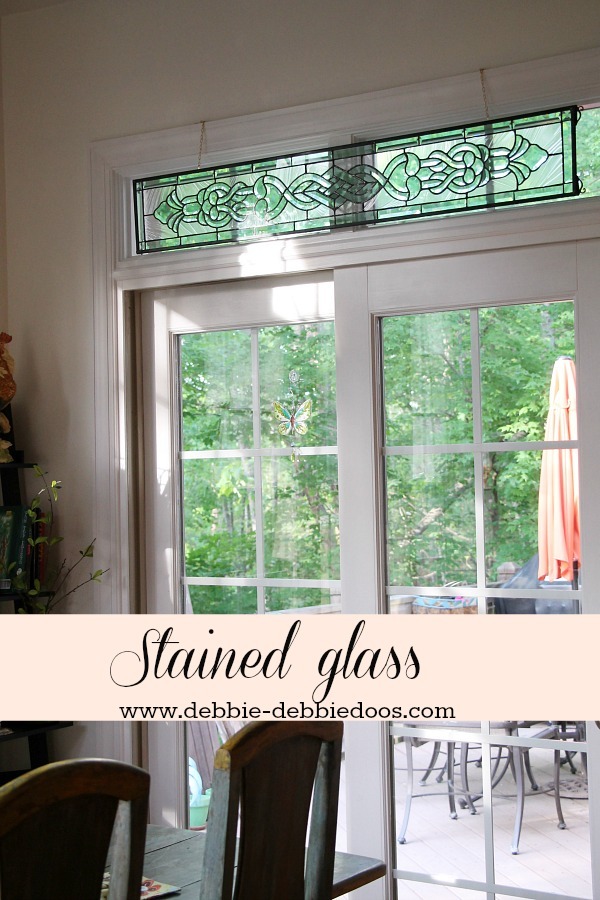 My husband had a fantastic idea today.
He wasted no time getting to this project. This stained glass piece use to be on the opposite wall over the burlap curtains window.
He hung it over the window.
Genius!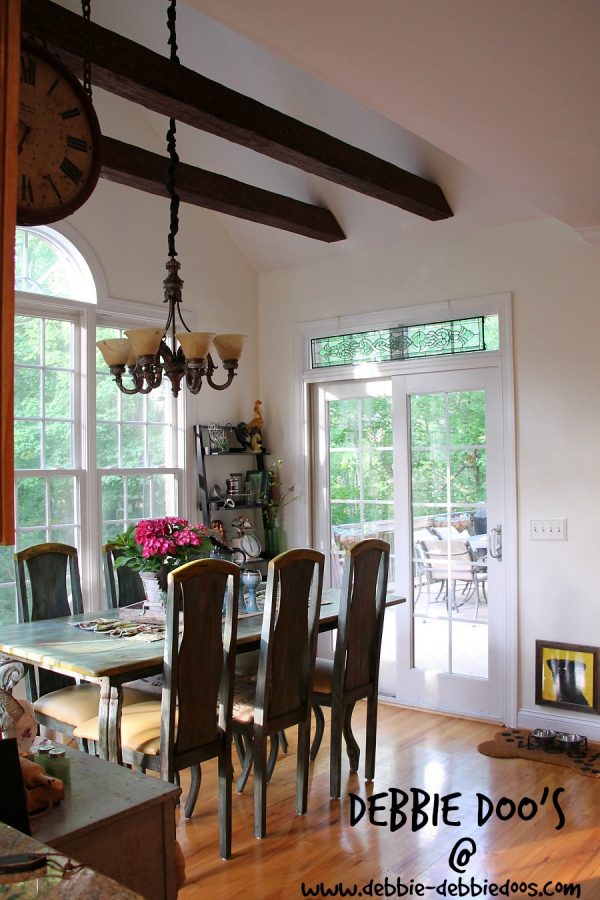 Notice how the faux beams pop now?!
Final picture and this is where I would like some input.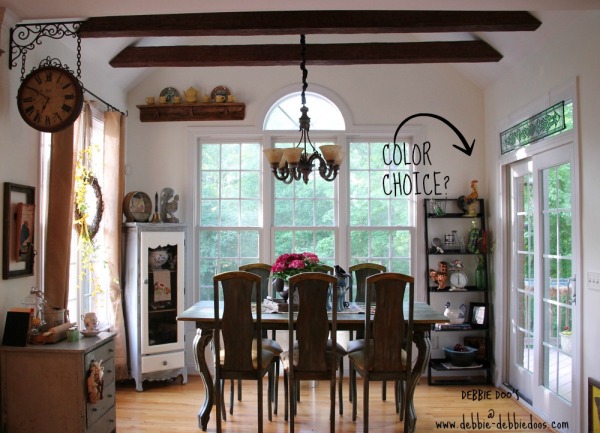 This bookshelf ladder I have in the corner is obviously not my style.
I like it though and want to transform it with paint and make it rustic looking.
The decor on here is not what will be. Some will stay some will get tucked away. I just had to put it someplace in the meantime so we could function in the kitchen.
I have a color dilemma. Right now I have two blue pieces, and the table is green.
Not sure what color to make this piece. I don't want white..it will blend in too much with the new wall color.
Any thoughts would be greatly appreciated.
Thanks for stopping by today.
This was a sponsored post by Benjamin Moore paint. All opinions, finishes and color choices were however my own.
You can read all about the
5 facts I bet you never knew about Benjamin Moore paint here.