Painting on fabric with Chalk paint
Sometimes even after all these years,I mess up a craft.  I usually don't share the mess ups, because why would you want to see those? Today, on the other hand is different.   Not only did I mess up, I remedied the situation, and I absolutely love the outcome.
I will be leaving all the goods used (or close to) and resources at the end.
Debbie Manno (Debbiedoo's) is a participant in the Amazon Services LLC Associates Program, an affiliate advertising program designed to provide a means for sites to earn advertising fees by advertising and linking to (Debbiedoo's) (amazon.com). 
Being creative is not only a hobby of mine.  It has become a way of life.  I used to do a craft at least twice a week. I have been getting back into in more these days and it sure feels good.
So I started with a simple very inexpensive pillow cover.  I knew I wanted to make a pretty Spring pillow for our bedroom.
I found this cute stencil with birds, bird cages and a tree limb.
You can find all my stencil projects HERE
My first thought was to stencil  the top  left, and then to stencil the bottom right.
About mid way through, I though, I don't think I am going to like this.   However, you just don't know until the stencil is dry and you peel and reveal.
And just like I thought, I hated it and then quickly tried to rinse off the craft paint.  Most of it came off but you could still see shadows of the stencil.  It looked awful.  I put the project aside till the next morning.
When I woke up the next morning, I had a brain storm.  How about I chalk paint over the pillow.  Surely, that would cover up my mistake.  I used 3 M to tape off the pretty white threading, and inserted a plastic bag inside the pillow insert in order to avoid bleed through.  I started painting on the pillow fabric and immediately knew this was going to work!
I am so thrilled this project was not a fail.
Just another cute touch I added were the mini burlap flowers.
I added them randomly, a few on top, a few in the middle off to the left, and off to the lower right.  I liked the somewhat relaxed vibe the pillows spoke to me.   You know, my crafts do talk to me.   This one at first said,  Oh man you are botching me up, please fix me fast.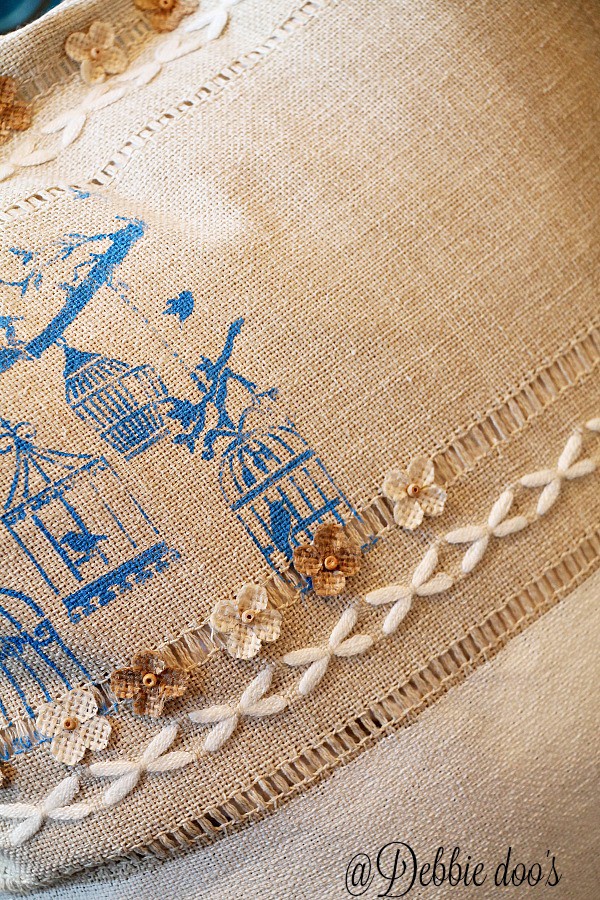 I hope you enjoyed my pillow fail.  I have to say, it's one of my all time favorites ever!
You may also enjoy this house warming pillow I made  HERE
Pin it, make it, enjoy!
Painting on fabric with Chalk paint
You may also enjoy some other NO-Sew Pillow projects HERE
Hope to see you back real soon!