It's been a while since I have shared a good ole fashioned vase project.  I love to create decorative vases on the cheap!  So many versions! There must be at least 50 ways to create a one of a kind vase.  Good chance I have done at least 49 in the past 6 years.  I will leave you my gallery at the end and you can browse through some more creations of mine.
Today, I am sharing some painted glass vases with chalky paint and stencils.
I do have a twist though.  Have you ever heard of Gesso?
Artists typically use Gesso. Gesso is a  hard compound of plaster of Paris or whiting in glue, used in sculpture or as a base for gilding or painting on wood.  I stepped outside the box and used it on glass as a base and texture.
I have used gesso several times.  My rooster kitchen art, glass pumpkin, and a rit dye denim vase.
I really enjoyed working with it.  I found my gesso at Walmart in the craft section.  I believe it was near the mod podge.
I picked up 3 cheapo vases at Walmart today, a pack of stencils and some metallic craft paint.  I already have a stash of chalky paint.  I love using it on small crafts and decor.  You can find chalky paint at Michaels, Home depot, and Hobby lobby.
First I prepped our kitchen table with a garbage bag and turned my vases upside down.  I gave them each a nice coat of gesso and let them dry for well over an hour.  Just step away and go about your business. You want them to dry completely.  After the vases dried I chose my chalky paint colors.  I gave the vases two coats of color.  Once thoroughly and let dry, then I went back around 30 minutes later and gave them a second coat.
I like to dab my sponge brush on these vase projects just to give a little more texture.
You just lightly pat it.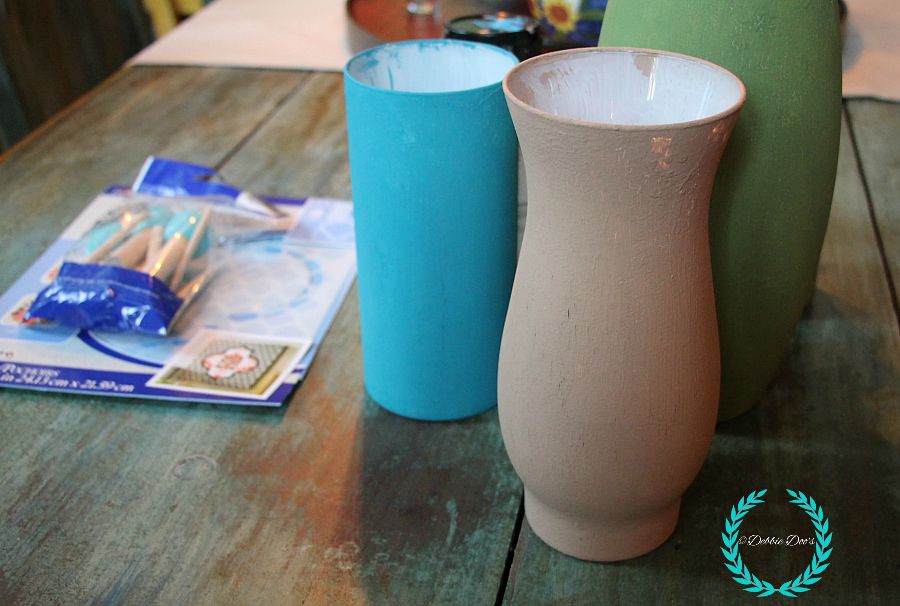 Let your vases again dry completely.  You could even just leave them overnight and resume to your crafting in the morning.  I am not that patient so I worked later on in the evening.  Hence, no photo's during a lot of this project.
Once the vases were completely dry I chose my metallic craft paint and applied it generously with a paper towel, wiping in between and rubbing it in gently.  It gives the vase a nice sheen and looks as though it is a pottery piece.
What would a good vase project be without stencils?
I loved this pack of stencils I picked up today by Folk art at Walmart.  They are a variety pack that you can layer the stencils and create some cute wall art as well.
I used my stencil adhesive and placed the stencil on the vase.  I took a little round sponge dabber and dipped it lightly in the metallic craft paint of choice and  dabbed my stencil pattern on the vase. Remember always that less is more when it comes to stenciling.  In other words, do NOT saturated your sponge or dabber. It will bleed through and look messy.   After that dried I came in with some sand paper and lightly distressed them.
This was all a process as you can tell, but worth the time and effort.  Crafting actually relaxes me.  I have nothing but me and my thoughts and it makes me happy.  It also helped that no one was home today.  Much easier to get lost in thoughts and relaxation with nothing distracting you.  I think we all need that from time to time. 
 I think they turned out so pretty.  For less than 20.00 for 3 vases, that's not bad, not bad at all! Plus, like I mentioned it is a relaxing easy project to get your mind in a good place.  Cheaper than therapy! for this menopausal woman anyway HAHAHA!
Considering these designer vases cost between $60.00 and $80.00 a piece from Ballard designs.

Thanks for stopping over today. If you recently stopped over and saw our Home tour, we have since bought a new sofa.
And yes, I do love Sunflowers. All year round.
The new couch is quite comfy, I must say.  I just have to get used to the new look.
Browse around and stay awhile:)
Here is my gallery of vase ideas with Rit dye, Mod podge and gesso on occasion
and if you like Mod podge, check out that gallery
More painting on Glass projects here
 Pin it and make it later. 
 I am also a HUGE dollar tree lover.  Stick around and browse that Gallery of budget friendly home decor and craft ideas.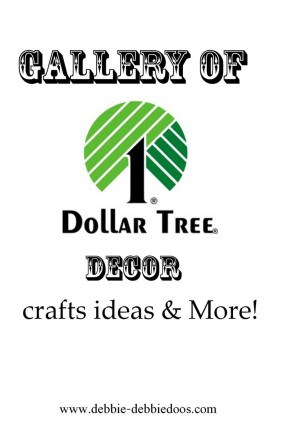 Thank you so much for visiting with me today.
If you are new here, welcome! I am also very excited to share my new stencil line with you.

[envira-gallery id="32693″]
Thank you for your visit today!
To view my stencil gallery projects you may check out my Debcreates.com page. 
I share all things, thrifty home decor, crafts and a recipe or two on occasion.
I also have an Etsy shop!

Sign up today and receive a few freebies. 12 months of seasonal printable art.
If you would like to commit to becoming a subscriber, I would love for you to join me.