Hey there everyone! I miss you guys! I really do lately. I feel like a part of me has been left behind here. Although, I am not gone, and still very much present. I am just presently over at Home pressure cooking more often.
I have a whole new line of goods coming very soon for the Pressure cooker. That has been an exciting new journey for me.
I just wanted you all to know, I truly do miss being here more often. When I do have some things to share I will always come over here and share them with you when something new arises. This blog here will always be my baby!
How about a little stroll outdoors for now?
Everything is starting to bloom and green up nicely here in the Carolina's. My allergies are really acting up though.
A few years ago I shared a post our low maintenance gardens. You can read all about that. Nothing has changed and year after year the same things bloom, and grow even more. The only addition I typically do is some container gardening and I tend to stick with petunias. I did buy something new this year for our window boxes that said full sun only. We shall see how long those last.
This here rooster, whom I named Mr. Doo-right was a recent birthday present. What a special surprise that was from my friend Natalie.
He looks right at home.
If you happened to miss our colorful porch decor you can check that out while you are here.
Last year we had to remove some dead pine trees that were over here. It sure looks bare, but we had no choice. They would have eventually fallenl on our house.
Now my husband is struggling to keep the grass alive on this side. We planted Zoysia around 9 years ago and it is fully grown in. My husband is lawn obsessed HA!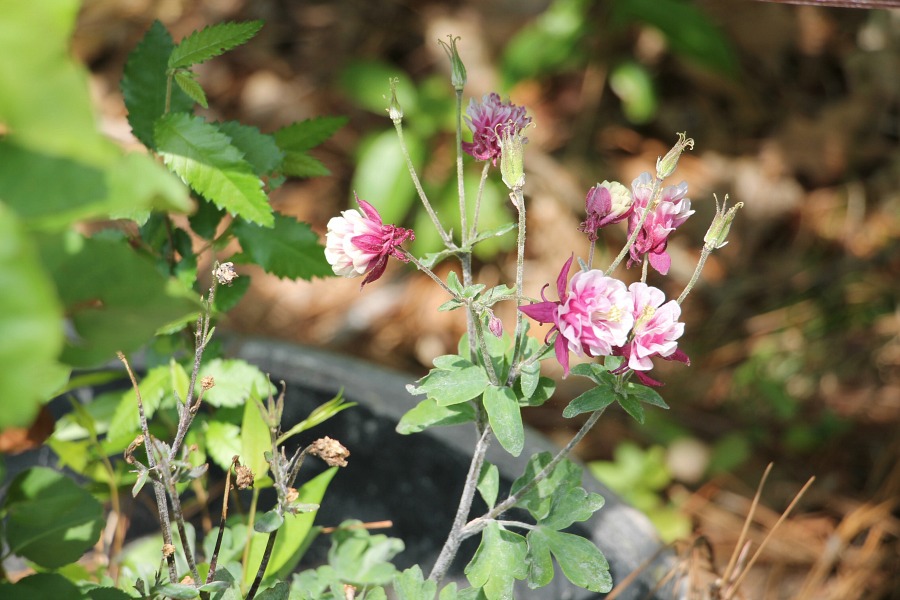 The outdoor fireplace is a new addition. The other one we had out there for 10 years finally started going. The faux bricks were falling off and beyond repair. We did give it away though to a family who very much appreciated it. The fellow said he would repair it himself. So I am happy about that.
We had our first fire this past Friday evening. It was lovely.
Here is the link for this fireplace just in case you want to inquire.
Sunjoy fireplace
Thanks for stopping over today.
We started on our kitchen mini makeover and it is coming along nicely.
I can't wait until it is all finished.
If you are new here, welcome! I am also very excited to share farmhouse stencils with you.
[envira-gallery id="32693″]
Outdoor gardens and this and that