Howdy there everyone!
Hope all is well and you enjoyed your weekend. They always go by so fast don't they?!
Today I am sharing a light sconce turned herb pot.
I have been into the herbs this summer:)
Every since I made a terra cotta herb pot,
and now drinking Herb water, which I am loving btw.
I enjoy having the herbs in my kitchen and think they not only are useful, but look pretty too.
So with that said, the other day I was cleaning out a closet.
I came across this light sconce that we no longer use.
My blogging friend Julie from Red head can decorate made a cute and clever Planter out of ceiling fan sconces and my wheels started turning.
I really did not have to do anything to this but turn it upside down and pop my herbs in.
I did however, have to make a cute little stand.
I happened to have a glass candle holder from the dollar tree, and the terra cotta pot plate.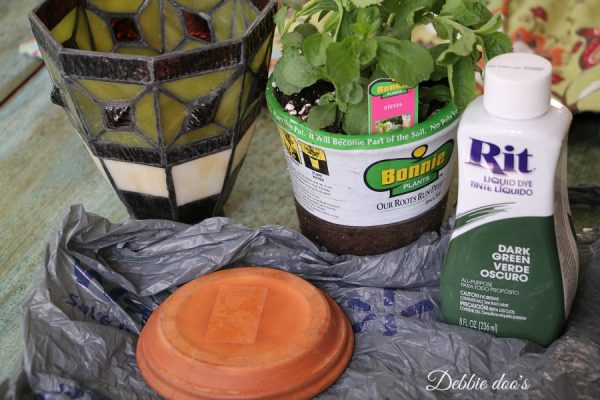 So out came some rit dye
and mod podge.
I have painted on glass now many times with Mod podge and rit dye and I love the results.
Please do check out my Rit dye gallery for more ideas.
I have now seen some girls do the same out in blog land and they apparently are enjoying my idea. In fact, so are my readers because they have sent me pictures of their creations and I love what y'all are doing with it!
First I paint the mod podge on the glass and let dry. Not always completely, sometimes I do, sometimes I don't. It's all an experiment so make it what you will.
Then I paint the rit dye straight up on the glass
You can see how it dries and takes on a pretty almost crackled texture.
For the terra cotta plate all I did was paint the rit dye straight up on there and use some glaze
to finish the look.
Again, check out my Rit dye gallery and you will see all these tutorials in full.
Now I have a one of a kind herb pot made from a light sconce. These are pretty cheap to begin with so you can pick up a few from your hardware store and make an entire herb garden of your own in your kitchen.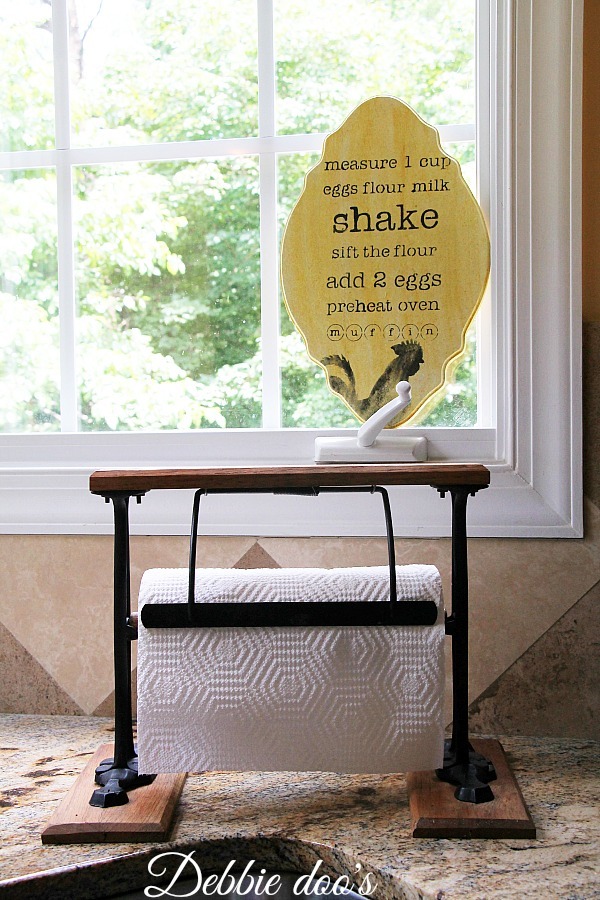 I wanted to show you my latest antique find.
This was an old paper cutter turned paper towel holder. It was perfect for our kitchen.
And oh btw, that recipe plaque in the window is not a REAL recipe, don't follow these instructions.
Pin it, make it later!
if you are looking for my real recipes,
please check out my RECIPE archives for the good ones.
Thanks for stopping over today.
Always nice to see you.
If you are not a regular I hope you consider to be.
XO
Pin it, and make it)