The kitchen remodel Part 2
Hey there friends! Long time no see. I hope all is well with y'all. Things are going fast and steady here.
It's taken a while for our kitchen projects to come together. I wanted to share the progress so far and the biggest kitchen improvement to date. You can see all what I talked about in the kitchen remodel post here.
As you can see all the cabinet hardware is changed out. I found a great deal on Wayfair. You can find these farmhouse pulls here.
The custom kitchen hood is quite the largest upgrade.
I found a local woodworker to custom built us one. I told him what I had envisioned. What was most important to me was having old reclaimed wood. He happen to have a contact and used reclaimed walnut.
This hood is strictly decorative. Hence, I was I able to put up some nice track lighting. We have the built in vent on the cook top stove itself.
Considering there was wood left over I clearly could not have it wasted. I asked if they could make us some kitchen shelves to upgrade the ones we had from Lowes.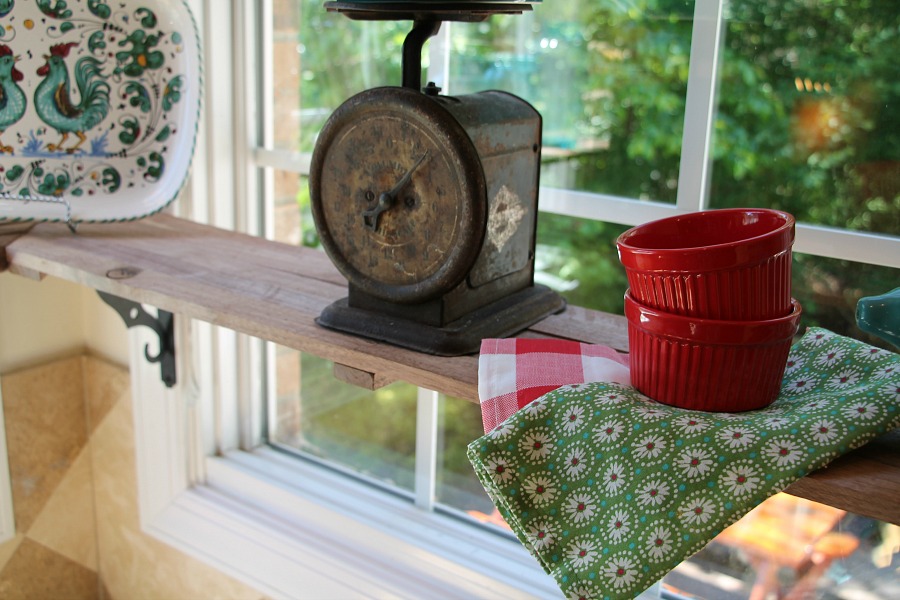 I love the brackets they used. I didn't even have to tell him what I would like:) I think they figured it out from our current style.
If you missed my table cloth curtain post you can check that out HERE
There are a few more changes coming, so stay tuned. I am so happy to see you here today:) I know its been a while.
As you know I spend most of my time now over at Home Pressure Cooking. I wish I could be at two places all the time. But we know that just is not possible. I have been keeping up though with checking in here and sharing anything new I have these days. I'm actually working on an outdoor paint project. Stay tuned.
If you are new here, welcome! I am also very excited to share my new stencil line with you.

[envira-gallery id="32693″]
To view my stencil gallery projects you may check out my Debcreates.com page.