The other day while decluttering, I mean cleaning our kitchen I was thinking about all the changes it has had in the past 10 years. Nothing in terms of renovating or gutting out. Just some paint, decor and moving decor around here and there. I admit, looking back sort of makes you shudder. It's like looking back on fashion and hairstyles. Just when you think you were rocking it! Truth be told, we were just with the current style and times. I did love my stir ups, my big hair and let's not forget the aqua net. The 80's were the best rocking times ever! And my boys don't think I am cool what-so-ever. Little do they know I was the queen of cool and fun back in the day:)
Today, I am sharing how to update your kitchen on a budget.
Now onto the kitchen memory lane.
There once was a time that I thought bringing in Howard Johnson colors was actually a good idea!
And then there was a time I thought the vinyl quotes, and decals were the next best thing.
Say goodbye birdies, burlap and say hello to sunny yellow valances.
And let's not forget the wooden blinds that collected dust and if they were closed made the room completely feel like a bat cave.
Changing curtains and valances were always my big go-to. It still is..but now I use tablecloths instead of valances. It is a lot cheaper and I think the panels look nicer as well.
I do still love decorating with plates, and I find so many pretty plates to hang on the walls, and my recent
backsplash.
Then the blinds were removed and it was all about the roosters. Who can't have enough of roosters all over and even on your valances?
I am no stranger to changing a table runner out either. Oh and let's not forget centerpieces.
Then I started getting a little more toned down with the rooster theme all over the place. I removed the plates on the walls, the vinyl lettering was gone and my FIL made me a pretty wood shelf so I can display more STUFF!
I can seriously go on and on here with these changes. Now onto today's current state that I am sure in about 5 years I will look back and shudder again. This today, is more of it's current state. Amazing, how just a paint change alone can make the difference. I loved yellow for a very long time. However, I grew tired of it. Perhaps because it photographs awful and editing pictures took forever. Now I hardly have to edit the pictures since I chose a lighter brighter color.
You can see my Bye Bye yellow post, and also Najavo white paint color choice here.
Added Faux beams as well.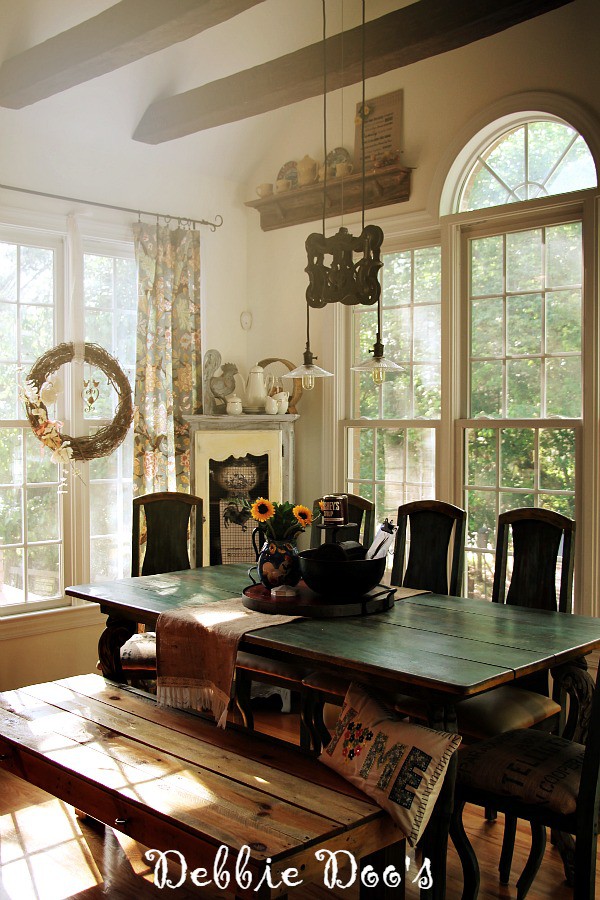 Changed out the burlap curtains recently to the Tablecloth curtains. I will be doing that again pretty soon and will share with you. I found two table cloths marked down to $3.00 each!
So in essence I leave you with these thought and tips for the day.
Budget friendly ways to update your kitchen:
(aff. links)
Paint the walls a fresh new color White is really in this year. Obviously, timeless and goes with everything.
Change out kitchen hardware
Accent Shelving, either in a window or open wall space (window shelving post here)
Crown molding
Paint your cabinets if they are really old and not updated. Many tutorials out there on How to
Peel-n-stick back splash
Change out the kitchen faucets
Kitchen light fixtures
Paint your counter tops to look like granite. I used Giani granite paint
in our bathroom three years ago and it still looks fantastic!
Giani granite painted counter post here
Thanks so much for stopping by today. If you are not a regular here, I sure would love to see you back again.
XO