How to make a no sew pillow out of painters tarps
Debbie Manno (Debbiedoo's) is a participant in the Amazon Services LLC Associates Program, an affiliate advertising program designed to provide a means for sites to earn advertising fees by advertising and linking to (Debbiedoo's) (amazon.com). 
Hello there!
First, I would like to thank you all for your sweet comments on my childhood memory post.
Very much appreciated!
Now onto my project.
This is such an easy NO sew pillow out of painters tarps I am almost  a little embarrassed to share.
Sometimes, I feel that way about a lot of my little craft projects.
I mean, if I can do it, you surely can too!
I picked up the tarp at Walmart for around $10.00.
I am thinking I can get at least 3 or more pillows out of it if I wanted.
Basic supplies,
fabric
hot glue gun
and my rooster stencil I bought at hobby lobby.
I have some fabric left over from my
reupholstered kitchen chairs that I did recently.
I even made matching utensil holders HERE
I am no expert at bows, so basically, I just cut two small squares, tied them at the end,then hot glued them together,
and stuck it on the corner.
My template was a pillow cover I had from another pillow.
I just cut it a tad larger, because I knew I needed some extra room to work with.
I hot glued three sides and left one open to stuff the pillow insert I had from as I mentioned another pillow I was not using at this time.
Then of course I turned it inside out to stuff the pillow inside. That was after I stenciled of course.
This was my first time using this stencil in full.
I have mentioned a time or two stenciling on fabric is so easy peasy in my opinion.
I never have a problem or any sort of overage that looks messy.
I do not saturate my brush, just a dab will do you, and brush vigorously.
Easy, no sew diy painters tarp pillow in around 30 minutes time.
Oh and cheap too!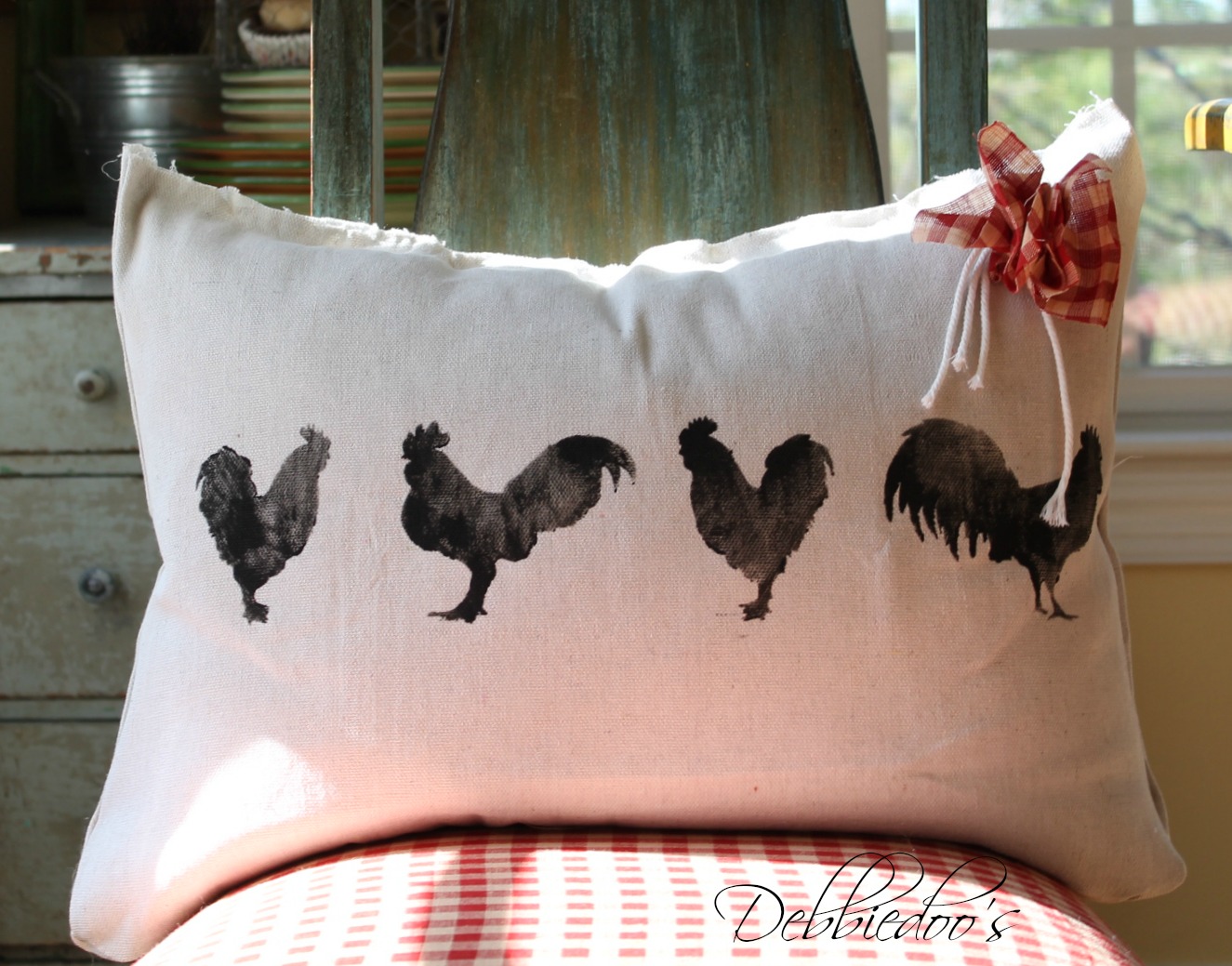 Thanks for stopping by today!
Oh and btw the way, this was not my first diy no sew pillow out of painters tarps...
this was my second one:)
First one, however, I did use the stitch witch.
because, I am a NO sew kind of gal.
How to make a no sew pillow out of painters tarps
 My no-sew pillow featured in Woman's day magazine February 16th 2015 edition.
If you are new here, check out my galleries of many more creative and budget friendly ideas, recipes and more!
Check out my Drop cloth porch curtains HERE
And if your into NO-SEW pillows as much as I:)
check out my