If you're in the mood for a creative DIY project that won't break the bank and can transform your home decor, consider making no-sew pillow covers out of a painter's tarp. It's an easy project inspired by the desire for unique, customizable decorations and a love for thrifty crafting. Read on to learn how to seamlessly create no-sew pillow covers from a painter's tarp using basic supplies.
1. Gather your supplies
Painter's tarp. I found one at Walmart for around $10, and it was enough to craft three pillow covers
Stencil. I used a charming rooster design found at Hobby Lobby
Sponge brush
Craft paint. I used black
Hot glue gun
Measuring tap
Sharpie marker
Fabric to make a bow. I used gingham fabric
Pillow insert
Scissors
2. Prepare the materials
Start by measuring and cutting your painter's tarp. I used an existing pillow cover as a template, but made sure to cut the tarp slightly larger for extra room to work with. For the adorable bow, I simply cut two small squares, tied them together and then hot glued them.
3. Stencil the tarp
After preparing your canvas, place your stencil at the center of one of the cut pieces. Using a sponge brush, carefully paint within the stencil boundaries. Ensure the design is entirely filled in and let it dry completely to prevent smudging.
4. Assemble the no-sew pillow cover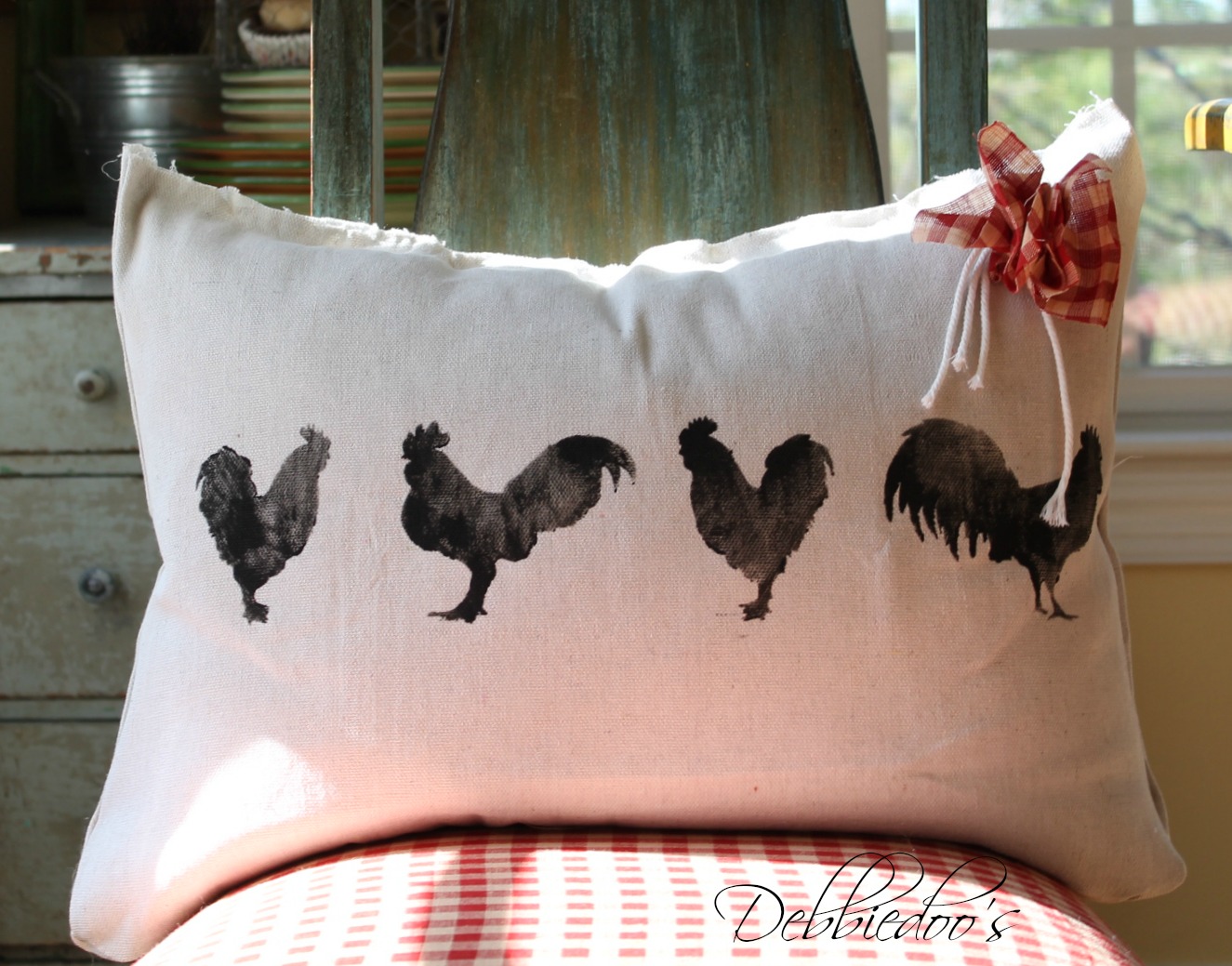 Next, place the two cut tarp pieces on top of each other with the "wrong sides" facing out. Then, use a line of hot glue to secure three sides of the fabric together. Next, turn the pillowcase inside out so that the glued edges are hidden inside.
5. Insert the pillow
With the pillow cover ready, it's time to insert the pillow. I reused an insert from a pillow I wasn't using at the time. Stuff it inside the new cover and finalize by gluing the last side shut.
6. Add the finishing touches
To give it a chic finish, attach the pre-made bow to the corner of the pillow cover using a dab of hot glue. Don't hesitate to add other personal touches like additional stenciling or different kinds of fabric for the bow.
Did you know?
My no-sew pillow was featured in Woman's Day magazine, the February 16th, 2015 edition.
If you loved this DIY project, find out how to make a no-sew pillow cover from drop cloths.